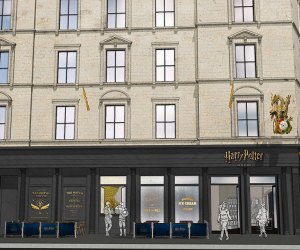 Harry Potter Store Set to Debut in Summer 2020
Raise your glasses of butterbeer in celebration: A brand new Harry Potter store is coming to New York City. The shop, which promises to house the world's largest collection of Harry Potter and Fantastic Beasts products under one roof, opens in the heart of the Flatiron District this summer.
While New York has seen its share of Harry Potter pop-ups, from the huge History of Magic exhibition at the New-York Historical Society to a fun coffee shop in the East Village, the new Harry Potter store is here to stay.
Opening steps away from the Flatiron Building and across the street from Madison Square Park, the new mega store adds to the kid-friendly appeal of a neighborhood that already houses CAMP and a Lego Store. The flagship Harry Potter store has floorplan spanning three levels with more than 20,000 square feet of space. Multiple magical retail experiences are planned. Fans can purchase personalized robes, sample Bertie Bott's Every Flavor Beans, and visit the wand shop, which promises a line of wands exclusive to the NYC location.
Expect plenty of on-brand interactive experiences and photo ops, too, making this shop a destination whether you're stocking up on supplies for Hogwarts or not.