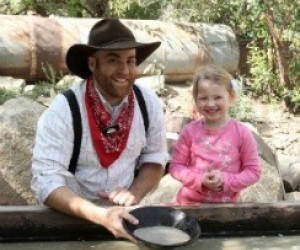 Fun & Free Activities with LA Kids this Weekend: Railroad, Snow Days, and African American Arts, Feb 22 - 23
So what did you win? Gold? Silver? Honorary mention for showing up? Oh dear, don't tell me you haven't won anything yet! Best get a move on, Momma: the Olympics end this weekend and with them go your shot at glory. If you want to spare your child a similarly unremarkable fate, we've got the lowdown on where LA kids can get their Olympics right stuff.
Those of us who can't do, watch. And maybe throw a party. (For a fun activity, try re-enacting favorite sporting events with mini figures).
Here's something simple you can win: our giveaway this week is for a family 4-pack of tickets to Baby Loves Disco, and no speedy movements are required. Just click enter (and tell us how to contact you if you win) and bingo, bango, you're in.
Keep reading for some of our favorite picks for the weekend...
ALL WEEKEND

Irvine Park Railroad Anniversary Celebration - Irvine
All aboard! Irvine Park Railroad celebrates its 18 year anniversary by rolling back to 1996 ticket prices.

The Wizard of Oz - Costa Mesa
Click your heels to see Dorothy and her Oz friends in their last weekend at the Segerstrom. There's no place like Costa Mesa; there's no place like Costa Mesa…

The Wind Rises (PG-13) - Hollywood
With a backdrop of 1920s and 30s Japan, Hayao Miyazaki's latest animated feature follows a young engineer who dreams of flight.

Snow Days at the L.A. Zoo - Griffith Park
Your favorite creatures can frolic in the snow at the LA Zoo this weekend. So can the black bears and the Sumatran tigers.

Engineer's Week - Santa Ana
Engineer's Week concludes with the Egg Drop Competition, Women in Engineering and gears, magnets, arches, and parachutes. Because science!

Last Weekends of the Month at the Skirball - West LA
Local organization Trash for Teaching helps visitors transform cast-off industrial materials into unique buildings and structures at the Skirball.

African American Arts Festival - Culver City
The 13th annual STAR African American Art Festival brings together local artists and students to honor history through exhibits, poetry, dance, singing, and drumming.

African-American Festival - Long Beach
The Aquarium of the Pacific hosts its 12th annual African-American Festival, celebrating the rich diversity of African-American and African cultures.

SATURDAY FEBRUARY 22

The Green Living Fair - Studio City
Adopt a fruit tree, learn about beekeeping and urban farming, and much more at this free community festival celebrating the greening of our lives.

Ilene Cohen and her Puppet Friends - West LA
Ilene Cohen tells funny stories with puppets at Children's Book World.

A Faery Hunt's Cowboy Show - Simi Valley - Simi Valley
Howdy, partner! There's cowboys in Corriganville Park!

The Grasshopper and the Ants Puppet Show - Downtown
Puppeteers extraordinaire Swazzle tell Aesop's classic tale in a free show at the Central Library.

Health & Safety Festival - Torrance
Get travel safety tips, car seat safety inspections, disaster preparedness info, and more at this free festival at Del Amo Fashion Center.

Lowes Build and Grow - Multiple Locations
This week's project is a claw game. (Were you able to get your registration in before it filled up?)

Saturday Morning Concerts at Books and Cookies - Santa Monica
Ukulady stops by Books and Cookies for some musical fun.

Puppet Town - Hollywood
Timothy Simons is the guest host at this month's sketch comedy show for kids…with puppets!

Walk into the Chumash World - Calabasas
This easy one-mile walk introduces families to the ways of the indigenous Chumash Indians.

Salt Marsh Open House - San Pedro
Learn about the Salinas de San Pedro wetlands habitat at Cabrillo Beach.

SUNDAY FEBRUARY 23

Zimmerpalooza - Mid-Wilshire
Get ready to rock at the Zimmer Children's Museum's annual fundraiser. Just added to the line-up: Shayna Rose, who learned a thing or two about rockin' during her time with the Fresh Beat Band.

Complete Whalewatch - San Pedro
No half-way whale watch for you! Set sail with the Cabrillo Marine Aquarium for the real deal.

Free Day at MOLAA - Long Beach
The Museum of Latin American Art is free on Sundays.

Family Flicks: The Adventures of Robin Hood - Westwood
Steal from the rich; give to the poor. Doesn't matter, because this screening of the Errol Flynn classic is free!

Lisa Loeb - Santa Monica
Indie singer-songwriter (and mom) Lisa Loeb sings kid-friendly songs at McCabe's Guitar Shop.

Hammer Kids: The Seven Wonders of Your World - Westwood
Kids can create a guide to the seven wonders of (their own little corner of) the world in this free workshop at the Hammer Museum.

Autry Explorers - Griffith Park
An artist helps kids turn family silhouettes into body-inspired landscapes at the Autry.

Summer Days Camp Fair - Bel Air
Are you ready for the summer? PEL and Tips on Trips and Camps join forces for their most comprehensive Day Camp Fair for Summer 2014.

Tom Sawyer Camps Summer Open House - Pasadena
Tom Sawyer Camps also offer a peek at camp opportunities for the summer.

Stories in the Afternoon - Pasadena
What would paintings say if they could talk to one another?

Family Jam: Maori Dance - Westwood
Kids are invited to watch and learn the expressive art of Maori Dance at the Fowler Museum.


As always, there are more activities listed on our daily events calendar, and if you don't already receive this post as a weekly email, you should totally subscribe. Whatever you choose to do this weekend, we hope you have a winning time!