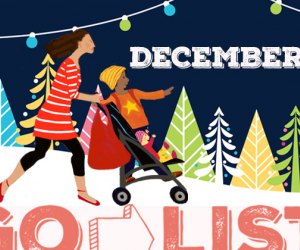 December GoList: Top Things To Do with Kids in Boston for the Holidays
Holiday celebrations kick into high gear in December, and the month brings the return of many beloved seasonal traditions like tree lighting ceremonies, performances of The Nutcracker, and outdoor ice skating. With so much going on, it's not easy to choose where to spread your family's own brand of holiday cheer, but here are our top 10 picks for holiday activities and special events for all ages this month.
To keep up with all the merrymaking, bookmark our Boston Holiday Fun Guide. And check back with our events calendar often: It;s packed with events for the holidays, family-friendly performances, and vacation week activities for the kids. Happy holidays!
Mass Hort's Festival of Trees - Wellesley
Nov 29 - Dec 15, 2019
$15 adults, admission for children under 12 is free
Massachusetts Horticultural Society displays spectacularly decorated trees in the Carriage House at Mass Hort's headquarters. The Festival of Trees showcases over 75 trees, plus the Snow Village at Elm Bank, a model train exhibit. Special events include horse-drawn hayrides, a visit with Santa, and more.
Dolly Parton's Smoky Mountain Christmas Carol - Emerson Colonial Theatre, Boston
Dec 3-29, 2019
Tickets $39.95-$149.50
Leave it to Dolly to bring the magic of Christmas to the stage in country song form. This show reimagines Charles Dickens' Christmas Carol set in a 1930's mining town with original songs by Dolly Parton herself (although she does not perform in the show).
Boston Common Skating Spectacular and Tree Lighting—Frog Pond, Boston
Dec 5, 2019
FREE
Join The Skating Club of Boston at The Boston Common Frog Pond for a FREE figure skating ice show featuring national and international competitive figure skaters, soloists, groups, wee skaters, and Team Excel Synchronized Skating and Theatre On Ice of Boston teams.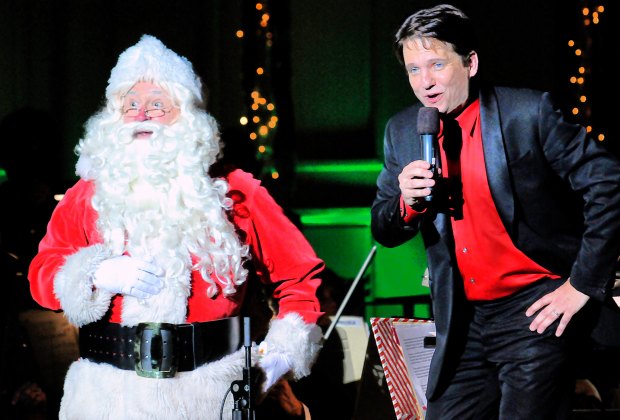 Santa lends a hand at the Boston Pops Holiday concert at Symphony Hall. Photo by Stu Rosner
Holiday Pops - Symphony Hall, Boston
Dec 7-24, 2019
Tickets $33 and up
Join the Boston Pops and conductor Keith Lockhart in a performance filled with holiday music favorites, the traditional Pops sing-a-long, and a visit from jolly old Santa Claus. The special kids' matinee performances allow children under the age of four and include post-concert photos with Santa and special treats.
Bay State Model Railroad Museum Open House - Roslindale
Dec 7-8, 2019
Adults $5; Free for children (no cost to visit Santa)
Join the Bay State Model Railroad Museum for its annual holiday celebration, one of the two times each year the museum is open to the public. Model train layouts include Roslindale Village circa 1940's, scenic New England, and more. Santa arrives in style on Saturday.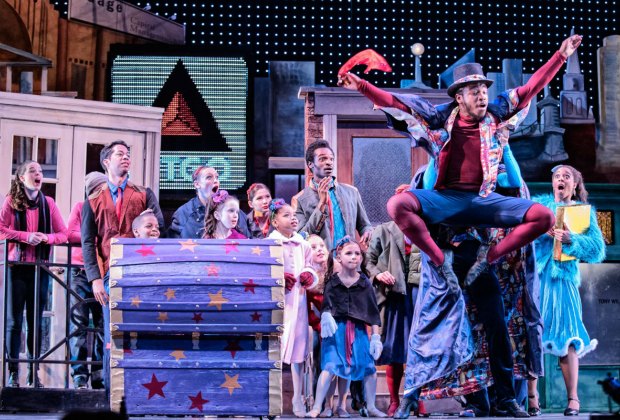 Jazz and other musical influences infuse the Urban Nutcracker. Photo by Peter Paradise Michaels
Urban Nutcracker - Back Bay, Boston
Dec 19-28, 2019
Tickets $29 and up
Tony Williams' Urban Nutcracker puts a modern spin on the 19th-century fairy tale, fusing Tchaikovsky's classic score with Duke Ellington's jazz interpretation. Urban Nutcracker delivers classic ballet, urban tap, hip hop, swing, flamenco, step, jazz, and a few other surprises. Read our review to find out why we think it should be a child's first ballet in Boston.
Holiday on Ice - Community Ice Skating @Kendall, Cambridge
Dec 16, 2019
FREE
To kick off the public skating season, Community Ice Skating @Kendall offers free skating admission all day (skate rentals $). At 2pm, enjoy a free skating show with former Olympians and international medalists.
Boston Tea Party Annual Reenactment - Old South Meeting House and The Boston Tea Party Ships & Museum, Boston
Dec 16, 2019
Tickets $30
Gather at Old South Meeting House, the actual historic landmark where the colonists met in 1773, with Boston's infamous rabblerousers like Samuel Adams, Paul Revere—and even some crown-loving Loyalists—to debate the tea tax and demand liberty from the British crown. Then join the procession to Griffin's Wharf accompanied by fife and drum music and scores of colonists. Line the shores of Boston Harbor to witness the destruction of the tea firsthand, as the Sons of Liberty storm the Brig Beaver, tossing the troublesome tea into the sea!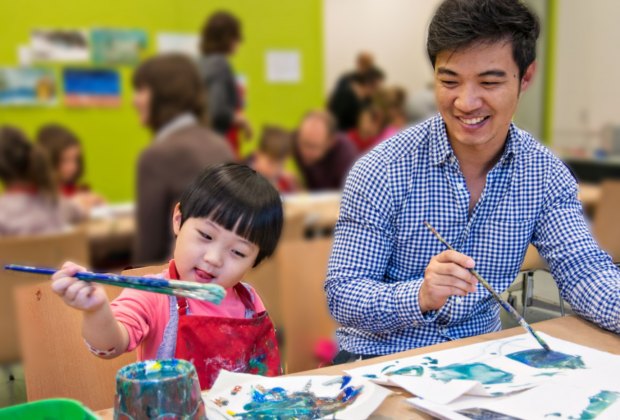 Get inspired at the museum and unleash your creativity! Photo courtesy of Museum of Fine Arts, Boston
December Vacation Week Activities - MFA, Boston
Dec 26-Dec 31, 2019
Included with museum admission
The museum offers art activities for children and families all week long. Make artwork in the galleries and explore works of art inspired by light.
First Night First Day 2020 - Boston
Dec 31, 2019 - Jan 1, 2020
FREE
Boston rings in 2020 with its annual First Night celebration, the country's oldest and largest New Year's Eve arts festival. Many of the beloved traditions of First Nights past, including ice sculptures and light displays, are free. In addition, there are free family-friendly fireworks at 7pm on December 31, and arts and musical performances taking place in numerous inside and outside venues around the heart of the festival. On January 1 from 12 to 4pm, Copley Square welcomes New Year's revelers to participate in activities devoted to families and children's entertainment.