Best Kid-Friendly Neighborhood Brunch Spots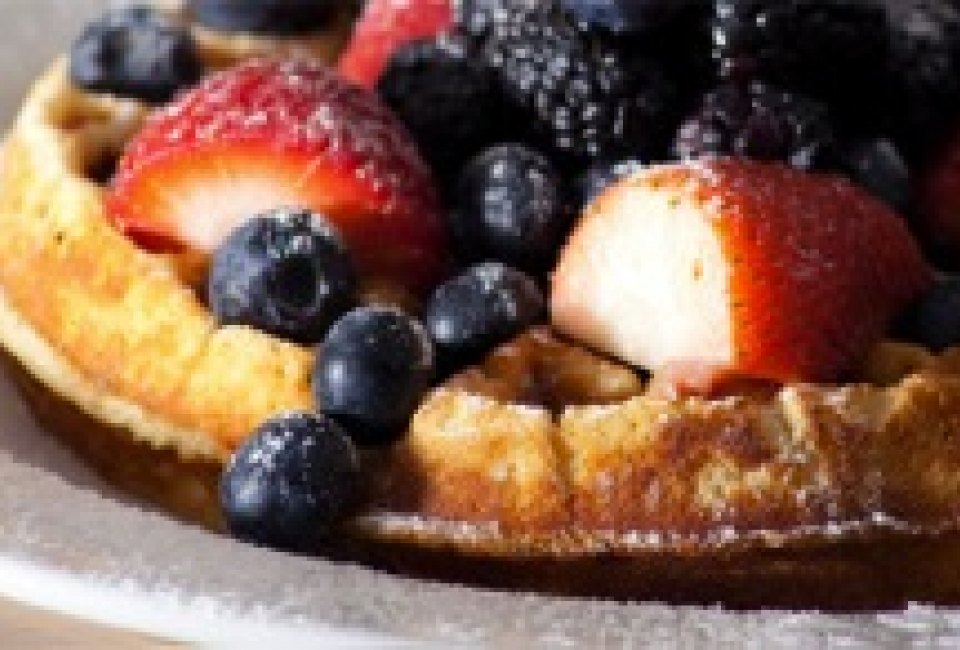 10/6/13
- By
Rachel Becker
Breakfast and brunch are the meals we tend to eat out most often; toddlers are early risers, so by 10 or so, we're ready for (second) breakfast, and kids really, really like breakfast food. I enjoy whipping up muffins or pancakes, but I will gladly pay for the privilege of getting someone else to make them for me while I happily sip a mimosa or bloody Mary. It may only be 9am, and I may have a weekend's worth of stuff to fit into one day, but hey! If you're looking for fancy brunches to celebrate a birthday or special event, check out Tara's piece from last spring, but here are a few of our family's favorite casual neighborhood spots around town.
Canary Square, Jamaica Plain
I tend to want to order dishes I can't really whip together myself, and Canary Square has a bunch, including a quiche that, with a side of salad almost feels virtuous. But the real draw of Canary Square is their ample seating (no waiting in lines!) and tasty drinks, including a bacon bloody Mary.

435 S Huntington Ave Jamaica Plain, MA
617.524-2500
Brunch hours:
Sat, Sun: 10:30am-1am
Full Moon Restaurant, Cambridge
One of the best, and best loved brunch spots for families with kids, Full Moon was founded by two sisters who both had young kids and knew how difficult it was to find a restaurant that catered to both grown up and kid tastes and sensibilities. Full Moon is worth the trek to Huron Village; brunch items are fresh and seasonal, and the restaurant space includes its very own play area, tucked in back, within eyeshot of parents, bur far enough away so that the adults can sip coffee in relative peace. Makes me wonder why there aren't more places like it in this city with so many kids.

344 Huron Ave.
Cambridge, MA
617.354.6699
Brunch hours:
Sat-Sun, 9am (early!) to 2.30
Sugar Baking Company and Restaurant, Roslindale
Sugar is our neighborhood brunch spot, and we've been loyal customers since their opening a few years ago. (My new mom's group made a couple outings there, infants in tow). Because it opens at 8 (and we've definitely been there that early), it's a great place to go with early risers, and kids enjoy looking out the big windows at the passing traffic on Washington street. The food is excellent and where possible, local; my daughter adores the blueberry pancakes, and I always get poached eggs, which are perfectly cooked. It's BYOCB (bring your own coloring book and crayons), but the waitstaff is really responsive to the needs of both kids and adults. They also take reservations, which is a handy trick, since it can get crowded.

4170 Washington Street
Roslindale, MA
617.327.4174
Daily breakfast: 8am-3pm
Johnny D's, Somerville
I'd been to Johnny D's jazz brunch when I lived in Somerville, but we hadn't taken our kid until last winter. Another place that opens early (at 8.30), Johnny D's has a huge menu with lots of kid-friendly (and kid-sized) options (oatmeal with raisins, bagels and cream cheese, yogurt, etc). It also boasts a huge box of toys and books to keep kids occupied, and music, which, for us, is an occupier all its own. I like the casual vibe at Johnny D's, and the age diversity too. It does get busy, but is quieter the earlier you go. Jazz starts at 9.45. Tasty goodness.

17 Holland Street
Davis Square, Somerville
617.776.2004
Brunch hours: Sat-Sun. 8.30am -2.30pm
Regal Beagle, Brookline
The Regal Beagle in Coolidge Corner boasts some of the best huevos rancheros I've ever eaten; beans, tomatoes, salsa, sour cream, topped with perfectly runny fried eggs and tortilla strips. (Full disclosure: I ate this more than a handful of times when I was pregnant. Yes, I knew I wasn't supposed to eat runny eggs. I did anyway. They are that good). Their brunch menu is decadent and also includes some amazing lunch items (a burger, but also a croque monsieur), and a huge fun list of adult drinks. The food is local wherever possible, and while it's certainly date worthy, the booths are kid and family friendly, as is the food.

308 Harvard Street
Brookline, MA
617.739.5151
Brunch hours:
Sat-Sun: 11am-1am
---
Photo: Sugar Baking Co. & Restaurant



Click Here to Sign Up!
i