August GoList: Best Things to Do with Kids in Boston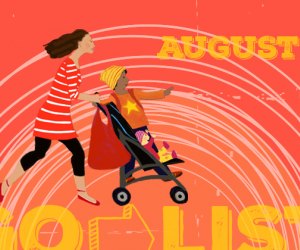 August in Boston is free and festive for kids and families! There are free summer festivals almost every weekend in August, plus lots more free fun throughout the month. We've also picked a few activities that require a visit to the piggy bank, but we think they're well worth checking out—especially if you have an insect enthusiast or young astronomer in the house, or might be thinking about taking the kids camping for the first time.
We hope you'll be able to squeeze a few of these top picks for hometown fun between summer day trips and weekend getaways before the kids head back to school.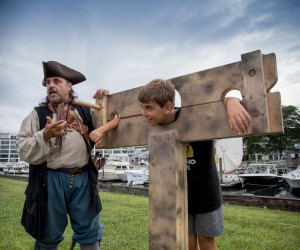 Salem Maritime Festival. Photo by John F. Hurley/NPS
Salem Maritime Festival - Salem Harbor
Sat 8/3/2019 - Sun 8/4/2019
FREE
Salem celebrates its maritime history with a full weekend of live music, free 90-minute Harbor Cruises, Friendship of Salem Ship Tours, activities for kids, Junior Ranger Program, boat tours, and traditional craft demonstrations. There are also plentiful opportunities to cruise, sail, paddle, and row Salem Harbor.
GospelFest - City Hall Plaza, Boston
Sun 8/11/2019
FREE
From local talent to national headliners, GospelFest features some of the greatest singers you'll ever hear. Take the kids for an uplifting evening of music and celebration.
Boston GreenFest - Greenway and Long Wharf, Boston
Fri 8/16/2019 - Sun 8/18/2019
FREE
Billed as an "environmental and multicultural festival," Boston GreenFest celebrates with activities, performers, food, art, and exhibits. Check out the Eco Kids center for hands-on interactive exhibits.
Butterfly Garden at the Museum of Science. Photo courtesy of the museum
Butterfly and Caterpillar Weekend - Boston
Sat 8/17/2019 - Sun 8/18/2019
$26/adult, $21/child, free/iunder 3; access to Butterfly Garden is an additional fee
All weekend long, Museum of Science visitors can get an up-close look at creepy-crawlies in a special Caterpillar Lab exhibit and join interactive workshops exploring butterflies and their ilk.
Family Campouts: Summer Owl Prowl - Ipswich River
Sat 8/10/2019 - Sun 8/11/2019
$32/adult, $29/child
A Mass Audubon Family Camp out is a great way to introduce your kids to camping. It's short and sweet, with plenty of activity to keep everyone engaged. Plus, the naturalist leaders make it easy for parents: Breakfast is provided, and the kids work on a craft while the adults pack up in the morning. ​
Stars, S'mores, and Meteors - Milton
Sat 8/10/2019
$12/Nonmember, $10/Member
Families can enjoy an evening at the top of Chickatawbut Hill to toast marshmallows around the campfire, share some celestial stories, and possibly spot some early falling stars from the Perseid meteor showers.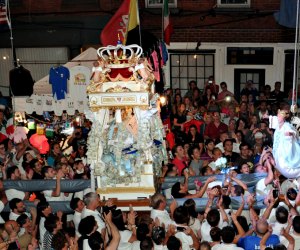 Flight of the Angel is the finale at the Fisherman's Feast. Photo courtesy of the Fisherman's Feast of Boston
Fisherman's Feast - North End, Boston
Thu 8/15/2019 - Sun 8/18/2019
FREE
The annual event began in Boston in 1910 and is based on a tradition that goes back to the 16th century in Sciacca Sicily. Activities begin with a procession on Thursday evening and continue with performances and special events throughout the weekend. Children's activities and the Flight of the Angel take place on Sunday. Yankee Magazine calls the Flight of the Angel "truly one of Boston's greatest treasures" and National Geographic say's "It's a spectacle NOT to be missed!'" As the angel ceremony is completed, confetti rains down on the spectators.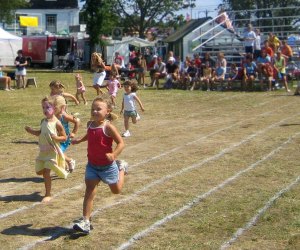 Photo courtesy of the Marshfield Fair
Marshfield Fair - Marshfield
Fri 8/16/2019 - Sun 8/25/2019
Admission: Adults & Children 7 & older $10; Children 6 & under free
The Marshfield Fair is a traditional, American country fair that first took place in 1867. The fair features amusement rides, a midway, and fair food. For entertainment, check out the live music, demolition derby and motorcross thrill shows, and tractor pulls.
Boston Children's Festival - Franklin Park
Tues 8/20/2019
FREE
Kids and families can enjoy science experiments, performing arts, face painting, art projects to take home, and a visit from the Franklin Park Zoo during this day to celebrate kids in Boston.
Join the Gun Crew - Charlestown
Sat 8/3/2019
FREE
What made the USS Constitution such a successful warship? Families can find out (for free!) at this event which also features cannon firing lessons.