5 More Perfect Picnic Spots on Long Island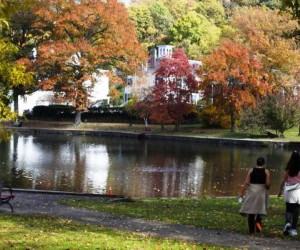 There are so many fun activities to do during the summer months on Long Island, and many families enjoy a good picnic. Fortunately, there are many beautiful spots to bring some food and drinks, and enjoy time with the kids. Many are also near the water or have a playground on-site. And for more options, be sure to check out 7 Perfect Picnic Places on Long Island.
Eisenhower Park
Merrick and Stewart Avenues in East Meadow
Eisenhower Park features 930-acre open space that not only has different picnic areas, but also is host to a wide array of activities to keep the whole family occupied, including athletic fields and courts, playgrounds, fitness trails, and more.
Jones Beach State Park
1 Ocean Parkway, Wantagh
Jones Beach is a popular destination for families all summer. Why not cap off a fun day at the beach with a picnic or barbeque? Visitors have the option of using the picnic areas at Field 6, or you can head over to the approved barbeque area at Fields 5 or 10 to grill up some burgers and hot dogs.
North Hempstead Beach Park
175 West Shore Road, Port Washington
Formally known as Bar Beach & Hempstead Harbor Parks, this location has 34 acres of sandy beach and recreational activities. In addition to picnic areas with barbecues and shelter pavilions, there is also a fishing pier, boat ramp, bathhouse, concession area and a playground.
Heckscher State Park
Heckscher Parkway Field 1, East Islip
The 1,600 acres of Heckscher State Park on the south shore of Long Island are used by park visitors for a number of outdoor activities, especially the park's shady picnic groves. The kids can also play sports in one of the large open fields, as well as enjoy four miles of paved trails. There are amazing views of Great South Bay with Fire Island, and you might just spot some whitetail deer, a variety of birds and other wildlife. Three pavilions are available by permit.
Crab Meadow Beach
Waterside Avenue, Northport
In addition to a beautiful beach and big playground, there is also a picnic and pavilion area.
Sunken Meadow State Park
Rte. 25A and Sunken Meadow Parkway, Kings Park
Sunken Meadow State Park is home to three miles of water front on the Long Island sound, has a wide-ranging topography that features glacial bluffs, tidal flats, salt marshes and a brackish creek. There are also large picnic areas and pavilions available for visitors to enjoy.