5 Fun Winter Birthday Party Ideas for Kids in New Jersey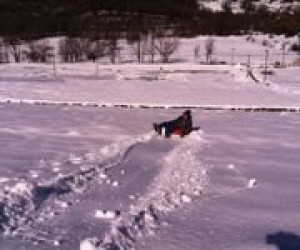 Sometimes it's hard to plan parties for our winter babies. I actually had a party in December at my house (GASP!). It was successful but what was I thinking having sugar-crazed 7-year olds in my home the week before Christmas?! It's February and I'm still finding candy canes in the couch and glitter in places no one wants to find glitter. Needless to say, I'm already thinking about how to avoid that experience next year, so here are 5 awesome, off-the-beaten-path winter birthday venues. For more great, year-round party options, visit our NJ Kids' Birthday Party Ideas Guide.
Pax Amicus Theater (Budd Lake)
Pax Amicus Castle Theater is a hidden magical gem, where you can have your prince and princesses dress up in regal attire to attend a show in a castle right on the lake. See the show and visit a local pizzeria afterwards for a fun afternoon or evening party. Cast and crew are always happy to do a meet and greet as well. Group rates for 25 or more.Call (973) 691-2100 for pricing..



Villa Roller Rink (Broadway)
Travel back in time to scrunchies, parachute pants and high hair, oh my! This rink has not changed a bit since the '80s and offers parties packages for all budgets. All packages include skates and paper products. Some offer hotdogs or pizza. Party goers can walk (or skate) like an Egyptian while parents chill at the snack bar or watch the big video screen. See website for prices and packages or call (908) 689-6155.


a.r.t.House (Hackettstown) 

The a.r.t. House is great for creative kids and their moms who don't want to clean up the mess! 
a.r.t stands for Anna and Rebecca's temenos. A temenos is a sacrifice circle where one can be themselves without fear. Rebecca and Anna grew up together and have been best friends since 4th grade. They have always been creative and artistic, and wanted to give kids (and kids at heart) a place where they can learn about art, enhance and release their own creativity. Birthday parties vary from mosaics to ceramics or create your own theme. The a.r.t. House will customize a package to reflect a craft that represents your child, giving a unique and individual experience for the birthday girl or boy. See website for party prices or call (908)850-5278.

Shawnee Snow Tubing (PA)
If you have a true winter-loving baby, embrace the cold and take the Pocono Plunge!
 Parties include two hours of tubing and lunch for a minimum of 10 people and a reserved table inside at the Trepp lodge, plus a lunch voucher for hotdogs, pizza or burgers with a drink. See website for prices. To make your reservation, please contact (570) 421-7231 ext. 223.



Sports Galaxy (Hackettstown

)
Sports Galaxy offers sports themed birthday parties inside this large sports and training facility. They supply Sports Galaxy referees to supervise the activities, so the parents can relax, take pictures, and surf the net on their free wifi. For smaller parties of up to 10 children, your child's birthday will include: half of their field for an hour, the party room for 30 minutes, two pizzas, white paper goods, and one Sports Galaxy referee. For parties of 11 - 20 children, your child's party will include: 4/6 of the field for an hour, the party room for 30 minutes, three pizzas, white paper goods, and two Sports Galaxy referees. Birthday boys and girls can choose from a wide variety of indoor sports such as wiffle ball, dodgeball, soccer, flag football, relay races, and obstacle courses. See website for party packages or call.

 (908) 269-8952
 




Original article published in February 2012.