Easter and Communion Dress Boutiques in New Jersey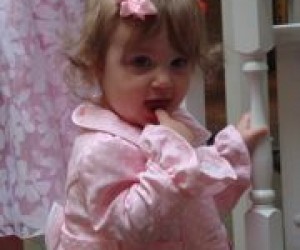 I have to admit that I'm a coupon queen and rarely spend full price on any piece of clothing for anyone in our family. However, Easter is the one time I splurge and dress my littles ones up to the "nines". I also have many friends with children making their first Communions in the next few months. Sure, you could go to a regular department store, but New Jersey is home to some fun Easter and Communion boutique finery, so why not make it special? And for more ideas for parties and special occasions, check out our Mommy Poppins New Jersey Birthday Party Ideas Guide.


Little Nikki's - HoHoKus, NJ

My mom told me about this little gem of a store. In fact, my mom told me I needed to have another baby immediately so that she could shop at this store. Luckily, she was able to get her fix by indulging in matching spring dresses for my little ones. 
Little Nikki's has a great selection of Easter dresses and a magnificent selection of Christening and Communion dresses. They have a seamstress on site and can create one-of-a-kind 1st birthday dresses as well as christening and communion attire. 
Little Nikki's was just voted the #1 Baby and Children's Boutique in Bergen County by Bergen Health and Life Magazine. (More importantly to me, I hear the Real Housewives of New Jersey shop here frequently.) Store Information and Hours: 
Monday-Saturday 10am-5pm and Evening appointments by request.
 201-445-7888,
Faith and Begorra - Denville, NJ
Being an Irish lass and a good Catholic girl (most of the time), this is one of my favorite stores to shop in for Communion gifts and attire. I've never been to Ireland myself, but I can imagine that shopping at Faith and Begorra is like stepping into an Irish cottage. 
They have over 400 dresses, veils, suits and ties in their Communion department in a wide range of sizes and price points. Check out some Communion attire here. 
This year they even boast an exclusive couture dress made by Christie Helene specifically for their store.
Whether you are looking for a special Communion gift or attire, Faith and Begorra is a great place to stop.
 Store information and Hours:
 Monday to Thursday 9:30am to 5:30pm, 
Friday 9:30am to 8pm, Saturday 10:00am to 5:30pm, 
Sunday 12pm to 4pm.
 973-625-0070
.


TerriLee Togs - Closter, NJ
I'm pretty sure my mom is a shop-a-holic because I can remember spending hours of my youth at TerriLee Togs. I guess with four children she always had an excuse to go shopping for one of us. I was happy to discover that not only are they still in business, but they offer online shopping with flat-rate shipping or a convenient free store pick-up option. They have a beautiful selection of Easter and Communion dresses and suits as well as a variety of layette and everyday clothes. Many of my friends have told me this is the place to shop for boys' suits with a wide range of colors and styles. 

Store Information and Hours: 
Monday - Saturday 9am-6pm. 201-768-7310.