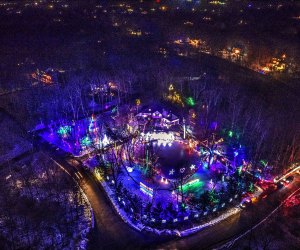 Outrageous Holiday Light Displays in the Lower Hudson Valley
'Tis the season for checking out all the awesome holiday light displays in the area. And we've got some great ones for you: Along with a some decked-out houses in Westchester, the Lower Hudson Valley has its own share of festive light shows—including a house with more than half a million (!) lights, a drive-through Christmas Wonderland, and even some brightly lit bugs.
For more holiday fun, be sure to check our Holiday Fun Guide and Event Calendar, and follow us on Facebook.
Know of any other light displays we should check out? Drop us an email, and be sure to sign up for our newsletters to stay in the loop.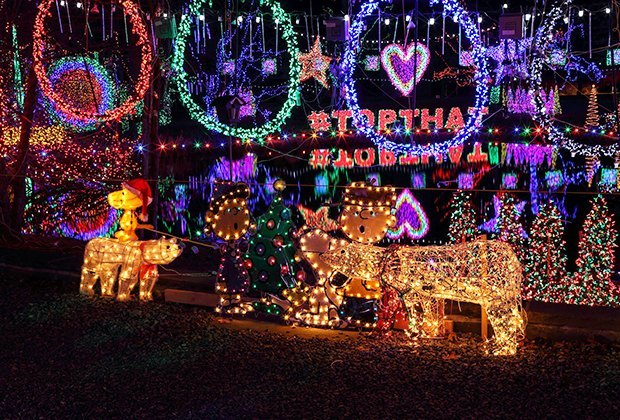 The ERDAJT display has made the Guinness Book of World Records for most lights!
ERDAJT Holiday Light Display – LaGrangeville
8 Patrick Drive
You know you've got a good light display when even the Guinness Book of World Records takes notice: in years past, this display has won for most lights. This year, they've got tons of lights to dazzle crowds, along with hundreds of different songs that sync up with the display. (If you want to hear a specific favorite—ranging from traditional tunes like "Hark the Herald Angels Sing" to modern favorites like "Scars to Your Beautiful" by Alessia Cara—check out the show schedule, which includes a song list and what time it'll play.) You'll find snowmen, hearts, presents, Christmas trees, and so, so much more. The show starts at 4:45pm every day through Thursday, December 27. Ending times vary, so be sure to check the calendar.
RELATED: 25 Awesome Santa Activities for Kids in Westchester and the Hudson Valley
Bruschi Christmas – Walkill
5 Madre Decristo Road
The Bruschi family has been syncing their dazzling Christmas display to music since 2012, and they're continuing the tradition this year. Tune in to 87.9 FM to hear and watch the show—which runs about 30 minutes—and enjoy the brightly-lit candy canes, Christmas trees, and the rest of the twinkling lights that make up the display. Lights are on from 5–10 pm until Monday, December 31.
Christmas on Colden Hill – Newburgh
125 Colden Hill
Lights, Santa, action! Turn to 102.5 FM and watch and listen to this fun, 26-minute light show that includes toy soldiers, reindeer and a 20-ft Christmas tree. The display has been going up for 12 years and, this year it runs from 5–11pm, seven days a week.
Watt Christmas Wonderland – Goshen
310 Scotchtown Road
What began as a light display at owner John Watt's mother's house has grown into a stand-alone, drive-through Christmas Village. See Santa, snowmen, and lots more holiday characters as you drive through this stunning holiday display, which boasts close to a mile of lights. Visit from 6–9pm now through Friday, December 29 (weather permitting), and tune the radio to 107.9 FM to hear the show. There's a recommended donation of $5 per car, and vehicles can't be taller than eight feet. Pro tip: Consider making your trip on a weeknight when it's considerably less busy.
RELATED: Must-Do Holiday Experiences for Westchester Kids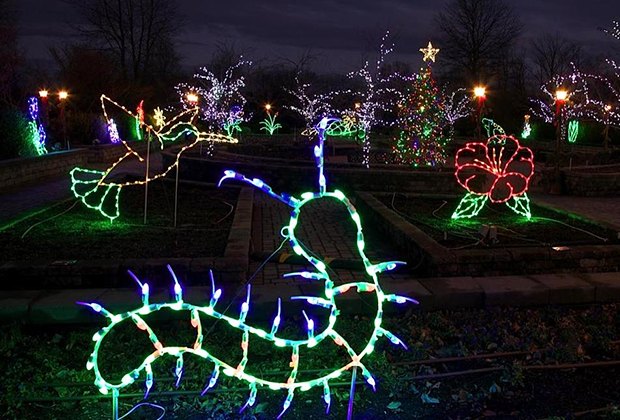 Holiday Lights in Bloom is a dazzling celebration of nature.
Holiday Lights in Bloom – Montgomery
41 Grove Street
Have a bug lover in your house? Then the Lights in Bloom show in Thomas Bull Memorial Park at the Orange County Arboretum is a must-see. Along with decked-out trees, the show dazzles with brightly-lit snails, bugs, birds, flowers, and lots more of your favorites from nature, which you can see as you walk the various paths. The show runs from 5–8pm on weekends now through Monday, December 17, when it switches to daily showings through New Year's Eve. Closed Christmas Eve and Christmas Day. The show is totally free—as is the hot chocolate!
Frosty Fest – Ulster Park
778 Broadway
There are lights of all sorts at this holiday festival—including "Frosty's Tree" lighting, which happens every night. Along with checking out all the lights, you can also take part in a whole slew of activities, including Frosty's Hayride, a Magical Mansion, and lots more. The event runs on weekends through Sunday, December 23, and you can buy tickets online at a discount.
Kevin McCurdy's Holiday Spirit Festival – Wappingers Falls
38 Sheafe Road
Head to the Enchanted Forest of Lights at this annual holiday extravaganza, where you can walk through the display and see what one million lights look like up close. There are tons of other cool things to do, too, like their newest addition: The North Pole Resort. The event is open on weekends, plus Thursday, December 20, and you can buy tickets online.
This originally posted in 2015 and has been updated for 2018.
All photos courtesy of the houses/organizers.