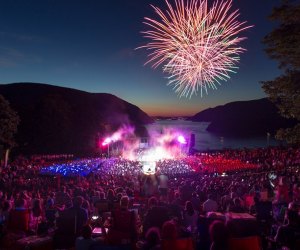 Best 4th of July Fireworks in Westchester and the Hudson Valley
The 4th of July means summer fun, barbecues, and, of course, stunning pyrotechnics. We've identified Westchester area Fourth of July fireworks displays over the course of an entire week (the benefit of Independence Day falling on a Wednesday!) along with lots of added attractions—a carnival, a fair, concerts, sports, bouncy houses, a parade, and other perks.
If you're feeling adventurous, the famous Macy's 4th of July Fireworks Spectacular in NYC is best visited strategically, and we have the best spots to watch with your family; there's also a show-stopping fireworks display that's less frenetic over the bridge in Jersey City, which also features a full agenda of fun. Try these non-fireworks Fourth of July activities with kids before the show to get everyone into the holiday spirit.
Looking for more seasonal spectacles? Check out our guide to summer festivals and fairs in Westchester and the Hudson Valley.
Be sure to keep tabs on our Event Calendar, and sign up for our newsletters to stay on top of our frequent updates and announcements!