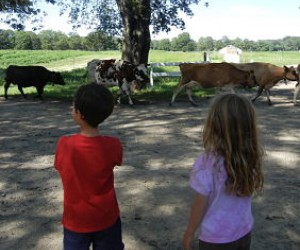 10 Easy Boston-area Hikes for Preschoolers
Local mom and "Outdoors with Kids Boston" guidebook author, Kim Foley MacKinnon, shares her best family outing tips and picks with you as part of our guest blog series with the Appalachian Mountain Club's Kids Outdoors Boston free online community.
If you want to instill a love of hiking in your preschooler, make your trips truly enjoyable for everyone. Start off slow and easy, with hikes that have quick payoffs, such as waterfalls, ponds, bridges, boulders or trees to climb, chances to encounter animals (like at farms), and even playgrounds.
As your young hikers get more comfortable, introduce longer hikes, with goals like how long you hike for or how many miles you go. Get your kids involved in the whole adventure from the start, from choosing where to go to helping plan the route. Even if your kids can't read a map yet, they will love having one anyway, as well as being in charge of their own gear. Get them an appropriately-sized backpack and have them at least carry their own water bottle and snack. They'll feel empowered, and you'll be ready to go!
Here's an ABC list of 10 Boston-area hikes we recommend for preschoolers to get you started.
Appleton Farms
The country's oldest working farm, run by the Trustees of Reservations, offers historic buildings to check out, cows to moo at, and easy walking trails. The Bay Circuit Trail also crosses through the property. Hamilton and Ipswich.
OUR LATEST VIDEOS
Broadmoor
Nine miles of trails, with boardwalks, waterfalls, and wildlife, where all sorts of animals, including beaver, otters, turtles, and more than 150 varieties of birds often can be seen. Natick.
Castle Island
This 22-acre urban park is home to Fort Independence and a mecca for riding bikes, skateboarding, roller-skating, climbing on play structures, and splashing in the water. A waterfront walk offers great views, too. Boston.
Drumlin Farm
After visiting the farmyard, take one of several trails on the 232-acre property. Drumlin Loop, on clear days, offers views of Mount Monadnock. Lincoln.
Elm Bank Reservation
There are 182 acres of woodlands, fields, and old estate lands to explore. The easy trails are stroller-friendly, and Weezie's Garden for Children is a fantastic play area. Wellesley.
Forest Hills Cemetery
Forest Hills Cemetery has beautiful paths and art to enjoy. Have kids look for memorials and monuments that feature animals, a popular motif during Victorian times. Boston.
Gore Place
Rent a backpack ($5) stocked with binoculars, a magnifying glass, and activities that lead kids around the historic property, gardens, and barnyard, which is home to sheep, goats, and chickens. Waltham.
Halibut Point State Park
Trails lead around the former Babson Farm Quarry and down to the ocean. Scrambling over rocks and checking out the many tidal pools is a thrill for kids. Rockport.
Ipswich River
Rock tunnels, a pond, and boardwalks make this spot a family-favorite. The rocks, brought in to form part of an arboretum in the 1900s, now form tunnels, staircases, and bridges, which kids love to climb. Ipswich.
Jamaica Pond
An easy 1.5-mile paved loop around the pond offers plenty of chances to look for ducks and turtles. In season, rent a canoe or kayak. Boston.
Kim Foley MacKinnon is a Boston-based editor, journalist, travel writer—and mom. She writes the Kids Outdoors Boston blog for the Appalachian Mountain Club and contributes to the Boston Globe, AAA Horizons, Boston Parents Paper, and many other publications.