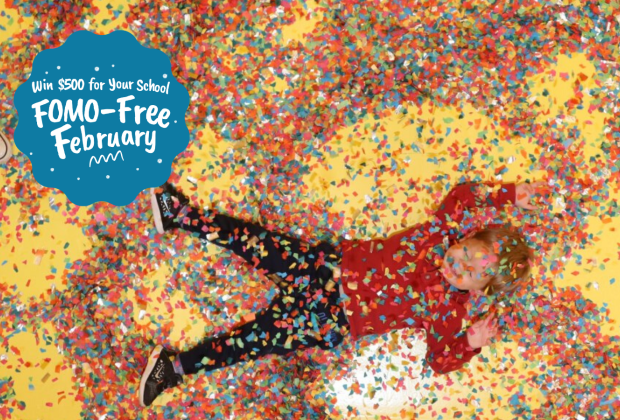 Share Your February Family Fun and Win Money for Your School
Win $500 for your school. All you have to do is have fun!
The holidays are over, winter is here, and that means it's time to slow down, right? Not if our kids have anything to say about it. Luckily, Houston has no shortage of fabulously fun activities for kids this winter.
To inspire families to get out and go this February, we've created the ultimate winter bucket list with 40 unique events and activities to help your family have more fun. And to make it even more fun, share your family fun pics on social media, tagging @MommyPoppinsHouston and #MPMadeMyDay, and at the end of the month, we'll donate $500 to the school or preschool of one lucky winner!
Here's how it works:
Snap some pics of your fam checking off an item from our ultimate winter bucket list (or any event or activity you find on Mommy Poppins).
Share your pic on social media, making sure to:

Use #MPMadeMyDay.
Tag the school you are entering for.
Make sure your post is public so we can find it.
Share the contest with your school community. The more people entering, the better the odds of your school winning!

You can enter once per day per social channel.
At the end of the month, one winner will be randomly selected and we'll donate $500 to their school or preschool of choice. See all terms and conditions.
Winner will be contacted by DM, so make sure you are following @MommyPoppinsHouston.
Ready for a fabulous February? Click on over to our Winter Bucket List and start planning your next adventure. And don't forget to share this with the other families in your community to increase the odds for your school. We can't wait to see all of the fun you get up to!
Sign up for our FREE Mommy Poppins newsletters so you always have the most fun goings on at your fingertips.
Terms and Conditions:
This contest uses the Instagram and Facebook platforms, however, it is not endorsed, sponsored, administrated by, or associated with Instagram or Facebook.
Prize: $500 donation to local Houston school or preschool. The school selected for donation must be an accredited public, private or charter school located in the Houston Metro area. Preschools and full-day center-based daycares qualify if they are licensed or accredited. Home-based childcares are not eligible.
Entry: No purchase necessary. You must post your photo, following all the contest guidelines as described above, by 11:59 pm ET on February 27, 2020, to be entered to win. One winner will be selected at random. Winner will be drawn on February 28, 2020.
Notification: Winner will be notified by direct message on social media within 3 days of the end of the contest and will have 72 hours to reply to claim their prize. Make sure you're following @MommyPoppinsHouston on social media so you don't miss winner notifications. After 72 hours, if there has not been a response to the winner notification, the prize will be reallocated to another winner. The winner (first name and last initial, plus the winning school) will also be posted on the Mommy Poppins Houston Facebook page once they have been verified.