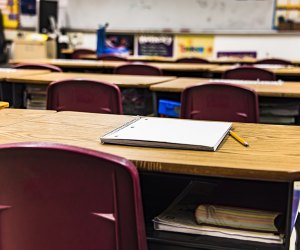 Coronavirus Closures in Houston: Schools, Museums, Libraries, Play Spaces
It's our job at Mommy Poppins to bring you the best ideas, events, and places for family fun. But with this week's continuing and unprecedented response to the coronavirus pandemic, we're here to tell you where not to go. As you probably already know, most of the kid-friendly programs, events, and yes, even schools, have been shut down for the near future. To help you best plan and prepare for this tough stretch, we've compiled the schools, museums, zoos, play spaces, and more that have closed their doors to help stop the spread of this virus.
If you and the kids are stuck at home, we've got plenty of ideas for you! With our hundreds of ideas for games, crafts, and activities, "I'm bored" shouldn't be a phrase you hear too often. So be sure and check out the Mommy Poppins Coronavirus Guide for Parents, which is filled with fun activities as well as insider tips for keeping your loved ones safe and healthy. Our event calendar is also being updated with cancellations and postponements. We here at Mommy Poppins Houston send best wishes to everyone affected by this virus.
Houston-area School District Closures
Most districts extended their spring break by an extra week. School districts that ended spring break on March 13 are closed until March 20, and schools with spring break set to begin March 16 are now closed through March 30.
The University of Houston-Downtown
Most Texas universities and colleges have extended spring break or canceled classes for the rest of March, requiring students to return home and enroll online.
Houston Entertainment Venue Closures
The Miller Outdoor Theatre canceled all March performances
Houston Museum Closures
Lone Star Flight Museum - closed through March 31
Houston Sport Venue Closures
NCAA games at the Toyota Center will not be open to the public
Houston Play Space Closures & Modified Hours
The Play Space - Webster
Modified and limited hours
Kid 'n Play - Pearland
Closed through March
We will continue to update this post as we learn more.