Online Robotics Camp
Young Gates - Kids Online Personalized Classes

Artificial Intelligence with Scratch Online Camp
Young Gates - Kids Online Personalized Classes

Spark Math: Free Trial Class
Virtual
Sign up for our free newsletters.
Free and Cheap After-School Programs & Classes in Houston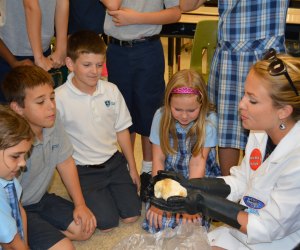 8/3/19
- By
Carrie Taylor
Whether it's because you're working out of necessity or choice, or a busy schedule means the kids need care in the awkward hour(s) before and after school, finding a safe, reliable, and AFFORDABLE option can be difficult. The Harris County Department of Education has resources in its Out2Learn program index including suggested providers for schools and organizations, and your local schools should have resources available to you as well. Read on for nine options that are either free or inexpensive enough to not break the bank.
City of Houston
Cost: Free
Before and after school
The city has many after-school resources for families, including free programs for kids of all ages. The After School Enrichment Program is for kids ages 6-13 and takes place at community centers across the city; check the website, and it's always a good idea to call, for the most up-to-date list of participating schools. The After-School Achievement Program (ASAP) funds programs in schools and area nonprofits, so check with your local schools to see if any are hosts.
RELATED: Cooking classes for Houston kids
Houston Public Library
Cost: Free
After school
For older kids who would like or need some place to be for an hour or so immediately after school, many branches of the Houston Public Library system offer free activities, crafts, and more under the After School Zone program. Activities and subjects range from STEM-centered learning to homework help to computer lab time. Check your local branch to see what programs it offers.
YMCA
Cost: Varies; $15
After school
Select YMCAs offer after-school programs to both facility and program members. If you aren't familiar with the program membership, it's a great low-cost option because it's FREE and you still get access to many of the facility's programs and offerings. Programs are broken into age groups and include age-appropriate sports, training, and team building activities. After becoming a program member, most of the after-school classes are around $15 per day.
Mad Science
Cost: Varies; $15 per session average
After school
Mad Science is a top-notch pick for hosting unique birthday parties, finding an educational summer camp, and it even provides after-school activities. Check its site for participating schools around Houston. Programs are typically 13-15 weeks and costs average $15 per session.
RELATED: Extracurricular classes in Houston for kids with special needs
Zenith Learning
Cost: Varies per location
Before and after school
Zenith offers homework help as well as theme-based curriculum rotated each month in its programs. You can choose from a full-time option, which runs from dismissal to 6 p.m.; part-time, which goes from dismissal to 4:30 p.m.; and before school, which runs 7-8 a.m. Daily schedules, as well as prices, differ depending on the participating campus, and some rates are as low as $90 a month.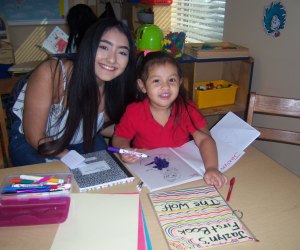 Enjoying the after school program at Wesley Community Center. Photo courtesy Wesley Community Center via Facebook.
Kidventure
Cost: Varies; $30 per day average
After school
With Kidventure after school programs, academic excellence is emphasized through active and hands-on learning in the arts, science, and more. Kids in grades K-8 withing to engage in extracurricular activities like karate or soccer can choose activities curated through Kidventure for an additional rate. Daily schedules and pricing options vary depending on participating campuses throughout Houston.
MECA
Cost: Varies based on family income sliding scale. Families who are unable to pay can also provide volunteer hours in lieu of pay.
After school
The Multicultural Education and Counseling Through The Arts (MECA) after school program offers students the opportunity to participate in visual and performing arts classes Monday - Friday from 3 - 8 p.m. Students in this program will also be eligible to recieve academic support and couseling services free of charge.
GIrlStart
Cost: Free
After school
This FREE weekly program is offered at multiple elementary schools throughout Houston for 4th and 5th grade girls. The program focuses on STEM education for girls and helps to teach skills needed to help girls gain confience and excel in academics.
Wesley Community Center
Cost: Varies by age; Free for grades 6-8.
After school
From 3-6 p.m. each day, you child can have a fun, safe place to enjoy being after school at the Wesley Community Center. Their after school progam focuses on encouraging hands-on learning about healthy living, emotional wellness, technology, and a variety of other subjects. Cost for ages preschool - 2nd grade varies based on family income, grades 3-5 is $25 per semester, and tuition is FREE for grades 6-8.
Top photo courtesy Mad Science