Best Coffee Shops in Houston to Bring Your Kids When You Need Caffeine
1/15/23
- By
Sarah Banks
Looking for the best coffee shops in Houston that welcome kids? We've got a list of kid-friendly coffee shops that have things for kids to do while you sip coffee.
Our kids bring us two feelings equally - great joy and great exhaustion! Whether you're tired from getting up at night or worn out with running around the park – or both – a caffeine pick-me-up might be just what you need. Perhaps you want to meet up with other parents in a child-friendly space? Look through our choices and pick out a welcoming space with delicious coffee. We have so many fantastic coffee shops in Houston, but we've highlighted those that welcome your little ones with features like extra space, games, a patio, and kid's menu options. We've combined our search for great coffee beans with a warm welcome for kiddos to draw up our list of the best coffee shops in Houston to bring your kids when you need caffeine. Our list includes choices for downtown and also surrounding neighborhoods.
Need more than a drink and looking for family-friendly restaurant options? Check out our extensive restaurant guide, including Best Kid-Friendly Restaurants in Houston: Where Kids Can Play While Parents Eat, Tex-Mex restaurants in Houston with Free Ice Cream, or 13 Kid-Friendly Barbecue Restaurants in Houston.
Best Coffee Shops in Houston for Kids

Photo courtesy of Kaffeine Coffee
We love the location of this small-business coffee shop with a patio. This delight is close to the Children's Museum, and the attractions of Hermann Park like Houston Zoo and the Houston Museum of Natural Science. After seeing the monkeys or visiting the latest exhibition, head to Kaffeine Coffee at Museum park and refuel in a family-friendly space.
A 2nd Cup is one of Houston's most spacious independent coffee shops, with excellent coffee, so you won't worry about you and your kids being penned in a small space while you drink your latte. This coffee shop is non-profit, and all proceeds go to fight human trafficking. Parking outside the door is another bonus.
In addition to a daily and a flavored brew, EQ Heights handcrafts all types of espresso-based drinks, from a Cubano to a Cafe Breve. They also offer smoothies to give your kids some of their five a day. Pick up a sweet or savory treat, maybe even a sandwich, salad, or personal-size pizza. Their website promotes bringing your kids to this family-friendly coffee shop with a neighborhood vibe.
Fellini brings a European feel to Houston with its Italian drinks and treats. The city center venue has outdoor seating in a safe environment for kids. While you sip on your iced chai latte, your kids will love the array of gelato and sorbet.

Kid's menu photo courtesy of Common Bond
With over ten locations around Houston, perhaps Common Bond's most family-friendly spot is in the Heights, with its outdoor green space for kids to run around and Adirondack chairs for parents to sip their coffee. The kiddos menu has milk, frozen dreamsicle, strawberry banana smoothie, caffeine-free frozen "mocha," and fresh lemonade. Treats include muffins, cookies, and cinnamon rolls.
Kid-Friendly Coffee Shops in Houston: West Houston
French Press Coffee House has a few locations in Louisiana, but only one in Texas – on the west side of Houston. Part of a shopping area with parking outside the door, this coffee shop is clean and spacious, with outdoor tables. The family-friendly coffee shop has a wide range of coffees, including Single Origin and Estate Grown, as well as a number of decorative specialty frozen and iced coffees. Kids will love the boba tea and the beignets.
At the corner of Jackson and 7th Streets in Richmond sits the building that currently houses Blockhouse Coffee & Kitchen, pop-up bookshop LIT Bookbar, The Kombucha Company, Vintage Hope, Family Style Design Co, and the Born in the Bend podcast. Behind the building is a big, beautiful backyard and playscape. As well as delicious coffee, Block House also serve locally baked pastries, treats, and small-batch ice creams from Richmond natives, Honeychild's Sweet Creams.
Kid-Friendly Coffee Shops in Houston: Northern Suburbs

Photo courtesy of Conduit Coffee
Conduit coffee is an independent delight in The Woodlands, with a shelf of games to keep the kids amused and the warmest welcome in The Woodlands. As they say on their website, "Maybe someday we will have a fancy mission statement, but for now all you need to know is - we love dogs, humans and coffee." With parking right outside the door, you won't go wrong if you try out this spot. Kids will enjoy a hot chocolate or an Italian soda while you have a latte (or maybe one of their specialty coffees, such as the 3 Little Birds with honey, lavender, and rose, served iced or hot.) Before or afterward, take the couple-of-minutes drive to Creekwood Park with trails, a playscape, fishing lake, skate park, and basketball court.
Rao's in Spring has an extensive hot and cold coffee menu. As well as the house blend coffee and all the classics, you can try an "Al Pacino" or a "Snickers Latte." This coffee shop also has a food menu for breakfast and lunch with many delicious baked treats. The Spring Location even has a party room, so you can have your kid's birthday celebration with great coffee for all the adult guests! And we couldn't forget to mention that Rao's is also famous for its delicious King Cake.
Kid-friendly Coffee Shops Near Houston: Southern Suburbs
This coffee shop in Pearland is also a local coffee roaster, so you know the coffee will be fresh! They roast and bag their own beans and offer various coffee menu options. Their porch has a swing for you to enjoy while you sip on your coffee.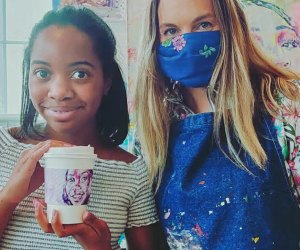 Photo courtesy of Bean Here Coffee Lab and Studios
With plenty of tables and an outdoor patio, Bean Here in Arcola is a unique mix of coffee roastery, café, and event space. There is a laid-back vibe to this artistic space, and after trying their coffee, you can take their beans to-go.