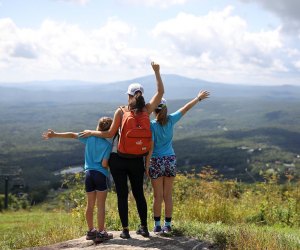 25+ Things To Do in Manchester, Vermont, with Kids
The pretty southern Vermont town of Manchester is nestled in the Green Mountains, making it the perfect New England getaway for hiking, skiing, biking, and all sorts of outdoor pursuits.
Manchester undoubtedly shines in the winter, but with dozens of restaurants, numerous retail and factory shops, and tons of outdoor activities, this quaint Vermont town is a fun place to visit any time of year. My family loves the area and frequently visits for summer vacation.
1. Bromley's Mountain Adventure Park
Soar down a mountain on an alpine slide (summer). Bromley's Mountain Adventure Park has family fun for all ages. Little kids will love the bumper boats, and big kids will flip on the space bikes (literally).
2. Hiking
Take a hike up Stratton Mountain, which offers several trails for people of all abilities in the off-season. A favorite for families with little ones is the Fire Tower Trail. The 1.5-mile roundtrip hike is rocky but not too difficult for kids to manage.
3. Gondola Ride
Or ride up the mountain with a scenic gondola tour at Stratton (summer, fall). Pack a lunch and have a picnic at one of the tables next to Hubert Haus.
4. Dorset Marble Quarry
Look for sculptures carved into the rocks as you swim at the Dorset Marble Quarry. The first quarry in the United States is now lovingly maintained by its owners and enjoyed by swimmers in the summer months.

Try mining for treasure at the Adventure Zone.
5. Adventure Zone
If you have a kid that loves mining and rocks, take them to the Adventure Zone at Okemo (summer). Here you can pan for treasure or zipline down a mountain. If you are looking for a more low-key activity, there is also disc golf or ladder ball.
RELATED: 30 Things to Do in Stowe, Vermont, with Kids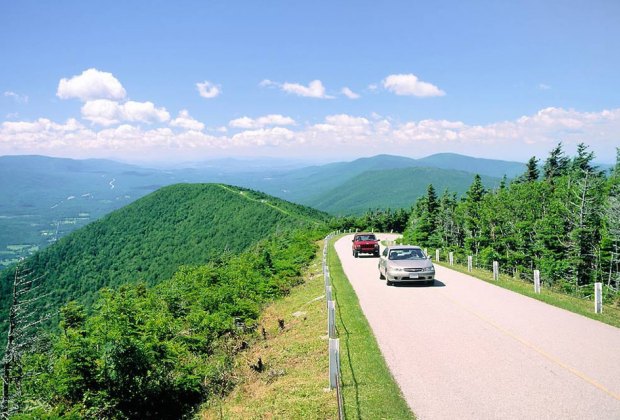 See the beautiful Vermont mountains on a family drive. Photo courtesy of Mount Equinox Skyline Drive
6. Mount Equinox Skyline Drive
Take a drive. Not just any ride, but travel along the Mount Equinox Skyline Drive (summer, fall). Reach the top of this well-maintained road and you'll be granted views for days. Families can take a short or long hike from the top where there are bathrooms and changing areas.
7. Mountain Bike Park
If you prefer to travel on two wheels, check out the newly completed Mountain Bike Park at Stratton (summer, fall). There are five trails with varying degrees of difficulty. Rentals and lessons are also available.
RELATED: 25 Things to Do in the White Mountains of New Hampshire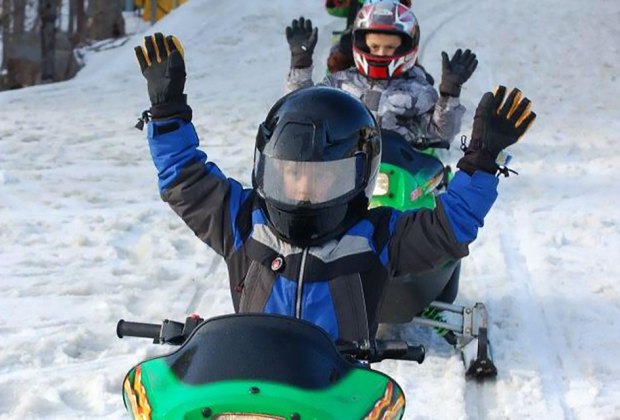 Try something new with a kid-friendly ATV tour. Photo courtesy of Stratton Adventures
8. ATV Tour
Take an ATV tour of the mountain with Stratton Adventures. This 1.5-hour excursion will show you a whole other view of the mountain.
9. Apple Picking
Pick apples from an orchard nestled in a mountain (fall). Visit Mad Tom Orchard in East Dorset. The current owner has been taking meticulous care of the trees for over 20 years. While you are there, be sure to buy a cider donut available on the weekends.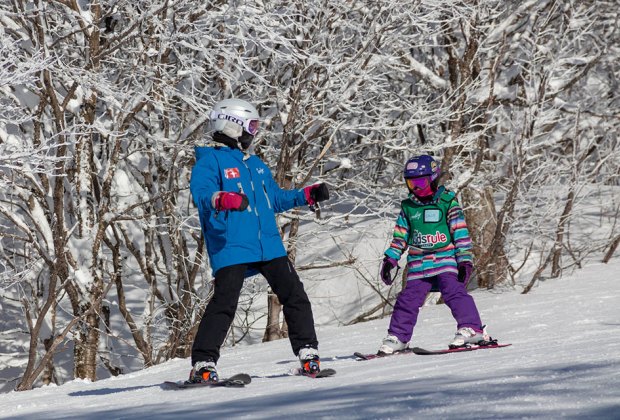 Learn to ski at Bromley Mountain. Photo courtesy of Bromley Mountain
Skiing and Winter Sports in Manchester, Vermont
10. Ski at Bromley
Teach your kids to downhill ski at Bromley Mountain (winter). The mountain's friendly instructors are ready to get your little ones up and zooming down the mountain in no time.
11. Cross-country Ski
Try your hand at cross country skiing at the Viking Nordic Center (winter). This sports shop caters to kids with small boot sizes and will help fit you with the perfect skis.
12. Snow Tubing at Stratton
Slide down a gentle hill at Stratton's snow tubing park (winter). Be sure to schedule your one-hour session online as soon as your plans are finalized as time slots fill quickly.

Shop for treats at the popular Vermont Country Store.
Indoor Activities for Kids in Manchester, VT
13. Vermont Country Store
See all things unique at the Vermont Country Store, from vintage games to candy to kitchen items, this store has it all.
14. Orvis
Feed fish at the flagship retail shop for fly-fishing giant Orvis. After you take a walk around the beautifully appointed shop, purchase food to share with the aquatic life that calls the large indoor/outdoor pond home.
15. Hildene
Learn about the legacy of Abraham Lincoln at his surviving son's former summer home. Hildene, a 412-acre estate filled with gorgeous nature trails and gardens, is open to the public to explore. See artifacts from the former president and learn about local ecology.
16. Northshire Bookstore
Help your kids find their next favorite novel at the Northshire Bookstore. The juvenile section occupies almost an entire whole floor and has cozy nooks where kids can sample before purchasing.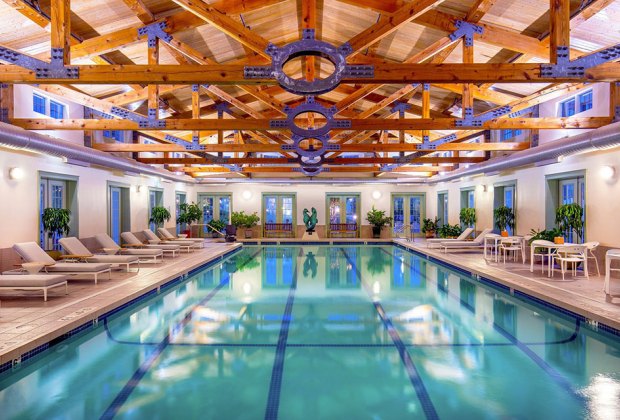 Take a dip at the Equinox Resort's pool. Photo courtesy the resort
Manchester Hotels, Resorts, and Restaurants
17. Equinox Resort
Stay in a historic hotel. The Equinox Resort has been hosting guests for over two centuries. Whether your big kids are competing in a hosted ax-throwing competition, or you are enjoying s'mores by the fire, you will undoubtedly have fun at this local Vermont resort. When you are there, be sure to say hello to the Chief Happiness Officer, Cooper, a golden retriever who works hard to make everyone feel right at home.
18. Hotel Taconic
Reserve a room at the boutique Hotel Taconic. Despite being one of the newer places to stay in Manchester, this hotel does not lack character. Take it easy on one of the many rocking chairs on the porch, or hop on one of their bikes out for a cruise around town.
19. Hampton Inn and Suites
A more budget-friendly option is the Hampton Inn and Suites. It's in the heart of town and offers complimentary breakfast for guests plus an indoor pool, which always wins points with the kids.
20. JJ Hapgood
Let the kids play a giant Jenga on the lawn as you wait for your meal at JJ Hapgood. This general store serves breakfast, lunch, and dinner and has a large grocery section with top-quality local goods. Be sure to try their pizzas which are out of this world.
21. Mountain Sweets Candy Shop
Satisfy your sweet tooth at Mountain Sweets Candy Shop in Stratton Village. Kids will love seeing the tubes of confections that line the walls.
22. Mrs. Murphy's
If it's donuts you crave, check out Mrs. Murphy's. This unassuming shop toward the edge of town has the best treats. Arrive early as they sometimes sell out.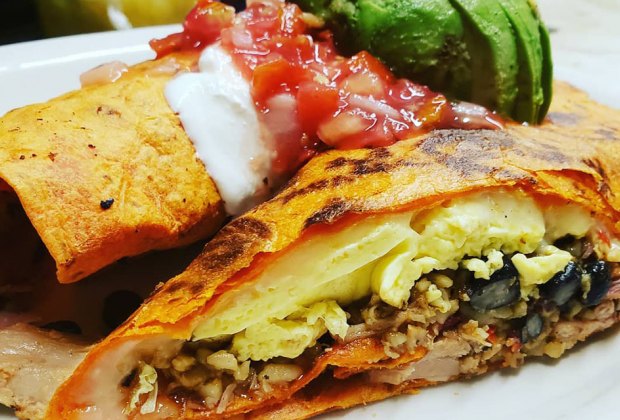 Fuel up at Up for Breakfast. Photo courtesy the restaurant
23. Up For Breakfast
In the early morning, visit Up For Breakfast and get your day started with a delicious meal. Its extensive menu has classics and inventive dishes to satisfy everyone.
24. The Little Rooster
Another great breakfast spot is The Little Rooster Cafe. This small eatery has great rotating specials and excellent coffee.
25. Cilantro
For a simple lunch, try the fast-casual eatery, Cilantro. The tacos and burritos are fully customizable and delicious.
26. Stratton Mountain Market and Deli
If you plan to be on the go most of the day, order a sandwich from Stratton Mountain Market and Deli. While you are there, you can pick up any items you forgot to pack.
27. The Copper Grouse
Enjoy a relaxing dinner at The Copper Grouse at the Hotel Taconic. Grown-ups will love the extensive menu, and kids might have a tough time choosing too.
28. Tavern at the Red Fox Inn
If you are looking for a cozy atmosphere, the Tavern at the Red Fox Inn is the place to be. Much more relaxed than its more formal dining room, this restaurant has delicious, filling comfort food. Be sure to bring some quarters for the kids to play the pinball machines while you wait. No reservations.
Photos by the author except where noted.