Sleepaway Camps for Connecticut Kids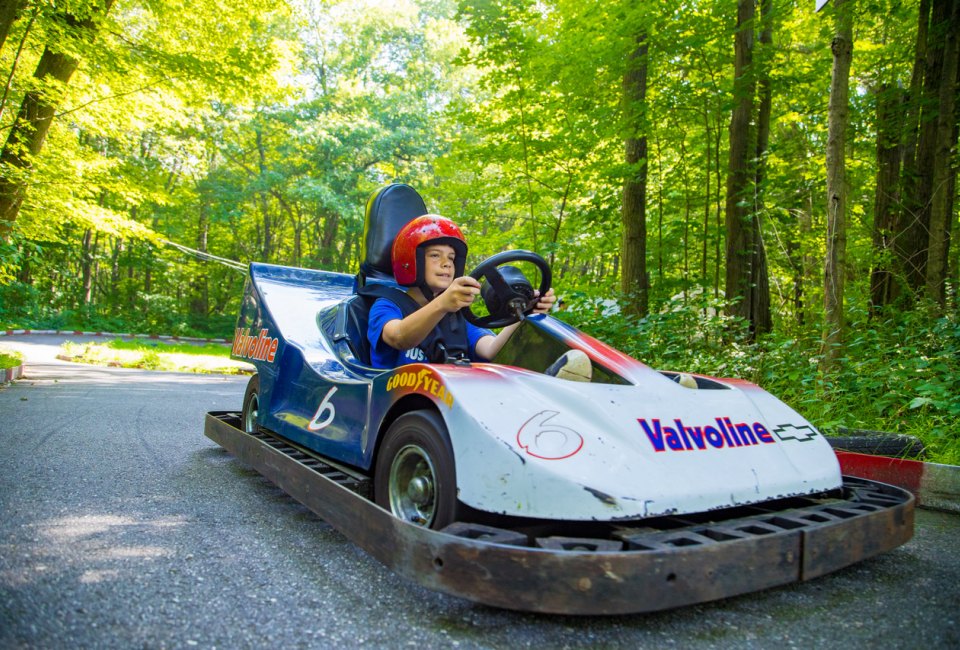 3/16/21
- By
Mary Beth Lawlor
Sleepaway camp really hearkens back to a simpler time, doesn't it? Besides being a place where kids go screen free for weeks at a time in favor of splashing in lakes and singing around campfires, there's a real community feeling at overnight camp that allow kids to forge bonds that often last a lifetime. Luckily, you don't have to drive far to get your kiddo settled at a fantastic sleepaway camp. Read on for some of our favorite sleepaway camps that are located right here in Connecticut.
Looking for more summer camp options? Check out these New England sleepaway camps with short sessions for younger kids as well as our complete Connecticut Summer Camp Guide.

Buck's Rock is for kids who seriously love the stage. Photo courtesy of Buck's Rock Performing & Creative Arts Camp
Buck's Rock Performing and Creative Arts Camp—New Milford

Not all camps are archery and bug juice (do they still have bug juice?) Buck's Rock Performing and Creative Arts Camp, located in the foothills of the Berkshire Mountains, is a sleepaway camp with a very specific mission. It's one that's been around since the early 1940s and draws creative campers from across the country. Every year, kids ages 9 to 18 are encouraged to unleash their creativity in over 30 fully equipped studios. The staff are top of the heap and amazing things happen at Buck's Rock.
RELATED: These "starter" sleepaway camps in New England offer short sessions that are perfect for first-time campers.
Camp Awosting—Morris
Camp Awosting sits on the shores of beautiful Bantam Lake in the Litchfield Hills and it's been this way for 120 years. No more than 165 boys (ages 6-15 and separated accordingly) stay in one of 16 cabins with at least two counselors per cabin. At this informal and friendly camp, every camper is introduced to all of the activities during the morning instructional program. During the afternoon elective periods, campers choose their activities. The 20-acre campus offers plenty of traditional ball sports as well as swimming, canoeing, sailing, water skiing, wakeboarding, and riding go-karts. It also features a climbing tower and zip line, martial arts, fencing, photography, video production, ceramics, drama, and a wood shop.
Camp Chinqueka—Bantam
Camp Chinqueka is Camp Awosting's sister camp. Since 1955, this is where girls ages 6-15 go to get their camp fix. The camp sits on Mt. Tom Pond in Litchfield County. Campers stay in cabins with girls their own age and two counselors live in each cabin. Campers are encouraged to try everything at more than 30 activity areas, include swimming, canoeing, sailing, dance, go-karts, martial arts, fencing, photography, video production, ceramics, music, drama and lots of sports. There is a climbing tower and zip line.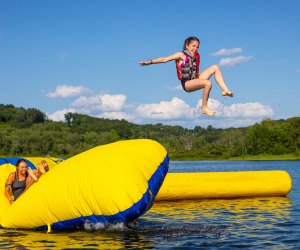 Frolicking on Mount Tom Pond is one of more than 30 activities at Chinqueka. Photo courtesy of Camp Chinqueka
RELATED: STEM Camps for Connecticut Kids
Camp Hazen YMCA—Chester
Camp Hazen's program offers more than just a summer experience. This camp says they provide "skills that kids will use forever," so counselors really focus on teaching kids how to build community, make friends, and develop resilience and independence. For more than 90 years, kids have enjoyed memorable summers here, enjoying campfires, singing, camping out under the stars, and developing their character.
Camp Jewell YMCA—Colebrook
This nationally-recognized resident camp program provides youth, ages 7 to 16, with an opportunity to build meaningful and lifelong friendships with fellow campers and staff. Campers focus on developing independence, a variety of skills, and respect for the environment. The weekends bring special all-camp activities ranging from carnivals to Camp Olympics, or the World Series of Wiffleball. Plus, there's time each day for siesta when campers have some quiet time to read a book, hang out with friends, and write letters home.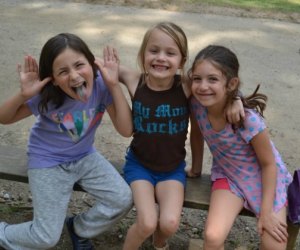 Friendships blossom through tent camping traditions at Sloane. Photo courtesy of Camp Sloane YMCA
Camp Sloane YMCA—Lakewood
Since 1928, Camp Sloane campers (in grades 3 to 11) have enjoyed the fun, camaraderie and yes, even the comfort of tent camping in the foothills of the Berkshire mountains. Tent camping is what makes this YMCA experience unique. Campers enjoy programs like crew/rowing, water skiing, and culinary arts during their stay.
Greenwood Trails—Winsted
Campers at Greenwood Trails are strongly encouraged to choose their own adventure. Days consist of six 50-minute sessions largely chosen by the campers themselves. There are goal-oriented programs that offer campers the chance to excel in four areas: athletics, aquatics, adventure, and art. What's more? Campers here learn that failure isn't fatal because at Greenwood Trails, FAIL stands for First Attempt In Learning.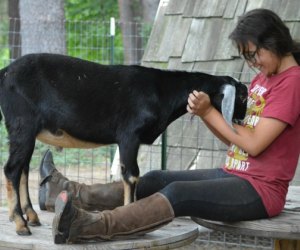 SJ Riding Camp offers options ranging from a one-day camp through a three-week overnight session. Photo courtesy of Farm Camp at SJ
SJ Riding Camp—Ellington
SJ is designed for girls who love animals and the equestrian camp fills up especially quickly. Campers can go for the day or overnight for one to three weeks. Days are filled with activities including arts and crafts, archery, tennis, acting games, swimming, boating, or more time loving and learning about the farm animals and the horses. Talk about a classic childhood experience.
These sibling camps, KenMont for the boys and KenWood for the girls, have been staples in the Connecticut summer scene since 1924. Here campers ages 8 to 15 foster independence and build character through strong role models and classic camp activities, including cooking, soccer, gymnastics, water sports, and more.
Camp Mohawk—Litchfield
It's girls only at this YMCA camp. In addition to the kind of community you can only find at summer camp and more than 30 activities to choose from, Mohawk also boasts theme nights and an equestrian center. Each cabin houses 8 to 19 girls and is supervised by two counselors.
Incarnation Camp—Ivorytown
Located on the Connecticut coastline, on 700 acres surrounding a mile-long private lake, Incarnation is the country's oldest co-ed camp, established in 1886. Camp Pequot, for boys 7 to 13, and Camp Sherwood, for girls 7 to 13, offer well-rounded and adventurous programs that foster an appreciate for nature and celebrate each child's individuality. Campers choose activities within their age group and participate in water sports, field and indoor sports, arts & crafts, hiking and camping, the FarmHands program, and more.
Camp Claire—Lyme
Campers will choose three fun activities sessions to participate in every day such as swimming, boating, sailing, and crafting, as well as dive into some camp-wide games. Camp Claire offers 2-week sessions for campers 8 to 14 years old. Located just off the Connecticut River, Camp Claire is situated in a beautiful, wooded setting.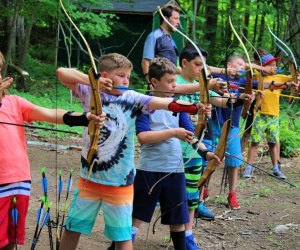 Photo courtesy of Camp Laurelwood
Camp Laurelwood — Madison
A Jewish overnight co-ed camp, Laurelwood was established in 1937. Located 15-minutes way from Hammonassett Beach, this camp welcomes campers ages 8 to 14 years of age. Kids will enjoy water play, gaga ball, soccer, tennis and swimming.
Channel 3 Kids Camp — Andover
The Channel 3 Kids Camp offers overnight camping for kids ages 8-13. There are 9 one-week sessions to choose from. There are many activities to choose from including swimming, woodworking, fine arts, pioneering, archery, hiking and so much more. Even better for parents, tuition for camp is on a sliding scale based on parents income.
Windham County 4-H Camp — ​Tolland
4-H camp is an affordable program with seven different themes to choose from. Available for kids ages 7-15, the overnight week will give them a chance to grow in their independence and bond with other children. Five sessions of activities are part of the daily schedule as well as meals, rest hour and an evening all-camp program. Overnighters are houses in rustic-style cabins and the camp is on the water for swimming and boating. Campers can also try their hands at archery, dance, fishing, horseback riding and crafts.
Originally published in 2012
Sign up for the Mommy Poppins Newsletter today!