Pick Your Own Pumpkin Patches in Western Connecticut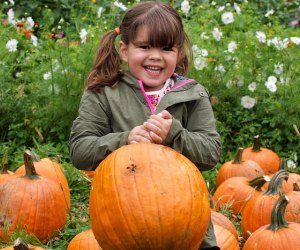 Whether you are looking for the cutest baby pumpkin or the 'bestest', greatest, biggest giant, you'll find the pumpkin of the season (if not your life) in one of these fun Connecticut pumpkin patches. Let us know which pumpkin farm is your favorite and we'll add it to the list if it isn't already here. For more Halloween and Fall fun check out our CT Halloween and Fall Fun Guide. Be sure to sign up for our weekly newsletter so that you can keep up with all of the great events happening across Connecticut.
Silverman's Farm, Easton
This pumpkin patch in Easton gives away thousands of pumpkins free every year. All you have to do is to guess the weight of your chosen pumpkin within 2 oz. either way – and you can walk away with it without paying a cent. Silverman's also hosts their annual Oktoberfest each year – they decorate their pumpkin patch with eye-catching and funny displays built from colorful pumpkins, gourds, hay and Indian corn. Don't miss their kid friendly animal farm which boasts twin baby sheep, young pygmy goats and an Alpaca family. Open Daily 9am - 5pm.

451 Sport Hill Road, Easton, CT 203-261-3306

Warrup's Farm, Redding
Warrup's in the center of Redding is a smallish farm surrounded by carefully preserved forests and wetlands – a paradise for nature-lovers. Their vegetables, fruits, and pumpkins are organic. Kids love the antique tractor-drawn hayrides down the little dirt road to the pumpkin patch where you can pick your own pumpkin off the vine. Grown-ups appreciate the serene beauty of the farm and its efforts at conservation and sustainable agriculture. Open every weekend in October 10-6pm.

11 John Read Road, Redding, CT, 06896 203-938-9403
Angevine Farm, Warren
Located in scenic Warren in a lovely valley, this pumpkin patch is a sweet spot to stop. See their website for details.

40 Angevine Rd., Warren, CT 06754 860-868-7226
Jones Farm, Shelton
Jones Farm is one of our favorite farms: its huge, yet intimate, its red barns and buildings, vineyards, berry patches, white fences, winding dirt roads and rolling hills offer endless opportunities to enjoy nature, have fun, eat or pick something yummy or see something new or unusual. The hayride on Jones Farm is one of the best experiences: really long and leisurely. Of course, they have pumpkins, too, 25 acres of field with 50 different varieties of pumpkins and squashes. You can pick your own or buy one from the Market Yard which is sure to be a feast for the eyes with its colorful displays, photo stands and the mini-stage for music and entertainment for kids. Farmer Jones' phone recordings always provide a detailed inside scoop on this wonderful farm's upcoming surprises. Hayrides every day and Corn Mazes on weekends too! Make sure to bring a wagon to transport all of your pumpkins home.

120 Beardsley Road, Shelton, CT, 06848 203-929-8425

Harris Hill Farm, New Milford
Harris Hill is a smaller farm, but one with a spectacular view of the surrounding hills of Litchfield county. Harris Hill is all about pick-your-own fruits and vegetables with pumpkins being the highlight of the fall season. The farm is committed to educating children about farming and agriculture, organizing educational field trips and setting up their operations and events around this mission. For this reason, they also operate an animal barn around their scenic pond: kids will be happy to find piglets, bunnies, ducks and goats on this farm. They also have hayrides and kiddie hay mazes. Open Sat - Sunday through October. Hours are 9am - 5pm.

106 Ridge Road New Milford, CT, 06776 860-354-5856

Blue Jay Orchards, Bethel
Just a short drive from the busy Danbury-Newtown-Bethel commercial stretch is Blue Jay Orchards. It is also busy – with families enjoying the farm and its produce. Its smaller size is kid-friendly, families can navigate its orchards and fields easily – even when the hayride is not running. Blue Jay's pumpkin patch has really cool orange wheelbarrows that are just right for pumpkin picking. Young school kids are fascinated by their honey bee display which explains the lives of these cute bugs on funny, original, colorful instructional panels. 9am - 6pm every day through end of October. Wagon Rides on Weekends.

125 Plumtrees Road, Bethel, CT, 06801 203-748-0119
Originally published on 9/23/11.
Photo Credit: Allyson Noel