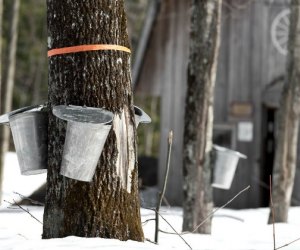 Maple Sugarhouses in the Hartford Area
Maple sugaring season begins as early as February and can run into late April with its peak time being March. While maple syrup season may be best known in Vermont and New Hampshire it still is pretty popular in other parts of New England, including Connecticut. Why not check out a local maple sugarhouse with your family to learn how the sap is gathered and boiled, and taste some of the delicious fresh made syrup. After you find your sweet treat, swing over to our winter fun guide stocked full of activities to get you through the long winter months.
Lamothe's Sugarhouse
Located in Burlington, this sugarhouse is open Saturdays and Sundays from February 21 to March 30. Watch how maple syrup is made and enjoy complimentary coffee and hot cider. They also have many great products available for purchase like pure maple sugar candy, maple farmhouse kettle corn, and more.
89 Stone Rd. Burlington, CT 06013 (860) 675-5043
Leonard's Sugarhouse
This North Canton sugarhouse opens their facility to the public from February to April. They don't have a website, so call them to find out about specific boiling times and tour hours.
555 Cherry Brook Rd., North Canton, CT 06059 (860) 693-8514
Northwest Park
The Sugarhouse in Windsor's Northwest Park invites visitors to watch their sugar master at work every year during late winter. For details, call the park.
145 Lang Rd., Windsor, CT 06095 (860) 285-1886
Sweet Wind Farm
Visit Sweet Wind Farm in East Hartland for their open house boiling days or join them in March for the annual Maple Festival. The farm also offers group tours and classes.
339 South Road East Hartland, CT 06027 (860) 653-2038
The Hidden Pond Sugarhouse
Open year round, Hidden Pond specializes in maple syrup and honey. Call to find out more information regarding hours of operation.
72 Great Pond Rd., Simsbury, CT 06070 (860) 658-4697
Hebron Maple Festival
Enjoy this family friendly festival in mid-March. 4 different sugarhouses. There will be food, live music, a quilt show, blacksmithing, face painting, of course maple everything, and so much more.
Location 1: 22 Main Street, Hebron, CT 06248
Location 2: 85 Wall Street, Hebron, CT 06248
Maple Sugar Madness
Watch how maple syrup is made at the Welles Shipman Ward house in Glastonbury. Sample pancakes cooked on an open hearth with the freshest maple syrup possible.
972 Main St. Glastonbury, CT 06033
Originally published 3/9/12
Photo Credit: Flickr