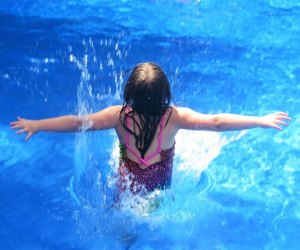 Make a Splash and Learn to Swim at Hartford Area Pools
Get ready to make a splash. Several pools in the Hartford area offer open swim times and lessons to refresh you on a hot day or help you think sunny thoughts on a cold day. Some require town residency while others are open to nonresidents. It's a great way to get the family some exercise even when the weather doesn't cooperate. Plus, swimming is a lifelong skill that enhances safety and increases opportunities for fun. For more enrichment and after school classes, check out our Classes and Activities Guide.
Swim Center, Simsbury
Located at the Westminster School, Farmington Valley's newest indoor swimming facility features an Olympic-size 8-lane pool, lots of natural light, and an architecturally delightful natatorium. The swim center offers memberships to the surrounding community that allow participants to swim independently during any of the scheduled hours of operation. They are also eligible for the discounted "member rate" on swim lessons, water fitness classes, and other programs. Memberships are available on a monthly basis, with no long term contracts required. Discounts are offered for seniors, families, and adults living within the same household.
Cornerstone Aquatics Center, West Hartford
Choose from a 11-lane lap pool set at 79 degrees, a zero-depth entry, a multi-purpose pool that is heated to 86 degrees, and a large hydrotherapy pool. The multipurpose pool has a large area where children can play and which gradually deepens; a channel connects this area to swimming lanes around the corner. Memberships operate annually and members can swim during scheduled hours. Swimming instruction is offered for all ages to both members (at a discounted rate) and nonmembers. The facility also has a small gym open to members.
Mandell JCC of Greater Hartford, West Hartford
Here you will find a wide variety of aquatics programs for children of all ages. Swim laps in the 6-lane, 25-yard lap pool, splash around with the family in the local training pool with a moveable floor that allows instructors to adjust depth, or relax in the whirlpool. Swim classes are available for all levels. Check out the website for more information about the various programs available.
Pope Park Recreation, Hartford
The facility offers a youth swim program, swim lessons, a swim team, and open swim.
The Wheeler Regional Family YMCA, Plainville
The facility offers a lap pool, a multi-purpose pool for family recreation and fitness, and a whirlpool, in addition to other facility amenities such as a fitness center, walking track, sauna, and preteen and teen centers. Swim classes for all ages are available, as well as water fitness classes. The Y offers family, youth, and adult memberships. In addition, being a member of any Greater Hartford YMCA grants you free access to any Y Membership Facility in New England. Check the website for more information about membership categories.
East Hartford Pools, East Hartford
Open and free of charge to residents (must show proof of residency), as well as to nonresidents for a fee, the town offers two indoor pools throughout the year and five outdoor pools during the summer.
Wethersfield High School, Wethersfield
The indoor pool is free for residents for a minimal fee (must show proof of residency). Out of town guests are admitted while accompanied by a resident over the age of 18. Adult swim, recreational swim, and lessons are available. Every night the schedule changes, so be sure to check its website for more information. A season pass to this pool purchased through the Parks and Recreation Department will also grant entry to the indoor pools at Newington and Rocky Hill High School.
Newington High School, Newington
The pool is available to residents for a small fee, or with a seasons pass purchased through the Parks and Recreation Department. The pool is open to the public from September through May and offers hours on Monday, Wednesday, and Friday (subject to change). In addition, swimming lessons are available in the summer, as well as fall/winter seasons for children 6-17 years old.
Healthtrax, Various Locations
The fitness and wellness facilities in Avon, Glastonbury, Newington, and Bristol each have a lap pool and whirlpool and offer many swimming instruction and aqua fitness classes for all ages (including in Avon, JAWS, the Junior Aquatic Workout Session class designed to help kids ages 7-13 develop stamina, balance, strength, and flexibility while working in the water). In addition, all facilities offer many kids programs (kidZONE) out of the water. A variety of membership options are available yearly or monthly -- check the website for details.
Elizabeth Berner Pool, Plainville
Plainville residents and their families can take advantage of the pool free of charge. Open swim is available Monday through Thursday. On Saturdays, Red Cross Swimming Instruction is available for ages 6 months and up.
Originally published July, 2017
Photo Credit: Photo Courtesy of C. Verge