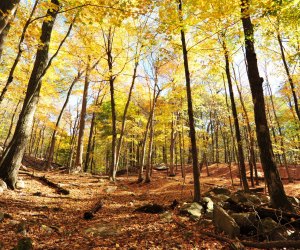 Best Parks to Visit This Fall in Fairfield County
Nothing compares to the beauty of New England Falls: the breathtaking colors of the foliage with the reds, oranges, yellows and browns cannot be found anywhere else. A beautiful, sunny October day is the perfect time to head out to explore one of Fairfield County's many, beautiful parks. We have many favorites and look forward to nice autumn weekends to be able to visit them all. Check out our complete Fall Fun Guide for more ways to savor the season. Subscribe to our weekly newsletter and don't miss out on any fun this season!
Cranbury Park -- Norwalk
Cranbury Park is just the right size for a family with children and has everything you could look for in a park. Its 190 acres are tucked away on a hillside within a few miles off Route 7. The majestic, limestone Gallaher mansion from the 1930's presides over the grounds. A wide-open field perfect for playing ball or for running around spreads out behind the mansion. A smallish, but well-equipped playground is installed in one corner of the field for some climbing and sliding action. We love the woodland groves of the park the most. They are big enough for some hiking and ridge-climbing adventure and the smaller forest trails can lead you through exciting terrain with creek beds and bumpy rocky sections. If you choose to stay on the wide carriage road, you can take a comfortable stroll under the colorful trees with the kids exploring the Frisbee golf equipment installed along the path or conquering the peaks of the boulders scattered around nearby.

Huntington State Park -- Redding
This is the 'bear and wolf' park as our family calls it after the life-like giant bear and wolf statues at the park's entrance. We also know it as the park with the beautiful little ponds where you can paddle a quiet afternoon away in a kayak or canoe. Huntington Park also has a giant green meadow on a beautiful, tenderly sloping hillside. The bulk of the park is made up by forests crisscrossed by a well-maintained trail system. Following the trails that are wider on the main route and narrower and more winding in the 'nooks and crannies', you can venture into dense bush groves, squashy wetlands, onto little footbridges and walk amongst proudly tall trees.

Indian Well State Park -- Shelton
Though this park is on the smaller side, it certainly has its mystique and allure. The park's sandy beach along the Housatonic is a nice spot for an easy afternoon stroll or a bit of running around with a ball and kids. But the real treat in this park is the gorgeous 15 foot high, slender horse-tail shaped waterfall pouring Indian Hole Brook's chilly water into a well-shaped splashing pool. Adding mystery to the beauty of the place is the old legend of forbidden love: a Native-American boy and girl from hostile tribes falling into love with each other and driven by their families' hostility to suicide at the falls. The park also has short and easy hiking trails that are fun to roam and offer scenic views of the Housatonic flowing by lazily at the foot of the hills.

Sherwood Island State Park -- Westport
Sherwood Island always promises something exciting: it is worth going back there as the seasons change. Although come September, you cannot swim in the chilly waters of its two large beaches, the wide, sandy stretches facing Long Island Sound are just perfect for kite flying in the fall. If you want to fly something 'motorized', the park also has an airfield for remote-controlled model airplanes. If the beach is too windy, you can take shelter in the wetland areas of the island where marshes and small forests hug each other and you are sure to spot a bunny in the grass or a slender deer amongst the trees.

Ward Pound Ridge Reservation -- Cross River, NY
This beautiful, 4000+ acre park showcases all the beauty and variety that Nature blessed our region with. It has dense forests hiding bubbly creeks, wide-open rolling meadows, bustling marshes, tiny ponds and proud, towering rock walls and outcroppings. It is one of our favorite places and we never get tired of it. The park also hides many beautiful, historical farmhouses and old structures. You can spend days hiking its dozens of interlocking trails: wide forest trails, winding, narrow washouts, dry, rocky riverbeds. You can bike around on its two paved main roads, stopping by one of its neatly maintained picnic areas for a rest or a game of catch in the fields. If you find it open, be sure to stop by the Trailside Nature Museum to learn more about the area's history and wildlife. While there, don't forget to find the replica tepee and Indian tree bark canoe: yes, the area was once home to Native-American tribes.
Cover photo courtesy of Ward Pound Ridge Reservation
Originally published 10/01/11.