The Berenstain Bears Live: Good Fun for First-time Theatergoers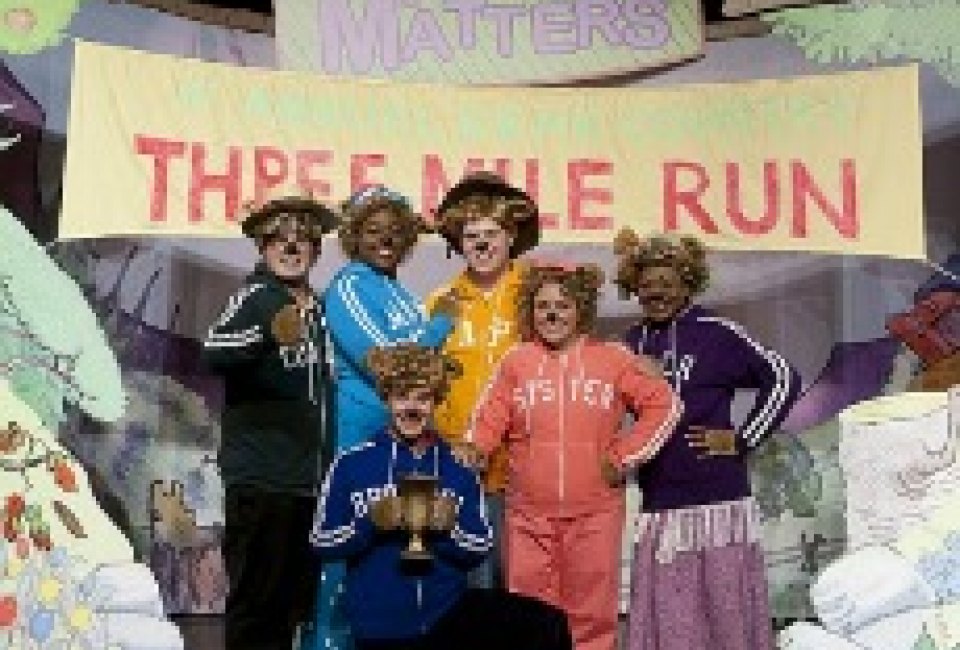 7/11/11
- By
Raven Snook
I take my kindergartner to a lot of theater. (I'm not kidding when I say I think she's seen more live shows than your average adult New Yorker.) So parents are always asking me to recommend productions for little or even first-time theatergoers.

The Berenstain Bears LIVE! in Family Matters, the Musical is just such a show. Most kids two and up already know the characters, and even if they aren't familiar with the brand...er, I mean books, what's not to love about this tight-knit furry family?

Although it's done on the cheap (the music is canned, the backdrop is cardboard), the production has a lot of spirit and the young performers are strong singers who keep their cloying to a minimum. The biggest kick parents will get out of the show is watching their kids have fun, but that's really the point of going, isn't it?
At 55 minutes, the musical is the perfect length for preschoolers. The plot is simple: Brother (Alex Gorley) misses an important math lesson and a big soccer game when he's sidelined by a cold. But even once his health improves, his bad attitude threatens to keep him down. Meanwhile, Mama (Laurie Geigel) is on a mission to get the family to eat healthier, but the family—especially Papa (Ryan Scarlata)—isn't on board. And chatty Sister (Jill Kurzner) is talking to strangers, oh no!

Yes, it's preachy and repetitive, but this kind of colorful edutainment is like honey for little kids. Michael Borton's songs are cute and catchy, and there actually are some pretty funny bits in the script, which he cowrote with Michael Slade. Goofy Papa provides the lion's share (or is it bear's share?) of laughs. The children in the audience crack up when he bends over and splits his pants, revealing his really tacky underwear. Parents will appreciate when Dad tries to teach his daughter to be careful of strangers in the song "Ballad of the Wily Fox" and ends up totally freaking her out.

After the performance, kids are invited to get their faces (well, technically noses) painted as bears, dance around and pose for photos with the cast (that's my almost six-year-old grinning in the slide show above). Don't be put off by the inevitable line: It moves very quickly. Unfortunately it does go right by the souvenir stand, which is filled books and quite pricey Berenstain teddy bears.

Speaking of prices, tickets are $34.95, $44.95 or $59.95. What do the more expensive ones get you? In the case of $44.95, seats in one of the front rows. With the $59.95 V.I.B. (Very Important Bear) package, kids can sit cross-legged on the grass-like rug at the foot of the stage, and get a complimentary set of foam bear ears. In my opinion, buy the cheap seats. You'll save money and have just as much fun since it's a pretty intimate theater. Plus, Broadwaybox.com is running a 20% discount on those tickets, so you can snag them for just under $28.

The Berenstain Bears LIVE! in Family Matters, the Musical plays at the Manhattan Movement & Arts Center, 248 West 60th Street between Amsterdam and West End Avenues. Tickets are $39.95-$64.95. Visit the website for the schedule.

Photos by Aaron Epstein
Places featured in this article:

Sign up for our free
newsletters.
Mommy Poppins is a family activity website that helps people find things to do with kids.
©
2023
MommyPoppins. All Rights Reserved.
mp-prod4-v4.32.99
We use cookies and other data collection technologies to provide the best experience for our customers.
Learn More