Explore Offbeat Art in an Old Bank Building for Free in Long Island City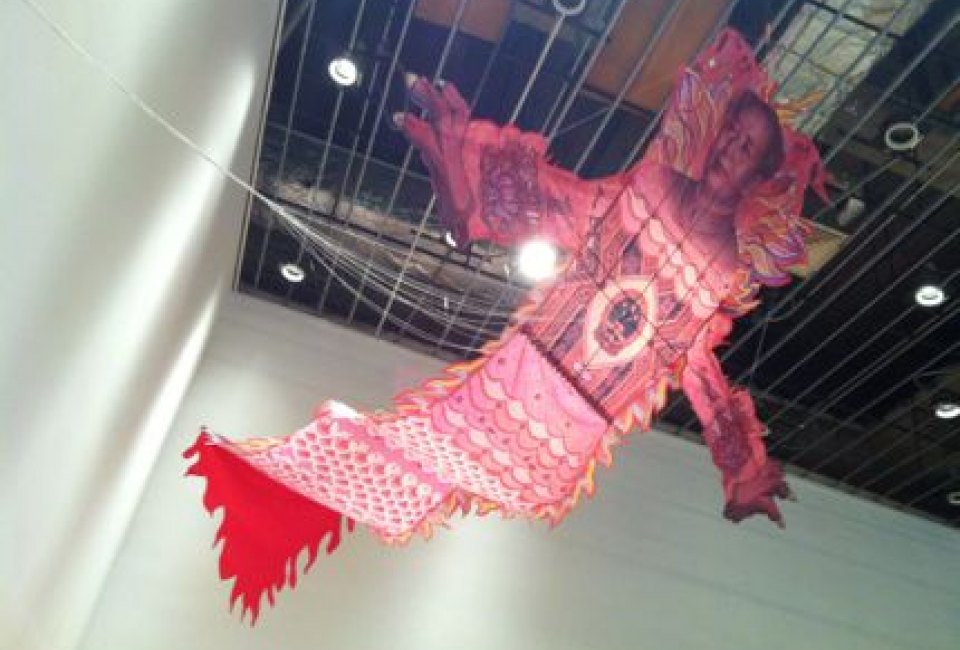 1/27/13
- By
Sarah G
How Much Do I Owe You? is one of those offbeat, one-of-a-kind art installations we love to explore with our kids. This free site-specific exhibit is set inside the long abandoned Bank of Manhattan Tower (a.k.a. the Clock Tower) in Long Island City, Queens, and the works on display explore issues of currency, value and exchange in our society. Or—as I told my son after he responded, "No thanks" to my invitation to check it out—"It's a show about money in a cool old bank building." "Oh, in that case, let's go."
How Much Do I Owe You? is the brainchild of No Longer Empty, a nonprofit that mounts thought-provoking temporary art exhibitions in vacant spaces. The works on display always relate to the building's past, hence the money theme, although sometimes the connection is elusive.

The first thing we saw when we entered was pretty arresting: Four typewriters cast in resin cubes, air bubbles bursting from inside. Beyond that, large kite-like butterflies soared from the rafters. The main space is a long and tall roofless hall where the original bones of the old bank building are visible. In the center, No Longer Empty hosts a variety of performances, lectures and workshops, including occasional activities for kids and families.

With works commissioned from 26 artists from 15 countries, the exhibit has a lot for tweens, teens and adults to see and talk about. The org even distributes self-guided scavenger hunt maps to school-age kids to make your visit more exciting. But the biggest thrill for my six-year-old was being able to explore the building itself. Built in 1927 in the neo-Gothic style, the bank still has a lot of its original details. We were able to trek down to the lower level and enter the old vault. It's dark down there and pretty exciting for a kindergartner. In one of the lower level rooms, we stumbled across two headless mannequins dressed in business suits shaking hands as their neckties reared their snake-like heads. My son found this piece particularly entertaining.

While some of the pieces are clearly interactive, other works (like the stacks of records and glass piggy banks stuffed with lottery tickets we found in one basement room) are clearly eyes-only, a sometimes confusing distinction for the younger set. Be prepared to repeat, "Don't touch!" ad nauseam.

Before leaving to grab a shake at The Burger Garage on our way home, we climbed the backstairs to get a good peek behind the walls and play a guessing game about what will happen in the old Clock Tower once this exhibit is gone. It's no surprise that its next incarnation has everything to do with the changing economics of the neighborhood.

Be sure to ask for No Longer Empty's neighborhood map, which highlights restaurants, art and culture spots in the immediate area. Or check out our Family Guide to Long Island City for even more suggestions, including tips on visiting MoMA PS1 with kids.

How Much Do I Owe You? is on view Thursday-Monday at 29-27 41st Avenue near Northern Boulevard through March 17. FREE

Find out about other cool exhibits for kids in our Museum Guide.
Places featured in this article:

Sign up for our free
newsletters.
Mommy Poppins is a family activity website that helps people find things to do with kids.
©
2023
MommyPoppins. All Rights Reserved.
mp-prod4-v4.32.99
Click Here to Sign Up!
i