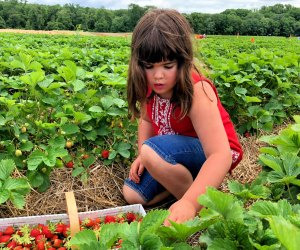 Strawberry Picking with Kids in Connecticut
Strawberry picking farms can be found all over Connecticut. This tasty red fruit is one of the healthiest and most delicious treats that warmer weather brings to the Northeast.
Find a u-pick farm for strawberry picking with your Connecticut kids with our list of great spots below. Watch the excitement on their faces as they hunt for the biggest, reddest berries on the farm.
The Connecticut pick-your-own strawberry season is short, usually lasting only from early or mid-June to early July; don't miss out! There are so many great strawberry-based recipes you can prepare with the kids, too: homemade jam, strawberry shortcake, berry tarts, or simply enjoying fresh fruit in cereals, salads, or as an ice cream topping.
For more berry picking fun, check out Berry Farms in Connecticut; once July rolls around, it's time to start thinking about blueberries.
Hartford County
Easy Pickin's Orchard
Enfield
Strawberries, blueberries, raspberries! Enjoy the outdoors at this family-owned farm (since 1951!) while picking fresh fruit.
Dondero Orchards
South Glastonbury
Celebrating more than 100 years of history, this farm offers pick-your-own strawberries daily in June, and blueberries and raspberries in July. Fill up your basket and pay by the pound. While there, don't forget to check out the bakery, brimming with amazing homemade pies, jam, and more.
Rose's Berry Farm
South Glastonbury
Luscious berries await along with a wide variety of fresh fruit and vegetables in a scenic location; strawberries in June and 40 acres of blueberry plants in July. Opened in 1908, Rose's offers a hearty old-fashioned farmers' breakfast every Sunday, from 8 a.m.-1 p.m. Relax on the deck and overlook the beautiful fields while enjoying a tasty home-cooked meal. Pack a lunch and enjoy a family picnic on the beautiful grounds.
Pickin' Patch
Avon
This family-owned farm is open daily from 9 a.m. to 6 p.m., but be sure to call ahead to check for last minute schedule or weather changes. Strawberries are usually available from mid June to early July.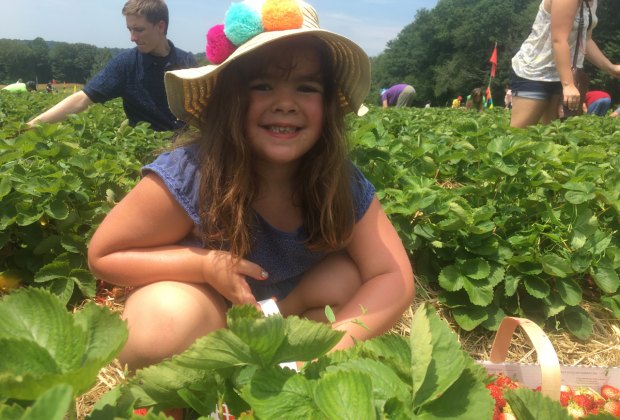 Jones Family Farms is a Fairfield County gem. Photo courtesy of Ally Noel.
Fairfield
Jones Family Farms
Shelton
As the only farm in Fairfield County with pick-your-own strawberries, Jones tends to get packed on summer days, but that shouldn't deter you from going. One trip on the berry ferry out the berry patches, and you'll forget all about the lines.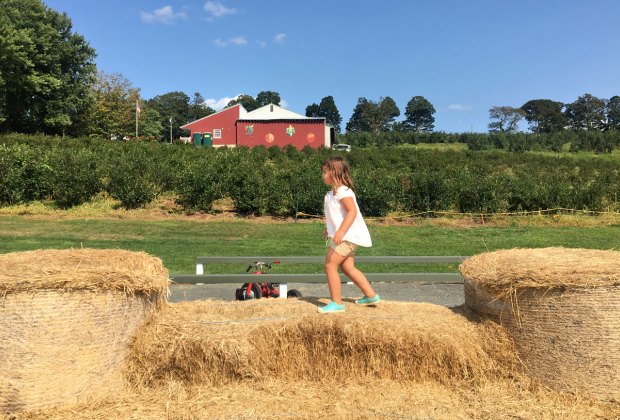 Enjoy the Hayloft Playscape at March Farm. Photo by Ally Noel.
Litchfield
Deeply Rooted Farms
Harwinton
This family-run farm has the unique distinction of being able to offer an extended strawberry picking season - typically beginning at the end of May.

March Farm
Bethlehem
March Farm is nestled into the hillside of Litchfield County. For four generations, the family has been harvesting this land and their pride shows. The hayloft play space—complete with tot-size tractors—makes this a perfect family destination.
Ellsworth Hill Orchard and Berry Farm
Sharon
Grab a box and spend some family time collecting berries from Ellsworth Hill's well-maintained berry patches. You can pick your own or grab a pint from the farm stand.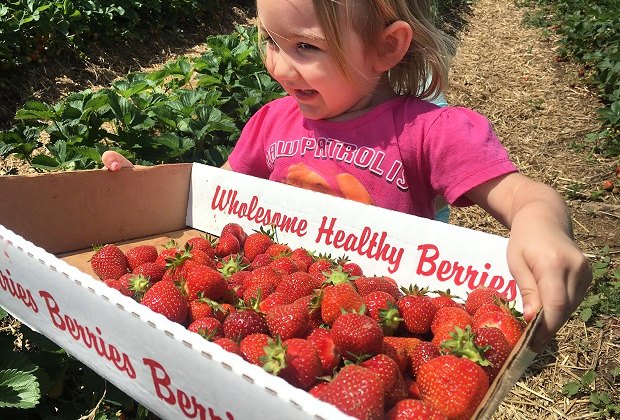 Berry picking is just one of the many fun activities at Lyman Orchards. Photo courtesy of C. Verge.
East
Scott's Yankee Farmer
East Lyme
Founded in the 1960s, this 125-acre farm produces delicious strawberries. If you time your visit right, you may even be able to pick some summer raspberries.
Bishops's Orchards
Guildord
It's hard to miss the signs for Bishop's up and down I-95, but that doesn't make a trip to this Connecticut institution any less charming. Admission to the berry patch is free; you just pay by the pound for what you pick.
Lyman Orchards
Middlefield
This is a one-stop destination for family fun. For over a century, the Lyman family has been harvesting this land—and it shows. Make sure you check out the calendar to keep up with the crop and events.
Buell's Orchard
Eastford
The deliciousness of their fruit may only be surpassed by the kindness of Buell's orchard farmers. This farm is so much more than family friendly - it is a local tradition that you shouldn't miss.
This article was first published in 2016.