Fun Things To Do Over February Break in Connecticut with Kids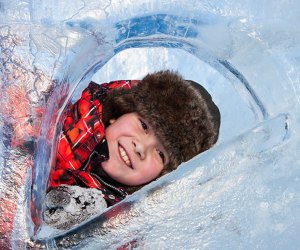 February vacation for Connecticut schools might be a little shorter this year, but many districts still have at least a couple of days off. Besides all of the awesome winter activities that make this time of year so fun, options abound for events and activities over February break that let children switch gears and explore different areas of interest. Read on for the best ways to get creative, connect with nature, and burn off some energy while school's out.
Looking to turn the February break into a quick family getaway? Take advantage of the weather with a family ski trip, or ignore it altogether at one of these awesome indoor water parks. For more ideas to have fun all winter long, don't miss our Winter Activities Guide.
Note: Many locations in Connecticut are requiring that masks be worn indoors and some venues are requiring proof of vaccination, or a negative COVID test for entry. Check locations for specific details. If you are traveling to an activity outside of your state or local area, check for COVID guidelines before arrival.

Visit Shakespeare and Ophelia at the White Memorial Museum during Free Week. Photo courtesy of the museum
February Break Activities Near Hartford
February 16-22, 2022
White Memorial Museum's Free Week is back for 2022. Enjoy the museum for FREE with the purchase of an adult admission. The promotion is for children 12 and under.
February 21-22, 2022
Perfect your game during a two-day baseball camp at the Connecticut Baseball Academy. Select from workshops like Pitchers and Catchers, Hitting Camp, and Hitting and Pitching Camp.
February 21, 2022
Come out to Community Day at the New Britain Museum of American Art when the staff welcomes everyone to see the vast and beautiful art collection on the premises.
February 21-22, 2022
Kids will love this nature-based vacation camp program to be held at the Eleanor Buck Nature Center. There will be classes for kids of all ages. The theme this year is Moon and Stars.
February 22, 2022
The Connecticut Historical Society invites families with children to learn about the tools utilized in historic Connecticut trades. This is an extremely hands-on program with antique tools and a project to take home.
February 22, 2022
Come to Firestone Art Studio and create a one-of-a-kind piece of art. Participants will use lace hearts to make a texture on plates. Masks and reservations are required.
RELATED: 40 Outdoor Activities for Kids this Winter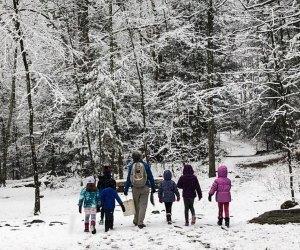 Gear up for wintry explorations at Roaring Brook Nature Center. Photo courtesy of the center
February 22-23, 2022
Roaring Brook Nature Center is offering a program for kids in grades K-5 called Winter Adventures. Come dressed for the weather! There will be fun with ice and snow and maybe even a little bit of maple sugaring!
February 23, 2022
Kids ages 5-12 are welcome to come to the library and make crafts. This is a FREE drop-in event.
February 24 - 27, 2022
Come and feel a bit of spring at this annual show hosted in Hartford. See amazing landscaping displays, shop at garden-related vendors, and plan your garden for this year.
February Break Activities in Litchfield County
February 21, 2022
Pizza and painting! What could be more fun? The price of registration will include all the materials to make an 18-inch 3D snowman.
February 21-22, 2022
Theater for Young Audiences presents "Rapunzel." The downtown cabaret in Bridgeport is offering a child-friendly theater production which is approximately two hours long.
February Break Activities in Fairfield County
Daily Presentation
Learn about the familiar yet underrated goldfish in a 700-square foot exhibit at the Maritime Aquarium. The exhibit is included with the price of admission and is appropriate for all ages.
February 22, 2022
Give young kids a chance to learn about museum exhibits by exploring The Bruce. The class will include a story and a hands-on activity that are free with admission.
February 22-25, 2022
Daily camps will be offered with various themes like LEGO, STEM, music, and sports. Classes are offered at Saugatuck Elementary School and are great for kids in grades K-5.
February Break Activities in New Haven County
February 1-28, 2022
Celebrate the Lunar New Year and Chinese culture at Lunarfest. The New Haven Museum is hosting this arts and culture festival for the public which runs the entire month.
February 21, 2022
Bring your kids out to stretch their legs in nature. FREE hikes are running every Monday until the end of the year. Ages three and up, bundle up!
RELATED: Connecticut Indoor Play Spaces and Fun Zones

Young athletes will love sports camps at Chelsea Piers. Photo courtesy of Chelse Piers
February 21-25, 2022
Five different camps are offered including Ninja and Parkour Camp, Little Athletes Gymnastics Camp, and Full Day Gymnastics Camp. Kids ages five and up can register now for a full-day program that lasts until 530pm. There is a half-day camp for kids as young as three.
February 21-22, 2022
The Bushy Hill Nature Center is offering a great two-day vacation experience for kids. Held mostly outside, kids will be busy learning, experiencing the environment, and making memories with friends.
February 23-27, 2022
Paint Your Own Pottery! Call ahead to check for openings, but reservations aren't required. There are hundreds of pieces of pottery to choose from to paint and fire. Potters of all levels are welcome.
February Break Activities in Eastern Connecticut
February 20-21, 2022
A dramatic presentation at Stepping Stones Museum for Children where "Abe" (aka storyteller Lou Del Bianco) portrays the 16th U.S President. This dynamic presentation uses historical quotes.
February 21-22, 2022
Enjoy a two-hour pottery camp at Sawmill Pottery with hands-on projects. Allow kids to explore their creativity while making friends.
RELATED: 25 Free Things To Do with Kids in Connecticut this Winter

Artisans carve ice sculptures for a crowd at Mystic Seaport's Ice Festival. Photo courtesy of the Mystic Seaport Museum
February 22, 2022
Enjoy winter at the Mystic Seaport's Ice Festival. Bundle up and watch ice carving demonstrations, games, crafts, visiting artists, and live music. Don't miss the life-sized snow globe!
This article has been updated for 2022 by writer Jenny Coe.