Ice Skating at Veterans Memorial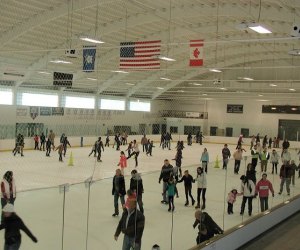 There's something nostalgic about skating outdoors, and for many of us it bring back childhood memories of impromptu skates on local ponds frozen solid in the dead of winter. If you're seeking such an adventure, check out the outdoor rink (frozen pond) at Winding Trails, a peaceful setting in the Hartford area.There are times, however, when a climate-controlled environment is preferred. At Veterans Memorial Ice Skating Rink in West Hartford, you can skate during rain, shine, or snow. Regular resurfacing with a zamboni keeps the ice in tip-top condition. And Veterans is open year-round, so if you've been too busy with other winter activities -- hitting the Hartford area's best sledding hills, cross-country skiing, downhill skiing -- to lace up your skates before everything thaws, the ice at Veterans will be as pristine in June as it is in January. Be sure to check out our Skiing, Snowboarding, and Snow Sport Guide for additional winter activity suggestions in New England.
Veterans Memorial Ice Skating Rink is part of a three-pronged recreational area, along with Cornerstone Indoor Aquatics Facility and Buena Vista Golf Course. Ample parking is available in the lot directly across the street from the rink. You can also park on the street (Buena Vista Road) on the same side as the rink, adjacent to the fields of Solomon Schecter School. The facility opens into a good-sized lobby that you pass through to enter the rink. The adjoining glass wall offers a large viewing area for parents who can send older children in to skate on their own or who want to observe classes. You can also watch from inside the rink area -- bleachers are available along one side, or you can simply stand outside the rink.
The lobby is comfortably warm, with electric fireplaces offering extra heat. A few round tables with chairs offer work space or a palce to snack, along with sufficient backless benches for changing into skates. A concession stand inside the lobby - the RinkSide Cafe - offers hot and cold beverages and serves casual food like chicken nuggets, hamburgers, sweet potato fries, and assorted snacks (hot pretzels are a favorite) and desserts. Riedell soft skate rentals are available in toddler, youth, and adult sizes. You can also get your skates sharpened and purchase equipment at the RinkSide Skate Shop, a full-service pro shop that specializes in the sale and repair of gear for the rink's hockey, figure skating, and speed skating programs.
Veterans is a one-rink facility that offers a variety of public skating sessions. Public sessions open to all ages and abilities are offered most frequently. During the winter season, they run two to three times a day. Sessions are also offered for advanced figure skaters only, adults skaters only, and adult and toddler skaters (no freestyle) only. A popular offering, particularly with tweens and teens, is DJ Skate on Friday and Saturdayd evenings. Check Veterans' website for the most current schedule, which changes seasonally.
In addition to public skate sessions, Veterans offers varying levels of group learn to skate lessons for kids ages 4 and up, as well as instruction in hockey skills and speed skating. Private lessons are available as well. All lessons are open to both West Hartford residents and, for a slightly higher fee, non-residents. For lessons or simply for recreational skating, Veterans Memorial Ice Skating Rink provides a convenient, weather-proof option for skaters of all abilities.
Veterans Memorial Ice Skating Rink
Skate Rentals: $4.00
Winter Admission Rates (valid until March 12, 2017): Residents - $7 per adult, or $6 for seniors an children under 12; $8 for non-resident adults, or $7 per child.
Skaters can save money buy purchasing skating passes. For example, a resident can purchase 10 passes for $45, and a resident would pay $55.
56 Buena Vista Road, West Hartford, CT 06107/(860) 521-1573
Photo Credit: Courtesy of Veterans Memorial Ice Skating Rink
Originally published on 2/3/15.