A Visit to Alice in the Village Tea Room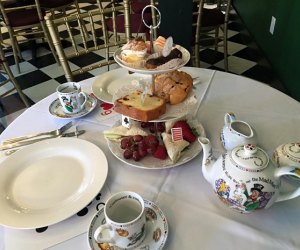 As if there were not already enough reasons to love Mystic, a new tea house opened in town, bringing with it some British deliciousness and an atmosphere sure to please any Alice in Wonderland fan – or anyone looking for a few sweet bites and a comforting cup of tea.
From the moment we stepped inside the Alice in the Village Tea Room, located in Olde Mistick Village, just steps away from Mystic Aquarium, it became clear that my daughters were not going to settle for a box of goodies to take home. The owner and her staff graciously offered us a table (though reservations are now a must and walk-ins will not be accepted), and bestowed the girls with markers and Alice-themed coloring pages (other at-the-table entertainment options include cards, puzzles, and checkers). That was just the beginning of the fun.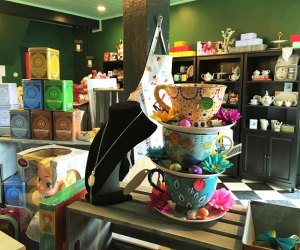 Charming decor and a decadent tea menu await at Alice in the Village. Photo by the author.
Choosing our indulgences was not easy. Dainty and delicious bite-sized desserts all scream "Eat me!" The girls couldn't agree on what was more delicious as we sampled just about everything on the dessert menu. Mini eclairs? Yes. Cream puffs accessorized with edible butterflies? Check. Carrot cake, red velvet, chocolate, lemon, and passion fruit petit fours? Of course. Moist, flavorful, and scrumptious. Mom's favorite? The coffee macaroons (imported from Paris, by the way). Peppermint tea, pink lemonade, and coffee cleansed our palettes in between delicious bites.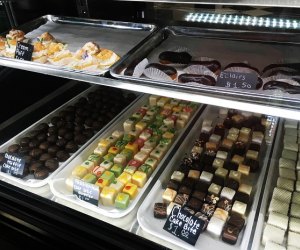 Indulge in a variety of bite-sized desserts, perfect for sampling and for little hands. Photo by the author.
The menu includes Alice Afternoon Tea (recommended for adults) and Humpty Dumpty Nursery Tea (for ages 12 and younger) served on a traditional 3-tiered cake stand featuring tea sandwiches, delicious baked goods served with strawberry preserve and Devon cream, scones, crumpets, English muffins, a variety of pound cakes, and an assortment of fine British loose-leaf teas.
Between scrumptious bites, we played cards and conversed about the decor: Alice floating down the rabbit hole, whimsical clocks, and a wall of mirrors that celebrate the beloved story (and the movies it has inspired). Some of the items are available for purchase. In fact, whether you're looking for something cute, practical, or elegant – you're likely to find it in the store: Alice-themed dolls, charming pop-up books, exquisite china, and Sophie Allport aprons and tea towels imported from London.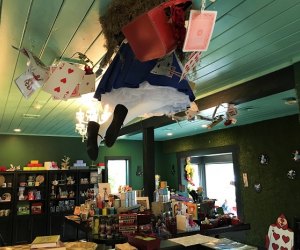 The whimsical decor is sure to spark conversation. Photo by the author.
The bottom line? No matter what your age or reason, Alice in the Village is an adorable and delicious place to scope out. It hosts private parties, Wonderland murder mystery games, arts and crafts parties, and events such as Afternoon Tea With Alice, End of Summer Celebration, and Paint and Tea Night.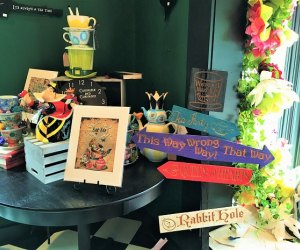 Savor a cup of tea and find a souvenir to capture the memories. Photo by author.
Of course, Mystic overflows with recreational opportunities, including the aquarium, Mystic Seaport, and the Denison Pequotsepos Nature Center. If you're looking for lunch before or after tea, check out Mango's Wood Fired Pizza and the Blue Squid (amazing gourmet grilled cheese sandwiches), both located in Olde Mistick Village. About 20 minutes away, you can learn about Native American history at the Mashantucket Pequot Museum, explore Ocean Beach in New London, or cross the border and enjoy some wave action in Rhode Island.
Remember when Alice asked: "How long is forever?" White Rabbit answered: "Sometimes, just one second." So don't waste time; go make happy memories in the Mystic area.
Cover image courtesy of Alice in the Village. All other photos are by the author.