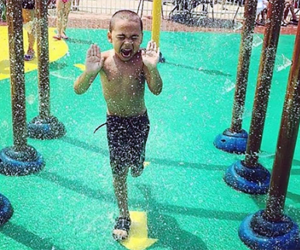 Splash Pads, Water Parks, and Public Pools in New Haven County
It feels like we went from the cold winter weather straight into hot and hazy summer days. I love my central air, but I don't want to spend my summer indoors. Splashing around in water is one of my favorite ways to stay cool, but that could be a little tricky when you don't have a pool in your backyard. Thankfully, we don't have to venture outside of New Haven County for water fun. There are plenty of splash pads, water parks, and pools to help keep us cool this summer. And if we're feeling like checking out Hartford County there is plenty of splash pad, pool and water park fun there too! Also check out the Mommy Poppins Theme and Water Park Guide.
Quassy Amusement Park – Middlebury
Splash Away Bay Water Park at Quassy Amusement is water fun for the whole family. They have an interactive water play area, waterslides, water raft rides, and a beach. There's even The Fish Pond, a splash pad for children under 45 inches. In addition, get soaked at Saturation Station, a place to run around that includes fountains, slides, and water cannons (all heights welcome).
2132 Middlebury Road, Middlebury, CT 06762 203-758-2913
There are 14 splash pads and five public pools located throughout the city of New Haven. One of the most popular is Lighthouse Point Park splash pad.
Lighthouse Point Park Splashpad – New Haven
Frolic in the splash pad at Lighthouse Point Park's where kids (and grown-ups) can enjoy fresh water fountains. The splash pad is located close to the beach next to the bath house. Free for New Haven residents. In-state non-residents pay $25 to park for the day, out of state visitors $30.
2 Lighthouse Rd., New Haven, CT 06512 203-946-8019
Cosey Beach Splashpad – East Haven
Across the street from Cosey Beach, this splash pad is nestled in a grassy picnic area. Once your kids have their fill of fresh water, dry off and head to the playground area or take a dip in Long Island Sound.
Cosey Beach Avenue, East Haven, CT 06512
The Dinosaur Place - Oakdale
Voted fourth best splash pad in America by USA Today, this place is one of Mystic County's premier attractions. Admission is included with the cost of your ticket to The Dinosaur Place, and you could easily make an entire day of the splash pad alone. Flip flops or water shoes are required for play.
1650 Route 85, Oakdale, CT 06370 860-443-4367
Cheshire Community Pool – Cheshire
Cheshire's open-air community pool is open to residents and non-residents. Passes can be purchased per day or per season. Check out the schedule for swim lessons, water polo, or water aerobics classes.
520 South Main Street, Cheshire, CT 06410 203-271-3208
Meriden Splashpad at City Park - Meriden
Brand new splash pad for kids to enjoy! Kids will love the water squirters, sprays, and the pad which is safe for little feet.
117 Park Avenue, Meriden, CT 06450 203-630-4259
Orange Town Pool - Orange
Everyone is welcome to cool off in the indoor town pool. Day passes available for open swim. Call or check their website for times and details.
525 Orange Center Road, Orange, CT 06477 203-891-2178
Woodbridge Town Pool - Woodbridge
The town pool is open to the public during designated times. Daily passes, six month, and year-long memberships are available for purchase. Review general swim times before planning your visit.
40 Beecher Road, Woodbridge, CT 06525 203-389-3446
Originally published 7/12/13.