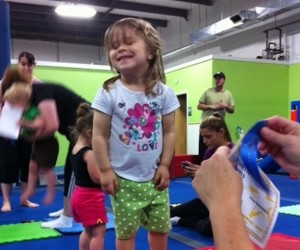 Places to Throw an Indoor Play Gym Birthday Party in New Haven County
Is your child's birthday right around the corner but you've put off planning his or her party? Are you concerned about having way too many rambunctious little feet running through your house and the mess that might accompany it? Or maybe you just don't have enough time to set up and decorate? Then consider having your next party at an indoor play gym. It's a great opportunity to enjoy your child's special day without the worry of set up, clean up, or lack of space. There are several different play gym options in New Haven County. We've also rounded up some other indoor playspaces in New Haven County here. Check out a space near you and start planning today! For more party ideas check out our Connecticut Party Guide.
Whippersnapper's Play Gym, Cheshire
Children ages 1-8 can celebrate their special day at this indoor play gym. Children will be led through 1 ½ hours of age appropriate activities as they climb, bounce, and dash around the gym. Party includes balloons, decorations, paper goods & invitations. Birthday cake can also be provided for an additional cost.
Rascals Gym, Hamden
Your child can enjoy their next party with up to 18 of his or her friends. Children can participate in the gym's equipment as they ride, climb, and bounce. Ages 1-8 are invited. Parties are 2 hours long and include paper goods, decorations, invitations, and a special water bottle gift. Outside food is welcome.
OUR LATEST VIDEOS
Kinetic Kids Gymnastics, Oxford
Enjoy your child's next birthday party in a 10,000 square foot gymnastics facility where they can burn off some energy while practicing their gymnastics moves. Children between ages 1-12 are guided through floor activities, bars, vaulting, balance beam, and tumble track circuits all dependent on their age level. Parents are welcome to provide their own cake and refreshments. The guest of honor will receive a free t-shirt to remember the day.
Gymboree Play and Music, North Haven
Celebrate the next birthday milestone with up to 15 of your child's closest friends. Children will engage in 1 1/2 hours of play led by a trained Gymboree teacher. Party package includes paper goods, invitations, and a special present for the birthday boy or girl. Deluxe package includes cake, juice, and goodie bags.
My Gym, Orange
Imagine a party centered around your child's favorite music and games. My Gym takes special song and game requests prior to the party and creates a truly special day for your birthday boy or girl. Party includes decorations, activities, games, singing, dancing, puppets, and more!
City Climb, New Haven
Looking for a unique way to celebrate a birthday? Invite children 4 years-old and up to an indoor rock climbing party. Children can participate in age appropriate activities for the first hour and then enjoy refreshments or cake (provided by you) during the next half hour. Paper products are provided.
Originally published 6/6/2013.
Photo courtesy of Kinetic Kids.