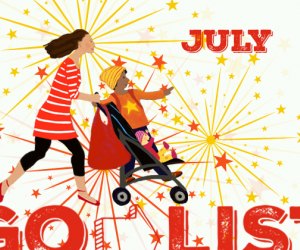 July GoList: The Best Things To Do With Connecticut Kids this Month
What's hot aside from the weather this month? Summer festivals, fairs, and carnivals, and more are all cooking in Connecticut. Our July GoList highlights the best things to do with kids throughout the month including Shakespeare, parades, and space-themed mini golf. Kids will love listening to music and maritime lore at Sailfest in New London, noshing at a food truck festival in Hartford, and plucking pie ingredients at Blueberry Fest in Middlefield. Of course, Fourth of July fireworks shows belong on your don't miss list, too.
Craving more? Check out our Summer Fun Guide as well as updates on our Facebook and Instagram page. If there's ever a month to max out on family fun, July is it!
Shakespeare On The Sound: Twelfth Night— Rowayton
Tuesday, July 2- Saturday, July 6
Enjoy this Shakespeare classic in picturesque Pinkney Park. Bring blankets, chairs, food, and wine into the park for the performance, and there will be activities for children beginning at 4:00 pm.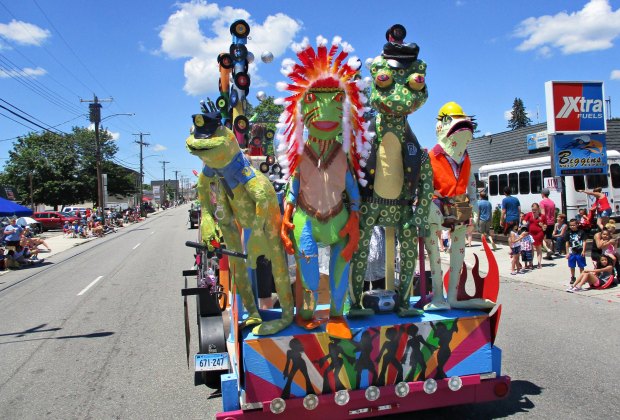 This parade is for all-comers...just wear red. white, blue! Photo courtesy of Willimantic July 4th Boom Box Parade/Facebook
Boom Box Parade — Willimantic
Thursday, July 4
Anyone can march or enter a float in "Connecticut's Unique People's Parade," as the Boom Box Parade is known. The only requirement is to wear some red, white, and blue, and bring a radio tuned to WILI (1400-AM).
Revolutionary War Reenactors at Mill Hill Historic Park — Norwalk
Thursday, July 4
The Norwalk Historical Society will host a very special "Independence Day at Mill Hill Historic Park" which will feature an encampment by African American Revolutionary War re-enactors representing the Marbleheaders and the 1st Rhode Island Regiment of Foot. The day will also include the annual "Let Freedom Ring" Bell Ringing Ceremony.
Bike Parade — Southport
Thursday, July 4
Participants of all ages are invited to bring their decorated bikes, wagons and scooters to form a parade. The parade will make its way to the Pequot Library lawn where there will be sack races, a hula hoop contest, American Revolution trivia contest, and face painting.
Independence Day at Mystic Seaport — Mystic
Thursday, July 4
You can't get more patriotic than this day long celebration at Mystic Seaport that includes a parade, boat races, lawn games, and more.
Enfield Celebration — Enfield
Friday, July 5 - Sunday, July 6
Concerts, the Taste of Enfield, fireworks, kids rides and games, and a teen fun zone are just some of the attractions.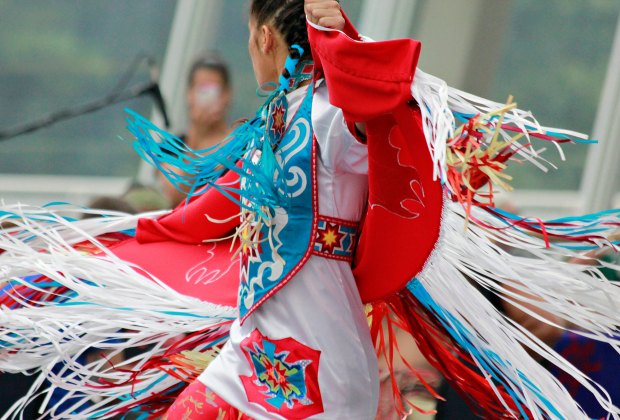 Photo courtesy of Mashantucket Pequot Museum
Powwow at Mashantucket Pequot Museum — Mashantucket
Thursday, July 11
Gain a greater understanding and appreciation for the powwow experience. See dancers in their colorful regalia, join in a social dance, and visit with Native artists as they demonstrate and sell works of art. Native cuisine will be available for lunch.
Fireflies! - Mystic
Friday, July 5
Join Denison Pequotsepos Nature Center to learn about nature's fireworks, then walk the trails to watch for fireflies and listen to the night insects.
NICE Festival—Norwalk
Saturday, July 6
NICE will host dancers, musicians, vendors, and local international restaurants; (NICE) is a Norwalk organization that seeks to promote and increase awareness of the diversity of peoples from around the world through arts and culture.
Riverfest Food Truck Festival —Hartford
Thursday, July 11 - Saturday, July 13
Enjoy flavorful treats from establishments such as Ben & Jerry's, Bear's Smokehouse BBQ, New Haven Pizza, Jay R Thai, Chinese, and dozens of others.
North Stonington Fair—North Stonington
Thursday July 11 - Sunday July 14
This old fashioned fair includes farm fun such as tractor pulls, hay bale tosses, rides, music, and more.
Sunken Garden Poetry Festival at Hill-Stead Museum—Farmington
Sunday, July 21
Featuring award-winning poets and live music, the Sunken Garden Poetry Festival is held in the museum's historic and beautiful Sunken Garden
Outdoor Water Carnival—Bristol
Friday, July 12-Saturday, July 13
This year's Outdoor Water Carnival is bigger and better, with not one, but two days of Water Carnival fun!
Sailfest —New London
Friday, July 13 - Sunday, July 15
With over 200 vendors, three stages of entertainment, amusement rides and midway, tall ship tours, and more - this is New London's premier summer event. Kiddos can enjoy their own entertainment at the children's stage. The highlight of the weekend festival is the Saturday night fireworks display, one of the largest in the nation, over the Thames River.
Rowayton River Ramble— Rowayton
Saturday, July 13
This 47th annual tradition brings the community together for a day of fun and festivity in picturesque Pinkney Park. There are plenty of fun games and activities such as a petting zoo, bouncy castle, water slide, obstacle course, and the ever-popular dunk tank. Food and live music make it an affair for the entire family to enjoy. ​
Berryfest will put some color in your kids' cheeks. Photo courtesy of Lyman Orchards
Blueberry Fest —Middlefield
Saturday, July 13
Pick blueberries, listen to the sounds of live music, and enjoy pony rides and complimentary food tastings. Plus a pie-eating contest!
Roxbury Pickin' n Fiddlin' Contest—Roxbury
Saturday July 13-Sunday July 14
The Roxbury Volunteer Fire Department sponsors this annual contest to display the skills of musicians playing country and bluegrass music. Over the years this contest has grown and is now the biggest of its' kind in the Northwest Hills of Connecticut!
​Space Themed Mini Golf- Bridgeport
Thursday, July 18-Sunday July 28th
Celebrate the 50th anniversary of the moon landing at the Discovery Museum. Space-themed mini golf course installed throughout the museum.
SummerFest —Bethel
Saturday, July 20
Come to Downtown Bethel to the annual SummerFest celebration. There will be kids activities, food, live music and other fun throughout the day.
National Ice Cream Day & Bluegrass Bash—Thompson
Sunday, July 21
Enjoy complimentary cones of The Farmer's Cow fresh Connecticut ice cream, listen to Blackstone Valley Bluegrass perform live music, and sample the new limited edition flavored milk and summer seasonal beverages.
Life. Be in it. Extravaganza in Newington—Newington
Wednesday, July 17- Saturday, July 20
The annual Extravaganza will feature food vendors, musicians, paddleboats, entertainment, fireworks, games, craft beers, and many other family-oriented activities.
Old Lyme Midsummer Festival — Olde Lyme
Friday July 26 - Saturday, July 27
This two-day event, a quintessential New England celebration for all ages, takes place in the heart of Old Lyme's historic district. Most events specifically for families and children take place at the Florence Griswold Museum or the Old Lyme Library on Saturday.
Village Fair Days—New Milford
Friday, July 26 - Saturday, July 27
Enjoy two days full of entertainment under the big tent, local vendors, food purveyors, and organizations along the historic town green.
Canaan Railroad Days & Fireworks —Hartford
Sunday, July 28
Family entertainment including flea markets, arts and crafts, games, parade, fireworks and live entertainment happening for over a week in Canaan.