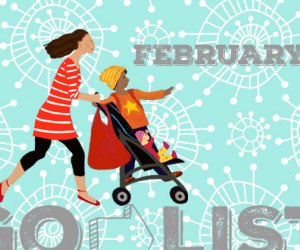 February GoList: The Best Things To Do With CT Kids This Month
Bald Eagle Viewing - Southbury
All Month
See Bald Eagles from a variety of locations along the Shepaug Dam. Telescopes available for borrowing.
Hat Madness - New Canaan
All Month
The New Canaan Historical Society opens up its extensive clothing and textile collection to explore the history of hats, hat design, and hat-making.
Kids' Play at Barcade - New Haven
Sunday, February 2, 2020
The whole family can enjoy Barcade on special Family Days for an afternoon of pinball and classic arcade games.
Seal-Spotting and Birding Cruises - Norwalk
Sunday, February 2, 2020
Cruise out with the Maritime Aquarium in hopes of spotting some of the seals that come into Long Island Sound each winter. You'll seek out the seals to observe them near the Norwalk Islands as they "haul out" to rest on rocks exposed at low tide.
Victorian Valentine Workshop - Litchfield
Saturday, February 8, 2020
Get ready for Valentine's Day at the Litchfield Historical Society's annual Victorian Valentine Workshop. Adults and children alike can practice traditional papercraft techniques while enjoying hot chocolate and cookies.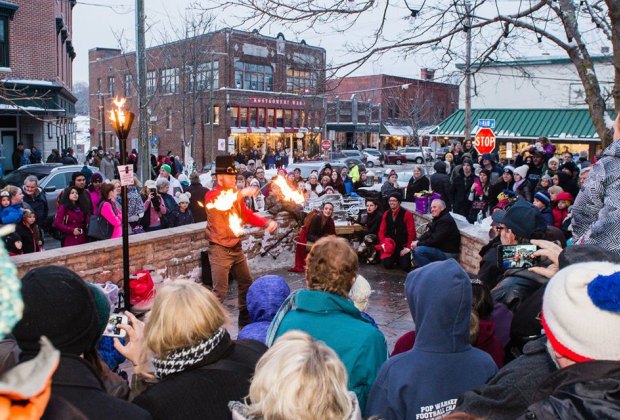 Warm up to flaming tricksters in Putnam. Photo courtesy of the Fire and Ice Festival
Fire and Ice Festival - Putnam
Saturday, February 8, 2020
Enjoy the wonderful demonstrations, performances, and experiences the Fire and Ice Festival has to offer. Be amazed by the Largest Single Ice Block Competition in the US.
Pirate Day at Mohawk Mountain - Cornwall
Saturday, February 8, 2020
There's a pirates treasure hidden in spots all over the mountain. Put on your peg-leg and come and find the booty!
Romantic Chocolate Festival - Willimantic
Saturday, February 8, 2020
Free chocolate samples and yummy things on the menu for all ages. Don't forget to check out the Let Them Eat Cake Baking Contest too.
Make Your Own Valentine's Day Chocolates - Wilton
Saturday, February 8, 2020
Kids in grades K to 8 are invited to a chocolate-making workshop at the Wilton Historical Society. Participants (and adults, who are welcome to stay) will craft both professional looking molded chocolates and a box to arrange them in.
Lunarfest - Multiple Locations in New Haven
Saturday, February 8, 2020
Lunarfest is a celebration of the Lunar New Year and Chinese culture, offering arts and cultural programs for adults and children throughout the city of New Haven and at Yale.
Valentine Gnome Workshop — Monroe
Saturday, February 8, 2020
Bollywood Boutique & Studio is hosting a fun night for the whole family . Register to make a Valentine Gnome. The price includes all materials.
CT Kids Fair — Hartford
Saturday, February 8, 2020
This exciting kids event is filled with all kinds of fun activities for children of all ages. From kids entertainment, rides and exhibits to kids attractions, games and prizes, even pony rides.
Vacation Week at the New England Air Museum - Windsor Locks
Sunday, February 16 - Tuesday, February 18, 2020
Your son or daughter have the week off from school? The New England Air Museum is offering great activities all week included with admission. Build a slingshot plane, a paper-plane, or participate in a parachute drop.
President's Day at Imagine Nation - Bristol
Monday, February 17, 2020
Celebrate Presidents Day at Imagine Nation with a full day of programming.
Winter Wonderland Day — Ansonia
Tuesday, February 18, 2020
Come for fun winter activities if this is a day off from school. Bring your own sled to the Ansonia Nature center and go gliding down their hill!
CT Flower a Garden Show — Hartford
Thursday, February 20 - Sunday, February 23, 2020
Need to see some green? Spring comes early at the Flower and garden show. Vendors, displays, exhibits and tons of spring-time fun.
Star Party — Litchfield
Friday, February 21, 2020
Join members of the Litchfield Hills Amateur Astronomy Club and the Mattatuck Astronomical Society and spend the evening learning about the sky and star gazing. Tonight's topic is Astronomy 101: How the Sky Works. Weather permitting, there will be stargazing after the program. You are invited to bring your own telescope or binoculars.
Erth's Prehistoric Aquarium Adventure — Stamford
Friday, February 28, 2020
The creators of Erth's Dinosaur Zoo Live want to take your family on an all new adventure – this time to the bottom of the ocean. Erth's Prehistoric Aquarium Adventure is an immersive experience that invites you to jump in and explore unknown ocean depths where prehistoric marine reptiles lived eons ago.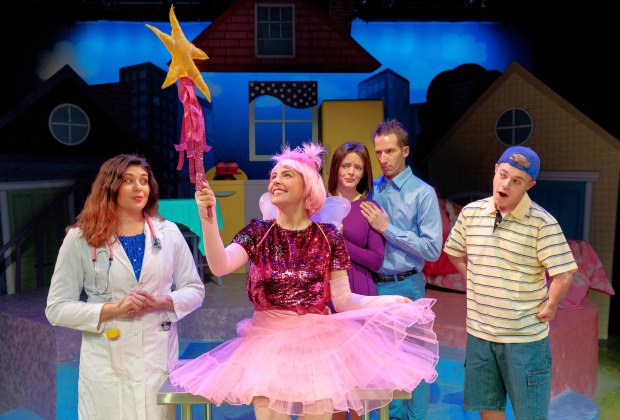 Pinkalicious The Musical returns to New Haven. Photo by David Daniels
Pinkalicious The Musical — New Haven
Saturday, February 29, 2020
Pinkalicious can't stop eating pink cupcakes despite warnings from her parents. Her pink indulgence lands her at the doctor's office with Pinkititis, an affliction that turns her pink from head to toe - a dream come true for this pink loving enthusiast. But when her hue goes too far, only Pinkalicious can figure out a way to get out of this predicament.
Leap Year Luncheon and Winter Pursuits at Ongley Pond — Litchfield
Saturday, February 29, 2020
Strap on your ice skates, pop your saucer or sled into the car, and come out to Ongley Pond for a couple of hours of winter enjoyment.