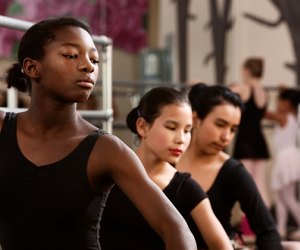 Vocal and Dance Classes for Kids in the Hartford Area
Do, re, mi, fa…so your years spent singing the alphabet song and twinkle twinkle has instilled a love for music in your child? If they aspire to be the next Justin Bieber then signing your child up for singing or dancing classes might be a good idea. Lucky for you, there are many voice and dance instructors in the Hartford County area that can help your talented performer progress.
Connecticut Concert Ballet has studios located in Manchester and Windsor with dance training offered for ages 3 and up. While it appears their primary focus is on ballet they do feature other styles such as jazz. They are also known for their annual production of the Nutcracker. You have time to check out their website now for more information on how to take part in this great show if your little one is so inclined.
311 Broad Street, Windsor and 280 Garden Grove Road, Manchester
Summit Studios, a performing arts center in Manchester, provides high-training music and vocal lessons to students of all ages and levels. They also have training for stage performers and dancers with classes formed according to age. The specialty areas include hip hop and ballet. Tuition is prorated depending on your class start date and they have a few packages left for the fall session.
421 Main Street, Manchester
The Hartt School, part of the University of Hartford, has many great programs available for children. They offer dance and vocal instruction as well as a choral ensemble. Their dance program is available for toddler and pre-k up to pre-professional. Check the website to see which program best suits your needs.
200 Bloomfield Avenue, West Hartford
Consider signing your kids up for classes at the Music School at Sound Crossing. Now in a new location, TMSSC offers private lessons, a chamber music ensemble and Music Together classes for little ones. They also have an ensemble group which focuses on playing modern music.
1817 Poquonock Avenue, Windsor (Poquonock Community Church)
If you're interested in finding other types of dance than the typical ones chosen there are many options like Shamrock Dance Studio with locations in West Hartford and Plainville that is a premier dance studio for Irish step dance instruction.
701 Farmington Avenue, West Hartford (Congregation Beth Israel) and 75 East Street, Rte 10, Plainville
Your child ages 4 and up can also learn to dance like a Bollywood Star to traditional Indian Music at Dance with Mahi in South Windsor.
869 Sullivan Avenue, South Windsor
Morlock Dance Studio in East Hartford has classes available for children starting at the age of 5. Classes available include jazz, hip-hop, modern, ballet and tap. Morlock has been in business for seventy years, and for the last 10 years under the direction of co-owners Elizabeth Sanderson and Christine Sessa.
90 Pitkin Street, East Hartford
So grab your child and put on their dancing shoes. It's time to sing!
Photo Courtesy Bigstock