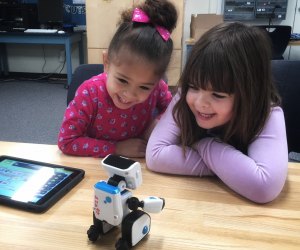 STEM Classes and Maker Spaces for Kids in Connecticut
From Eli Whitney and his interchangeable parts, to the can opener and the frisbee, Connecticut's history has always been one filled with game changing innovations. So it should be no surprise that the Maker Movement is alive and thriving in Connecticut! "What is the Maker Movement?" you may be asking. According to Make Magazine, "The Maker Movement embraces innovation, creativity, and learning to improve our communities and create a better future.Tinkerers, educators, parents, and professionals are included, because we are all Makers. That includes you." If you have a child that builds Minecraft kingdoms in her dreams or is ready to take a trip to the science museum to the next level, then this list is for you!
With this history in mind, it should come as no surprise, that over the last few years, I have noticed these innovative spaces popping up across the Nutmeg state. While each has a different interpretation of Making, they all have the ideals of creating a community based on the idea that "we are all makers". Whether you tinker in 3D Printing, or engineering a smart dollhouse, there is bound to be something here to get your creative juices flowing.
Fairfield County Makers Guild - Norwalk
FCMG is a non-profit membership-based community. Membership provides you with access to their space filled with tools and equipment (think 3D printers, hand tools, soldering stations, etc…) This MakerSpace features a Makers in Residence program that covers topics from sewing to coding and everything in between.
Spark Makerspace - New London
Spark Makerspace is in the process of transitioning to a new space. I personally cannot wait! Make sure you follow them on Facebook to get the latest updates. Past events have included: Print Night, Lovely Lemon Balm, and Build a Pet Coat - there is definitely something here for everyone!
MakeHartford - Hartford
MakeHartford encourages all of its members to get hands-on with their innovation. A self professed "gym for geeks", this space offers classes and a community of like-minded people. Some of their upcoming classes include "Learn to Solder" or "Geometric Origami Club". On the first Wednesday of each month, you can stop by for a Show-n-Tell Wednesday and see what everyone has been working on.
CT Hackerspace - Watertown
Wood routers, engravers, 3D printers, and an electronics workbench. If any of these things get your creative juices flowing, then CT Hackerspace is for you! Although this space has no formal classes listed, you can sign up to host your own Maker Club meetings here (or even teach a class of your own!).
MakeHaven - New Haven
From upcycling clothing, to turning wine bottles into glasses - MakeHaven offers a unique spin on Making in Connecticut (think pasta classes). Through talks, classes, and workshops, MakeHaven encourages research, learning, and mentoring in a safe, clean space.
Danbury Hackerspace - Danbury
The Danbury Hackerspace is furnished with 3D printers, prototyping tools, a mockup studio, a common work area, program space, & co-working space. They offer Maker Meetups that include Web & App Development and Artificial Intelligence.
The Westport Library Makerspace CT- Westport
Although many libraries have Makerspaces, The Westport Library is setting the curve for what these spaces mean. Each year, the WPL hosts the states largest MakerFaire! Make sure you check out their calendar to keep up with all the Maker events.

Photo by Susan Laramie