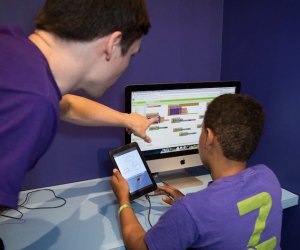 Where Kids Can Get Their Minecraft on in Fairfield County
There's no other way to say it: my 9-year-old is obsessed with Minecraft. OBSESSED. He plays the game on computer, iPad, or Xbox, depending on his companions. He watches the YouTube videos (carefully curated by me, of course). He wears the T-shirts. He reads the books (there are a surprising number of them, both fiction and nonfiction).
Admittedly, sometimes we struggle with screen-time boundaries, so I've been looking for ways that he can play Minecraft productively—or at least collaboratively—to keep us both happy. There are lots of educational Minecraft opportunities in Fairfield County. Many libraries offer free Minecraft clubs (though children are usually required to bring their own laptops), and some camps have themed sessions, too. For other after school and enrichment choices check out our Classes and Enrichment Guide.
Game-Based Learning: Minecraft – Greenwich
Zaniac offers game-based computer and math programs after school, during school breaks, and over the summer. Their Minecraft programs are available for kids in kindergarten through grade 8 and introduce scientific, engineering, and physics concepts during regular game play on their own campus servers.
Zaniac, 644 West Putnam Avenue, 203-918-9264​
eMagination – Fairfield
The eMagination Minecraft Coding Camp is the ultimate Minecraft Summer Camp experience, but it's a sleepaway camp for teens ages 13-17 only available in the Lake Forest and Boston camp locations. Luckily the eMagination computer camp held on the campus of Fairfield University has Minecraft components--including mod design. It is open to kids as young as 8, and the camp offers both sleepover and day options.
eMagination at Fairfield University, 1073 N Benson Rd, 877-248-0206
Minecraft Club – Newtown
Middle schoolers are welcome at this occasional club which meets in the YA room at C.H. Booth Library. Kids must have their own laptops and Minecraft accounts in order to play. Free, but pregistration is required
C.H. Booth Library, 25 Main Street, 203-426-4533
Online Minecraft Meetup – Westport
Westport Library takes their Minecraft meetup to the next level: players only meet online in these weekly gaming sessions that run every Friday from 4:00pm to 5:00pm until the end of June. In order to play, kids must have their own Minecraft accounts on the Fairfield County Minecraft Server. Free.
Westport Library, 20 Jesup Road, 203-291-4800
Originally published 5/24/15.
Photo courtesy of Zaniac Learning.