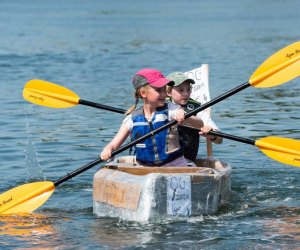 Learn to Sail and Learn to Row Programs (Fairfield County)
Of all the things I've experienced, little could compete with the ruggedness and romance of learning to sail. It is unfettered adventure in the eye of face-whipping, fresh air -- exactly the sort of thing you associate with living in Fairfield County, and precisely the full-sensory experience our over-digitized millennials need. On the flip side, learning to row on one of the county's many Sound-bound rivers could provide the tranquility and focus your particular tween or teen is lacking. Either way, several clubs are available to unfurl the fun these sports can provide for a lifetime.
Young Mariner's Academy-Stamford
Someone recognized the need for ALL kids to be able to experience the sea and the lessons it can teach, so this organization specifically serves low-income children from the Stamford school system. That being said, they also offer a After School Sailing program to anyone ages 8-12 at John Boccuzzi Park. A swim test is required for all participants.

John Boccuzzi Park, 196 Southfield Avenue, Stamford 06902

Sailaway Sailing School-Bridgeport
Kids ages 9-18, can learn to sail in two-week, half-day summer courses for $425. They also offer two, 3-day courses for families. And there's a cherry on top … before or after class, you can enjoy Captain's Cove Seaport dining and shopping.

1 Bostwick Ave. Bridgeport, 06605
Soundwaters-Stamford
US Sailing certified instructors show 4th-6th graders the ropes every summer on Holly Pond, while emphasizing the biology of the estuary around them.
Cove Island Park

1281 Cove Road, Stamford 06902
Longshore Sailing School-Westport
It's pretty clear after a few minutes on their website, the kids have fun here … while getting well-organized, quality instruction. Sailors 9 and up start with Sailing 1, and then progress to tacking and jibing in Sailing 2. Each course is ten, 3-hour sessions.

260 Compo Road South, Westport 06880
Norwalk Sailing School-Norwalk
Spend the day at Calf Pasture Beach, while your youngster spends half that time learning how to sail. Participants must be ages 8-16.
50 Calf Pasture Beach Rd, Norwalk 06855
Dories Summer Sailing Camp-Norwalk
The Sound Sailing Center offers kids as young as 6 the chance to set sail. There's a balance of boating and biology in this camp, that culminates with a trip to Sheffield Island. They also offer a course for teens 14-16, who are novice sailors, interested in the pleasure of the sport rather than the competition. The weeklong courses run 9am-12pm.
54 Calf Pasture Beach Rd, Norwalk 06855

Candlewood Yacht Club-New Fairfield
They don't have specific youth programs here, but every summer they offer up a handful of Saturdays to teach adults to sail ... and they are welcome to bring children 12+. To top it all off, the 4-hour courses are FREE. First come, first serve.

7 Shore Drive, New Fairfield 06812
Great River Rowing-Shelton
Kids 11-14 can get their oars wet during one of four week-long summer camps on the Housatonic. These camps are truly for kids who just want to test the waters (their pun, not mine!). Swim test required, as well as an ability to lift 30 pounds overhead for one minute. Great River also offers beginners the chance to move toward competition with their Summer Junior program.
722 River Rd., Shelton 06484

Saugatuck Rowing Club-Westport
Learn to row year-round at this beautiful location on the Saugatuck in Westport.
521 Riverside Ave., Westport 06880

Norwalk River Rowing-Norwalk
They love new rowers here, and welcome 9th-1th graders to join their novice racing team. They practice 5 days a week, in the spring and fall, and unlike other clubs, include most regatta travel expenses in the price.

1 Moodys Lane, Norwalk 06851

Greenwich Crew-Cos Cob
Whether your youngster has healthy recreation in mind, or an Ivy scholarship, they'll find a place here year-round. Two-week, half-day summer camps for 6th-12th graders of all levels.
49 River Road, Cos Cob, CT 06807

Milford Yacht Club-Milford
MYC offers kids age 7 and up the opportunity to make new friends, learn new sailing skills and develop a love for the water. The seven-week program teaches the fundamentals of sailing, safety on the water, and creates a summer of memories
131 Trumbull Ave, Milford 06460
Photo courtesy of SoundWaters