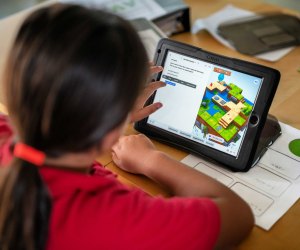 Registration for Apple Camp at Home, Apple's FREE Virtual Summer Camp, is Open Now!
Like most things this summer, Apple Camp will look a little different in 2020.
Apple Camp takes place entirely online this year, but with live orientation sessions to kick off each project, and drop-in Q & A sessions to get help. Like the in-store version, Apple Camp at Home will focus on a project from start to finish. These projects traditionally have taken two days at in-store sessions, with a third day to showcase campers' work. The virtual camp allows kids to create at their own pace, with support available during the week that the project is live.
If you've got an 8-12-year-old interested in STEM or movie-making, you'll want to act fast; Apple has just opened registration, and space is limited. These special annual camps are 100% free—and they traditionally fill up quickly!
For more camp information and ideas, check out our Camp Guide and Directory.
Apple Camp at Home projects kick off with a 30-minute live orientation session and include activity books to accomnpany the project. The activity book has a project road map so campers know what to expect; these activity books can be downloaded in advance by anyone wanting to get an early start (or work independently). Registering for a session gives the camper access to live support throughout the camp week.
Sessions begin July 11. Apple has promised to roll out new sessions each week, so even if you miss the first batch, keep checking back on the Apple Camp at Home registration page.
This year's projects are definitely in step with what's going on in the world in 2020: Campers can choose between Spark Positive Change, Design a Space for Happiness, and Learn To Code a Helpful Robot.
Video Project: Spark Positive Change
Available July 11-17, 2020
Kids work to create a one-minute video that shares a positive message for change in their neighborhood. We predict a flood of proud parents sharing these on Facebook starting mid-July!
Art & Design Project: Design a Space for Happiness
Available July 18-24, 2020
Campers brainstorm and draw a design for a dream space that brings happiness to them and their families. (Indoor forts, anyone?).
Coding Project: Learn To Code a Helpful Robot
Available July 25-31, 2020
Kids code their own helpful robots using basic programming skills in Swift Playgrounds. (Maybe kick off some ideas before camp starts with these age-sorted chore charts...?)
Even the at-home version of these camps is likely to fill quickly, so hurry to sign up while you can, to give your kid an inspiring and FREE opportunity this summer!
Photo courtesy of Apple