Farmers Markets Around Boston to Visit with Kids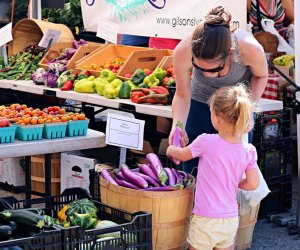 Farmers' markets are a great place for kids to learn where food comes from, which fruits and vegetables are harvested during each season, how to conduct a financial transaction, and how to make healthy choices. When we visit a farmers' market or farm stand, I give my kids a small amount of money to use as they choose, provided they make the purchases themselves. I have enjoyed watching their confidence, composure, and decision-making skills grow.
Now that spring is here and summer is fast approaching, the local farmers' markets are setting up their tents and filling their stands with fresh foods harvest nearby. For more ideas for eating local, check out our family-friendly Boston restaurant guide.
SoWa Farmers Market - Sundays, May through October
The SoWa Farmers Market is adjacent to the SoWa Open Market, a haven for connoisseurs of the artsy, the crafty and the unique. The Farmer's Market offers a variety of locally grown produce and specialty food products from the New England area.
East Boston Farmers Market - Wednesdays, early-July through mid-October
Local musicians are often providing a live soundtrack to your browsing among the fruits and veggies at this bustling market in Central Square Park. Market organizers are committed to developing a sense of community and often host special family-oriented events like Bike Safety Day, Back to School Day, and more. SNAP and WIC coupons are accepted.
Boston Copley Square Farmers Market - Tuesdays and Fridays, mid-May through November
What better way to spend the day with your little ones than to visit the Boston Public Library and the farmer's market? We love Tuesdays and Fridays in the warmer months, when the Copley Square Farmer's Market is buzzing – It just makes the whole Square feel festive. SNAP and Bounty Bucks are accepted.
Roslindale Farmers Market - Roslindale
Some vendors in recent years have included Allandale Farm, Two Field Farm, and Taza Chocolate (free samples!). But the best thing about this neighborhood market are the little details that make it so very family friendly and just a great place to hang out for the morning. Weekly children's entertainment has in the past included clown shows, music and Spanish programs, craft and projects. EBT/SNAP is accepted.
Cambridge Central Square Farmers Market - Mondays, mid-May through November
Although it's not a huge market, it has plenty to offer, from gourmet garlic to wine, in addition to the expected produce, breads and grass-fed meat. You can supplement your farmer's market shopping with a visit to Harvest Co-op. EBT/SNAP is accepted.
Somerville Davis Square Farmers Market - Wednesdays, late May through November
At the Somerville/Davis Square Farmer's Market, you can visit your favorite bakers, growers, and winemakers and take home a bounty of goodness from vendors like Westminster Meats, Seta's Mediterranean Foods, Globe Fish Company, and the ever-popular Kimball Fruit Farm. Visit the Market's webpage for a full list of vendors and goods. EBT/SNAP is accepted
Jamaica Plain Farmers Market - Saturdays, mid-May through November
Space is at a premium for the JP Farmers' Market, so it's all about the food (which we love). You know it is local and fresh, because the vendors have to make or grow the food themselves.
Newton Farmers Market - Saturdays (Elm Street) and Thursdays (Cold Spring Park), late June through late October
One of the oldest continually running farmers markets in the state, Newton's Farmers Market runs out of two locations on different days through the summer. Local farmers and purveyors (including ice cream) are sold, and the last market of the year often doubles as a family-friendly Halloween Party.
Originally published May 2012