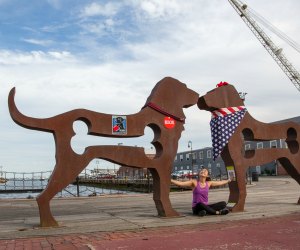 Woof! Dog Sculptures Bring Kid-Friendly Public Art to Charlestown
It's official: Charlestown has gone to the dogs! This summer, the Charlestown Navy Yard is being invaded by huge, colorfully decorated sculptures in the shape of man's best friend. Canine-loving kids and grown-ups alike can enjoy the whimsy of these massive steel pups, designed by local artist Dale Rogers, that temporarily dot the landscape of Boston's most historic waterfront area. Situated on the lovely National Park Service grounds (where real dogs, on leashes, are welcome, too!) and next to the USS Constitution Museum (one of our fave free museums), the Big Dog Show will be accessible daily throughout Summer 2018. Consider it a perfect excuse to pack a picnic and head to Charlestown for a day or evening of public art, history, and awesome harbor views.

Thinking about bringing kids (and maybe Fido) to see the Big Dog Show? After a visit ourselves, here are some tips.

Getting There
Take a ferry by boarding at Long Wharf Boston to Charlestown Navy Yard or go by bike via Hubway at TD Garden-West End Park. The closest MBTA subway is the North Station stop on the Green Line (1-mile walk) and bus Route 93 bus stop Chelsea St/Fifth Street at the entrance to the Navy Yard. If you're traveling by car, there is metered street parking Monday through Saturday and paid indoor parking at the 197 Eighth Street Public Garage.

Visiting the Dogs
Kids can check out the maps of where the dogs are located and turn the visit into a pooch sculpture treasure hunt. While each sculpture is the same 8-foot tall canine design, they are decorated differently with scarves, costumes, and collars (have them try to spot the patriotic unicorn dog or the one wrapped like a present). With 20 sculptures scattered around Shipyard Park and the wide, scenic wharf, even on a busy day the area should not feel overly crowded. If you are aiming to catch all 20, be prepared to walk a two mile route along the harbor but if you don't have the time, head straight to Shipyard Park where you will find eight in one space.

Other Things to Do Nearby
The USS Constitution has family-friendly events and exhibits all summer long and is located right in the Navy Yard. On a hot day, bring a bathing suit and head to the splash pad and playground adjacent to Shipyard Park. Want to get out on the water? Courageous Sailing is located on Pier 4 and offers tour hour harbor cruises, lessons, and boat rentals. If you happen to come on a Thursday evening, musicians from the Berklee College of Music are performing concerts at 6pm through August 2. No matter what, consider packing a picnic lunch and lounging in the grass with the dogs awhile...they'll be heading to a new home September 10, 2018.
Photos by Mommy Poppins