Trunk-or-Treat near Boston: Halloween 2022 Events for Kids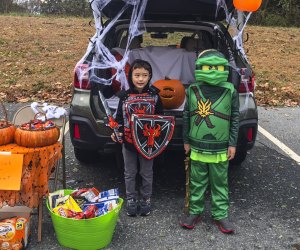 Kids have to wait until Halloween to trick-or-treat, but they can trunk-or-treat near Boston all month long. Trunk-or-treating is held at central locations by different organizations and groups. Participants decorate cars and hand out candy from their trunks. These events offer a great alternative to trick-or-treating, when doorbell-ringing traditions get tricky. More communities have been hosting awesome trunk-or-treat activities near Boston each year. So candy-savvy kids end up collecting treats several times before Halloween! We've rounded up several great trunk-or-treat events in the Boston area. We hope you have a fun-filled and Happy Halloween in New England this October.
For more Halloween activities near Boston, explore our Halloween Guide for Boston Kids, and don't miss our list of the best Halloween activities and events in Boston, which includes pumpkin patches, corn mazes, hayrides, and of course our top things to do in notoriously witchy Salem.