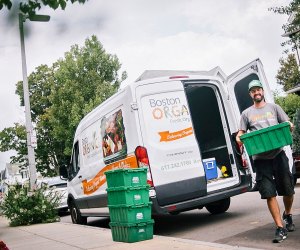 Food and Grocery Delivery around Boston That Aren't Peapod or Amazon
Grocery delivery is a booming business around Boston right now, with families avoiding supermarket trips due to coronavirus. Problem is, delivery slots for Whole Foods, Amazon, and Peapod are hard to come by. Enter local grocers and farmers, who are stepping up to deliver milk, eggs, meat, produce, pantry staples, and prepared meals to more area households than ever. It's a win-win: You get super-fresh food on your doorstep, and local businesses get a boost.
Our Coronavirus Guide for Parents includes more ideas for keeping the household running smoothly, including emergency childcare options, free at-home learning resources, and more.
Be patient if some of these businesses' delivery services are at capacity at any one time; slots often open quickly, and they're worth the wait (list). We have omitted some services that are currently not accepting new customers, but will add them later if availability opens up.
Delivering in most of Boston, Greater Boston, select towns west, south, and north of Boston
My kids love to watch navy, old-fashioned milk truck arrive weekly with milk, eggs, and yogurt, but Thatcher farm also offers more than 100 grocery items, including local meats, cheese, coffee, frozen pasta meals, and even Bell and Evans chicken nuggets. Deliveries are made weekly; you can tailor your order up to 11:30 the night before delivery day, and there are no subscription fees.
Delivering across Massachusetts
This Billerica-based service connects residents to local farmers to deliver its monthly shares of high-quality meat, from ground beef (starting at $39) to a mix of steaks, chops, chicken, sausages, and more (starting at $79).
Delivering in Greater Boston, west of Boston
Create your own box filled with a wide array of mostly vegan grocery items, with an emphasis on seasonal produce, bread products, and healthy snacks and other pantry items (they even have a list of kid-friendly ideas and pet treats). There are no delivery fees, and you pay per box (no subscription needed).
Brown bags on the doorstep are a happy sight these days, indeed. Photo courtesy of Roche Bros. Supermarkets
Delivering in most of Boston, Greater Boston, select towns west, south, and north of Boston
This full-service, Wellesley-based supermarket chain operates delivery service in vicinity of most of its 20 locations in Boston and the 'burbs (enter your zip code here to see if your town is included). Shopping and delivery fees, adjusted by locale, apply. (We pay around $10 total fees per order in Wellesley.) Additionally, curbside pickup is available in Westborough, Easton, Marshfield, Burlington, and Millis.
Delivering across Massachusetts
The butcher shop founded in Milford, MA in 1924 was one of the area's first grocery delivery companies, and now offers a wide variety of basic groceries, including milk, dairy, produce, frozen foods, pantry products, and plenty of household items. It encourages stocking up on frequently ordered products, and "delivery consultants" help families decide what to order, how much, and when.
Delivering in Boston
This beloved market is delivering anything it sells in the store, including groceries (like milk, eggs, bread, deli meats, specialty cheeses, and treats), daily prepared meals, and beer and wine. It's delivering for $5 to the South End, Back Bay, Seaport, Fort Point, Downtown, and Southie, and to Jamaica Plain, Allston, and Brighton for an extra fee.
Delivering in Wellesley, Weston
Gourmet markets located inside select convenience stores in Massachusetts and Connecticut are offering "fresh crates" filled with locally sourced meat ($65), produce ($55), or pantry items, like ketchup and Justin's peanut butter ($35). Local resident and chef Joshua Smith will deliver fresh crates to Wellesley and Weston, or curbside pickup is available in Plymouth and Ayer.
Delivering in most of Boston, Greater Boston, select towns west, south, and north of Boston
Hundreds of items—from produce to meat to fish—that are sold at Boston Public Market are available for delivery via Mercato. There are minimums for the different vendors, but Mercato's user-friendly site makes it easy to see how much you need to order to reach your minimum. If you're planning on ordering every week or so, you can reduce delivery fees by signing up for a monthly Mercato Green (which starts at $8 per month).
Delivering in most of Boston, Greater Boston, select towns west, south, and north of Boston
Foodie's has two beloved locations, one in South Boston and one in the South End, but it's delivering across Boston and just beyond via Mercato. One-order-shop from Foodie's selection of fresh local foods by New England vendors (from produce to meat to dairy products) as well as paper products, diapers, and over-the-counter medications.
Delivering in select towns west of Boston
This Wellesley-based seafood supplier has the freshest fish and shellfish as well as prepared seafood meals available for delivery via Mercato. The current delivery area is Wellesley, Weston, Needham, South Natick, and Dover, and there is a $10 minimum for orders.