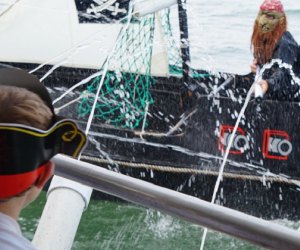 Top 10 Things to Do with Kids in Plymouth, Including a Crazy Pirate Cruise
From its steep historical character as the area where the original Pilgrims landed to its beautiful harbor, Plymouth evokes our colonial and maritime roots here in Massachusetts. Summer is a great time for families to make a day trip to the town, with the sea breeze kicking in on hot days and many attractions within walking distance of each other. Add in a pirate or a ghost and things get even more appealing for kids.
Here's a rundown of the top 10 activities and sites in Plymouth to check out with your kids.
Plymouth Rock
79 Water St., Plymouth, MA 02360
Times: 24 hours a day
Price: FREE
Surrounded by a small monument that is reminiscent of Washington, D.C., Plymouth Rock is a boulder that allegedly was the spot the original Mayflower landed at after crossing the Atlantic Ocean. Whether you believe the tales, the folklore of the rock is synonymous with the story of the Pilgrims arriving in America.
Pirate Cruise (run by Plymouth Cruises)
9 Town Wharf, Plymouth, MA 02360
Times: Daily May through October (see the website for specific times)
Price: $$
One of the most fun activities for kids in Plymouth is the pirate-hunting jaunt through the harbor. This sea journey peaks when the kids, donning swashbuckler hats and face-painted mustaches, exchange water-canon squirts with the ugly pirate and his enemy vessel. Passengers will also get up close to lobsters and crabs, and kids receive a pirate booty bag.
Plimoth Plantation
137 Warren Ave., Plymouth, MA 02360
Times: Daily 9am to 5pm
Price: $$ (children 4 and younger are free)
Plimoth Plantation is a historically-themed step back in time, with workers simulating what life was like for the Pilgrims and the Wampanoag people. The attraction includes add-ons, too, such as the nearby Mayflower II (see more below) and the Plimoth Grist Mill. By the way, "Plimoth" with an "i" and no "u" is an old-fashioned spelling of the colony, which today helps differentiate the plantation from the modern-day town.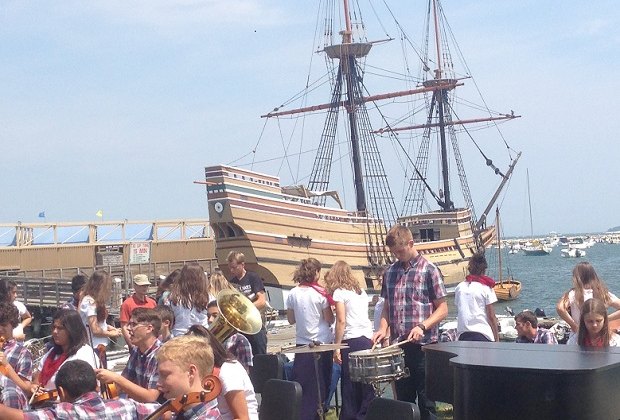 A youth orchestra performs in front of the Mayflower II
Mayflower II
State Pier (across from 74 Water St.), Plymouth, MA 02360
Times: Daily 9am to 7pm July through August (closing at 5 p.m. other months)
Price: $ (children 4 and younger are free)
Docked in Plymouth Harbor, the Mayflower II is a life-size replica of the original Mayflower that carried the Pilgrims to the shores of Massachusetts. Visitors can learn more about the colonial passengers of the ship from role-playing crew members. The ship is moored near Pilgrim Memorial State Park, at which visitors on any given day might see a performance (see above) or a fair.
Dead of Night Ghost Tours
Check in at the hearse on Water Street near Plymouth Rock
Times: Various nighttime tours throughout the week
Price: $$
If you're going to stick around in Plymouth after the sun goes down and your kids enjoy paranormal tales, guided Dead of Night Ghost Tours could be fun. Participants can hear about local ghosts and visit the town's oldest burial ground. The tours do not use any theatrical special effects, nor do ghouls jump out at people from the shadows.
Plymouth Breakwater
Just north of Town Wharf
Times: 24 hours a day
Price: FREE
Jutting 3,500 ft. into Plymouth Harbor, this stone breakwater provides a relaxing walk along the water, with kids having fun traversing the giant slabs that make up the wall (see above). Everyone gets great views of the harbor and surrounding shoreline. However, strollers aren't going to make it far on these rocks. Right at the start of the breakwater is the the remnants of a giant old tree that is lying on the ground, which offers another spot for kids to climb around.
Myles Standish State Forest
194 Cranberry Road, South Carver, MA 02366
Times: 24 hours a day
Price: $ (parking fee)
Straddling the border of Plymouth and Carver, Myles Standish State Forest offers miles of hiking, biking, and horse-riding trails, as well as opportunities to canoe, swim, and fish. If you're around for more than a day trip, you can reserve camping sites here, too.
Brewster Gardens
Corner of Water and Leyden streets, Plymouth, MA 02360
Times: 24 hours a day
Price: FREE
Just south of Plymouth Rock lies Brewster Gardens, a small, green park that offers a nice respite from the crowds along the harbor. Younger kids will enjoy the bridge and the small fountain at the center of the park.
Nelson Memorial Park
255 Water St., Plymouth, MA 02360
Times: Daily from dawn to dusk
Price: FREE
For families with younger kids who need a break from tourist attractions, head north along Water Street to this park, which features a small playground in the sand and a spray pad.
Pilgrim Hall Museum
75 Court St., Route 3A, Plymouth, MA 02360
Times: Daily 9:30am to 4:30pm
Price: $
What might otherwise be an academic-style museum visit at Pilgrim Hall Museum is made more interesting by treasure hunt sheets available for kids at the admissions desk. During the hunt, youngsters learn more about Pilgrim possessions on display in the museum and receive a prize at the end.
---
Photos by the author