SPONSORED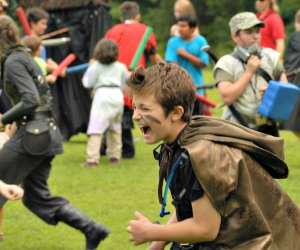 Zombies and Wizards Teach "Sneaky STEM" at Guard Up in Boston Area
Celebrate a birthday by battling the undead in a zombie apocalypse. Spend the school break brewing potions in the Mages' Guild. Cap the school day with an epic afternoon NERF battle. These fantastic adventures are 100% reality at Guard Up, a local spot in Burlington and Waltham, Massachusetts, offering weekly classes, summer camps, birthday parties, and school holiday camps for ages 4 and up.
As magical as Guard Up may seem, the real wizardry is that the carefully developed programs actually teach creative problem-solving, leadership, teamwork, and yes, even STEM, all through gamified adventures kids will love. And that's just the tip of the iceberg; the more you hear about Guard Up the cooler it sounds.
Inspired by the choose-your-own-adventure stories she made up for her own daughters — as well as live-action role playing (LARP) and video games — Meghan Gardner dreamed up the story-based educational adventure program and recruited a team of educators to help bring it to life. Drawing from literature, mythology, and history, the Guard Up staff develops engaging narratives that play out a lot like real life video games, where the stories unfold based on the kids' actions and decisions.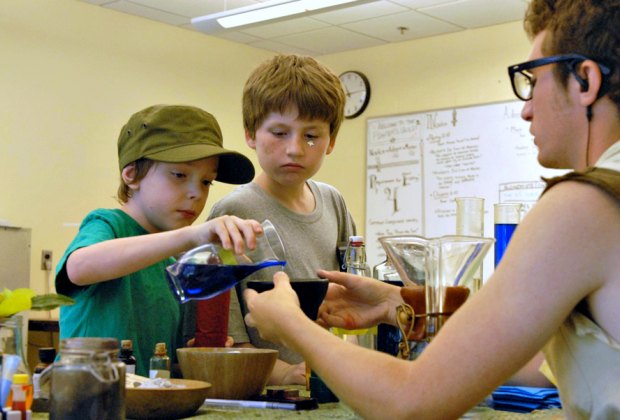 Chemistry creations
During each adventure, instructors continually create props and costumes, take on new characters, and even maintain contact by radio to keep up with each ever changing tale. Meanwhile, the kids encounter Latin spells that need to be translated, potions that can only be created using chemistry, and spells that can't be cast without physics. They turn to libraries, school, and other research opportunities to solve problems and advance through the game, without even realizing just how much they're learning. Gardner has actually dubbed it "sneaky STEM," which I think all parents can appreciate.
Take a look at their offerings below to find the best fit for your little (or not so little) adventurer!
School Holiday and School Break Full Day Adventures
Forget being glued to a screen all day! Over winter and spring break, students ages 6 to 12 can spend the week fighting monsters and solving mysteries (all while learning science, literature, and history). Similar day long events are offered during a number of school holidays.
Overnight and Day STEM Summer Camps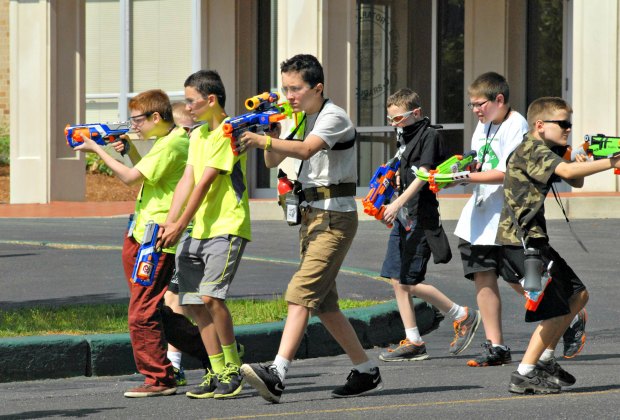 Zombie Summer Camp
Guard Up's STEM camps are attended by hundreds of kids and teens from around the world. Choose from Zombie or Wizards & Warriors™ Camps, with day and overnight options for kids ages 7 to 15 (with a discount available for CITs ages 16 and up). Blackwatch Teen Overnight Camp is also available for 15 to 18 year olds, and Little Knights Camp for 5 and 6 year olds.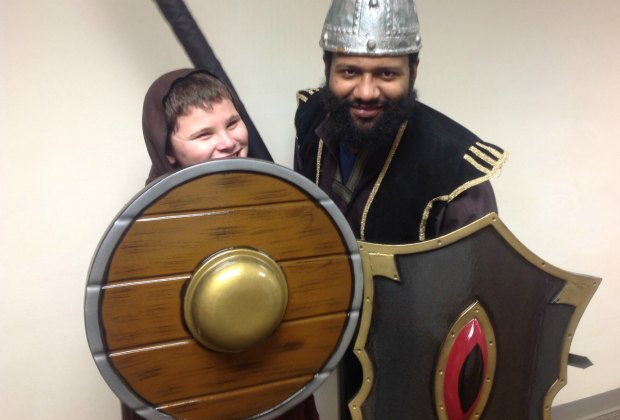 Hobbit themed party
Themed Birthday Parties
The Guard Up team designs a themed party, complete with foam swords or NERF blasters, that allows your child to be a hero in the story and their friends help them save the day. Choose from themes like pirates, space, and craft miners, or work with the Game Designers and Plot Writers to create a completely custom plot.
Points & Powers™ Educational Adventures
In these weekly classes, students play characters in an ongoing story where they battle to save the world — like a computer game without the computers! In this live, physically interactive environment, kids stay mentally engaged, learn academic and life skills, burn calories, and make friends. Classes are divided by age and start as young as 4 years old.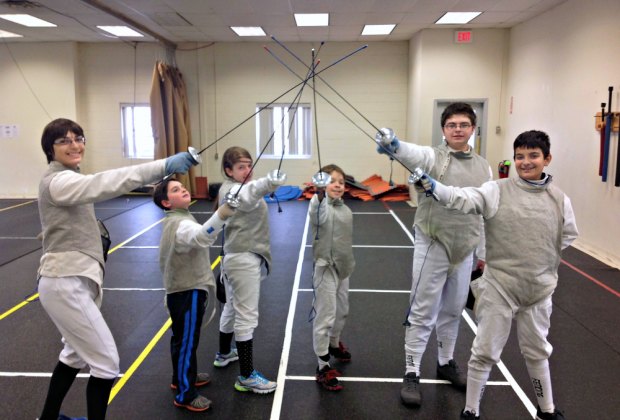 Fencing class salute
Fencing Classes
Guard Up also offers weekly fencing classes for kids, teens, and even adults. Often referred to as "physical chess," the sport is as much about strategy as reflexes. Students start by learning the footwork, and then progress to picking up a foil (yes, that's the sword) and experiencing a real fencing bout.
Junior Instructor Training
Guard Up's Teen Student Leadership class teaches the skills that help students thrive after high school and college. Through discussion, live roleplay exercises, and group feedback, teens learn public speaking, curriculum development, leading and managing groups, how to succeed in a job or college interview, and more. The class meets one evening a week.
Make your child's next school break, birthday or...Friday...unforgettable by choosing the perfect adventure from Guard Up. For more information on all available classes, camps, and programming, and to see schedules and pricing, visit Guard Up's website. Programs tend to fill up fast, so register now to save your kid a spot!
All photos courtesy of Guard Up
Guard Up
103 Terrace Hall Avenue
Burlington, MA 01803
Guard Up at Gann Academy
333 Forest Street
Waltham, MA 02452