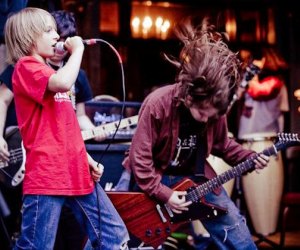 Rock Music Camps for Kids Near Boston
If your house sounds like CBGB all day long, or you're looking for a Boston summer camp that will help your aspiring Hendrix hone some real skills, then you're in luck. The Boston area offers a plethora of summer rock music camps that cater to kids of all ages, abilities, and specialties—guitar, drums, bass, or vocals. Thanks to these camps, blossoming musicians will be jamming from Andover to Seekonk.
Find more great camp options for your Massachusetts kids in our Camp Guide and Directory of listings, which is searchable by interest, age, or location.
1. Plugged In—Needham
Open to musicians aged 11 to 18, Music That Matters Camp meets in Needham for two week sessions between mid-July and mid-August. Each camp includes band class for 90 minutes a day with 4 to 6 students and a teacher. Bands are composed of drums, guitar, bass and vocals and can also include keyboards and horns. Students in the class work on developing a set of songs to perform at the concert, developing original songs or cover works of their own choice. Music That Matters also includes 90 minutes of workshops daily, including Music Theory, Lyric Writing, Songwriting, Music for Social Change and more. Campers perform twice weekly at a benefit concert, or busking in Harvard Square, and watch movies about music and social justice before creating their own music video. Music That Matters costs $1,400 per two-week session.
2. Bach to Rock—Wellesley
Wellesley's Bach to Rock offers two options to aspiring rock and rollers. Their full-day Rock Band program is designed for students 7 and up, split into ages 7 to 9 and 9 and up. By placing students in bands based on age, skill level, and requirements of ensemble playing, Rock Band teaches students full songs by the end of the camp. Each weekly session ends with a public performance and a CD recording. Campers aged 4 to 7 can enroll in the half-day Rock City World Tour: a program designed to explore musical and movement-based activities through exposing kids to instruments and musically inspired story time. Little musicians will develop the skills to read music, develop motor control, and even play simple rhythms. Rock Band camp is $400 per week and Rock City World Tour is $200.
RELATED: Theater Camps for Boston Kids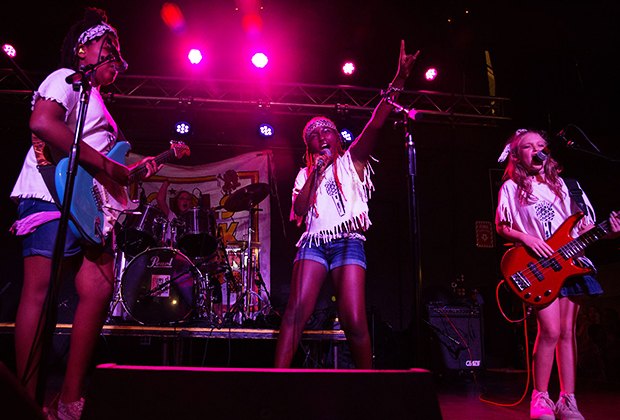 Photo courtesy of Girls Rock Campaign Boston.
3. Girls Rock Campaign Boston—Allston
Budding female rockers will love Girls Rock Campaign Boston's week-long summer session for girls aged 8 to 17, designed to encourage self-esteem through musical education and performance. In only a week, campers will receive instruction in guitar, bass, drums, keyboards or vocals, form a band, write an original song, and perform at a sold-out rock venue. In addition to band formations, coaching, and practice, girls can participate in workshops including self-defense, songwriting, women in rock history, and screen printing. Sessions run from mid-July to mid-August at Berklee College of Music's Fordham Road Facility in Allston. $375 per week-long session.
4. Real School of Music—Burlington, Dedham, and Andover
The Real School of Music's RealJams Bands Program is a week long, full-day program for kids aged 10–18. Campers will have total access to a recording studio, lesson rooms and practice space, and the Real School's performance hall. Students will take lessons, play in a band, record in a studio, and play a live show. They will also get to record a music video and attend interactive seminars. Campers between the ages of six and 10 can enroll in RealJams Academy, a week long, full or half-day program. RealJams Academy offers Jam Band, a rock band experience on drums, guitars, keyboards, ukuleles, and percussion instruments; Ukulele Serenade; or RealJams Rhythm Crunch, which allows students to create their own rhythms using drums and other percussion instruments. Students also build their own instruments and perform in a Friday concert at the end of the session. RealJams offers three programs, Join a Band, RealJams Academy and their advanced program (only in their Burlington location). Camps run in July and August for one or two weeks. RealJams Bands ranges from $349–$599; Real Jams Academy costs between $149–$229; and RealJams Advanced is $1399 for a two-week session.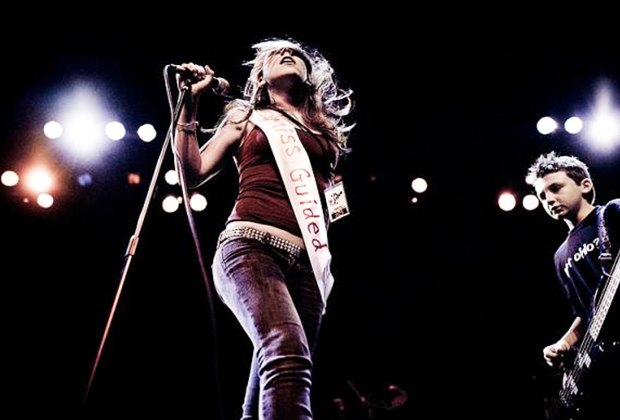 Photo courtesy of School of Rock.
5. School of Rock—Attleboro, Lynn, Norwood, Watertown, and Seekonk
With multiple locations around the 'burbs, this pioneer of rock music education offers a variety of summer programs for kids aged 8 an dup. Campers start the day with individual lessons on their chosen instrument before taking their knowledge to band rehearsal. At the end of the week, students record with their band in the studio and then perform a live show for friends and family. School of Rock welcomes all skill levels, and instruments including vocals, bass, guitar, piano, or drums. Summer programs include Beatles, 90s Rock, and Alternative Rock, and sessions run through July and August at $500 per week.
Top photo courtesy of School of Rock.