Best NYC Kids' Theater Shows for Fall 2014: 15 Fun Family Productions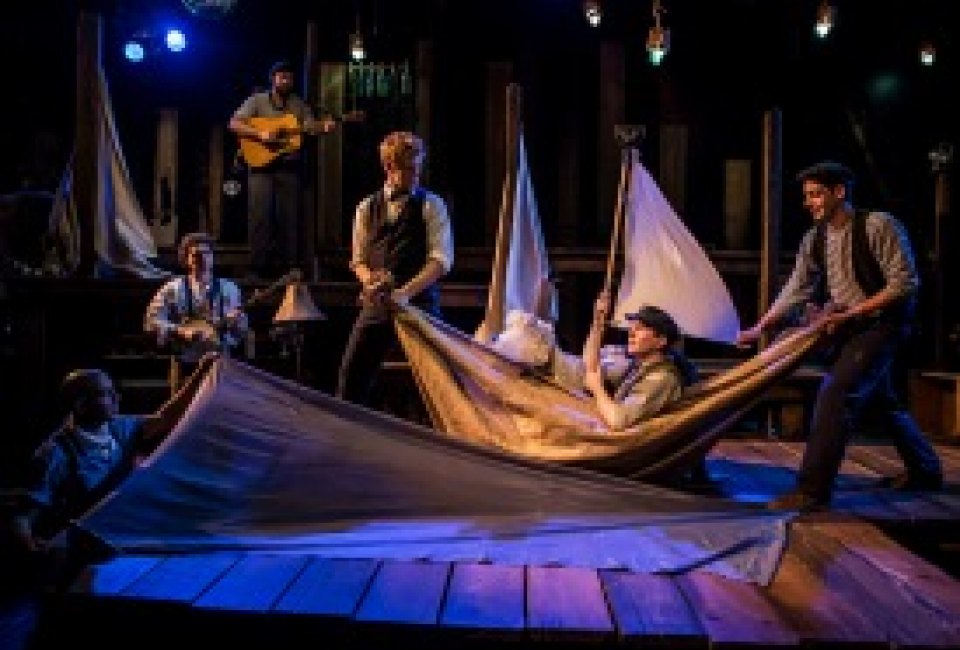 9/23/14
- By
Raven Snook
Our fall culture preview continues with a roundup of promising children's shows bowing on NYC stages over the next few months, and not a one is on Broadway, which means you don't need to dip into your 401K to pay for tickets. There's quite a wide variety of choices for kids of all ages this season, including an interactive virtual romp on the farm just for toddlers, page-to-stage adaptations of popular children's books like Ivy + Bean, Manxmouse and Skippyjon Jones, and three immersive productions for tweens that let them get in on the action—literally.

Our top 15 family theater picks for this fall are below. Remember, no high-priced seats here. Most shows cost $25 or less, two are even under 10 bucks. You can find more cool kids' culture recommendations in our Fall Fun Guide including the best museum exhibits for families.
The Butterfly Girl – Upper West Side
Vital Children's Theatre, 2162 Broadway at 76th Street, fourth floor
Saturday, September 20-Sunday, November 16. Visit the website for the complete schedule.
$30
Ages 4 to 8
My daughter and I very much enjoyed this musical when we originally saw it at the Vital Children's Theatre back in 2010. Based on author Alan Madison and illustrator Kevin Hawkes' picture book Velma Gratch and the Way Cool Butterfly, it's a simple and touching story of self-acceptance. An awkward, Junie B. Jones-like first grader tries to stand out with disastrous results. But that all changes during a field trip to a butterfly conservatory, when she and a monarch forge a special bond. Perfect for kids who are new to school.

The Old Man and the Old Moon – Midtown West
New Victory Theater, 229 W 42nd Street between Seventh and Eighth Avenues
Friday, September 26-Monday, October 13. Visit the website for the complete schedule.
$15-$38
Ages 7 and up
Yes, I realize we've already raved about this show in our September Go List and our New Victory Theater season preview, but it's truly worth the constant praise. The brainchild of the endlessly inventive PigPen Theatre Co—a troupe of recent college grads who are equally adept at acting, singing, storytelling, puppeteering and banjo playing—this folk-rock fable chronicles the adventures of an old man who leaves his longtime job tending the moon to find his runaway wife. Since I last saw it Off Broadway, the show has been restaged and shortened to a tight 90 minutes, but retains its striking visuals and moving message. Heed the age recommendation! PigPen's shows are deliberately paced and require focus.

Partituur – Chelsea
New York Live Arts, 219 West 19th Street between Seventh and Eighth Avenues
Saturday, October 4 at 11am and 2pm; Sunday, October 5 at noon and 3pm
$20 for adults, $10 for children
Ages 7 and up
Talk about interactive theater: Paris-based choreographer Ivana Müller's new children's show truly blurs the line between audience member and performer. Kids are given headphones, loose instructions and a box of props, and then get to decide what to do with them. Using your imagination is the only rule at this performance, which is never the same twice.

Quiet Stories for a Loud City – East Village
The Wild Project, 195 East 3rd Street between Avenues A and B
Saturdays, October 4 and 11 at 2pm
$15 recommended donation per family
Ages 4 and up
Another avant-garde option from Broken Box Mime Theater (BKBX), a troupe that performs sans props, sets, costumes or dialog, and only uses body language to tell their tales. With a speaking host as guide, families watch ten inventive shorts about a wide range of subjects, from Dungeons and Dragons to the Wild West to the world's worst surprise birthday party. After the one-hour show, kids can meet the cast and ask questions.

The 7½ Mysteries of Toulouse McLane – Upper East Side
Park Avenue Armory, 643 Park Avenue between 66th and 67th Streets
Monday, October 13 at 2pm, Saturday, October 18 at 2 and 7pm, and Sunday, October 19 at 2 and 7pm
$6
Ages 8 and up
Over the past few years, immersive theater for grown-ups has become all the rage, with adults-only interactive spectacles like Sleep No More and Then She Fell. This October, the lauded Trusty Sidekick Theater Company mounts two site-specific, environmental works just for families that allow you to become part of the performance. The first one, The 7½ Mysteries of Toulouse McLane, I saw last year with my daughter, and we both had a blast exploring the stately Park Avenue Armory while trying to figure out what exactly was going on around us. Characters who talked to us one minute would forget us the next, scenes repeated over and over, and we counted down to midnight multiple times. To say more would give too much of the mystery away! Inspired by a true-life story, it's an eerie and unforgettable experience that proves family shows can be as innovative and arresting as grown-up theater.

Ivy + Bean, The Musical – Chelsea
Saturdays and Sundays at 10:30am October 18-November 9
Linda Gross Theater, 336 West 20th Street between Eight and Ninth Avenues $20 for adults, $15 for children
Ages 5 and up
My daughter was obsessed with author Annie Barrows and Illustrator Sophie Blackall's best-selling children's book series, Ivy + Bean, when she in second grade. And why not? The mischievous adventures of an unlikely pair of eight-year-old BFFs—loud and goofy Bean and shy and creative Ivy—really resonate with kids. Even children who haven't read the books should enjoy this musicalized origin story of their friendship, mounted by one of NYC top family theater companies, Atlantic for Kids.

Hatched – Tribeca
Tribeca Performing Arts Center, 199 Chambers Street near West Street
Saturday, October 25 at 1:30pm
$15
Ages 0-4
Subtitled "an interactive performance about life on the farm for babies, toddlers and preschoolers," Hatched was created by NYC-based dance-theater company Treehouse Shakers. Tots watch as a newborn chick emerges from her shell at sunrise to a colorful and busy world. The show features handcrafted puppets, live music, dance and sparse dialog, and kids get to feed and pet the animals. A gentle first-time theater experience that introduces young children to the wonders and immediacy of live entertainment.

The Haunting of Ichabod Crane – Upper East Side
Park Avenue Armory, 643 Park Avenue between 66th and 67th Streets
Saturday, October 25 and Sunday, October 26 at 2 and 7pm
$6
Ages 8 and up
I haven't yet seen Trusty Sidekick Theater Company's other immersive Park Avenue Armory show, which originally played Brooklyn's Old Stone House in 2012, but I'm looking forward to it. Inspired by Washington Irving's iconic The Legend of Sleepy Hollow and presented just in time for Halloween, this interactive performance gives mature kids a creepy peek at what really happened to poor put-upon school teacher Ichabod Crane. Journey from the Revolutionary War battlegrounds of Manhattan to the scary Sleepy Hollow without ever leaving the building.

The Magic Flute – Midtown West
New Victory Theater, 229 W 42nd Street between Seventh and Eighth Avenues
Friday, November 1-Sunday, November 9. Visit the website for the complete schedule.
$15-$38
Ages 8 and up
If you've been wanting to introduce the kids to opera, this is the ideal opportunity. Hailing from South Africa, this colorful adaptation of Mozart's famous opus has been streamlined to two hours, and is performed in English with an orchestra of marimbas, two dozen soaring voices and a trumpet creating the sound of the titular instrument. It also incorporates elements of African myths for a multicultural take on a classic.

Squirrel Stole My Underpants – Upper West Side
Leonard Nimoy Thalia at Symphony Space, 2537 Broadway at 95th Street
Saturday, November 8-Sunday, November 9 at 11am
$21 for adults, $14 for children
Ages 3-7
This quirky show for tots really lives up to its silly name. Created and performed by Bonnie Duncan, a dancer, actress, puppeteer and mom, this solo piece focuses on a young girl whose panties are stolen off a backyard clothes line by a naughty rodent. When she goes after him, a whole new world springs up from her laundry basket as she makes her way through unfamiliar lands.

We the People – Upper East Side
The Kaye Playhouse at Hunter College, entrance on East 68th Street between Park & Lexington Avenues
Sunday, November 9 at 11am
$20-$35
Ages 9-12
I reviewed this TheatreworksUSA show a few years back and called it Bloody Bloody Andrew Jackson for kids, only a lot less dirty. When a young teen decides to run for student council, four founding fathers (Thomas Jefferson, Ben Franklin, John Adams and George Washington) magically appear to help school her on democracy and our great nation. This clever and campy revue finds the foursome rocking out about subjects like the three branches of government, the First Amendment and the judicial process. Tweens won't even realize they're learning.

Skippyjon Jones – Upper East Side
The Kaye Playhouse at Hunter College, entrance on East 68th Street between Park & Lexington Avenues
Saturdays, November 8 and 22 at 11am
$20-$35
Ages 4-8
Another fun musical from TheatreworksUSA, this one is based on Judith Schachner's 2003 picture book about a Siamese cat with large ears who masquerades as Skippito Friskito, a Zorro-like, Spanglish-speaking Chihuahua. As he goes on swashbuckling adventures, he learns familiar lessons about facing his fears and being proud of himself, but the show is also a celebration of imagination.

360 Allstars – Midtown West
New Victory Theater, 229 W 42nd Street between Seventh and Eighth Avenues
Friday, November 14-Sunday, November 30. Visit the website for the complete schedule.
$15-$38
Ages 6 and up
Talk about an extreme mash up: This spectacle showcases seven award-winning stars in very different but equally thrilling fields. Marvel at the mad skills of a championship basketball player, BMX biker, acrobat and a pair of battling break-dancers, set to the pulsating rhythms of a live beat boxer. Great for families who prefer spectacle to plot-driven shows. Bonus: We're hosting a special Mommy Poppins Night on Saturday, November 22 when you can save 20% on tickets and enjoy an exclusive cookie decorating activity after the performance.

The Amazing Adventures of Harvey and the Princess – Midtown West
Theater 3, 311 West 43rd Street at Eighth Avenue, 3rd Floor
Saturday, November 15-Sunday, December 7. Visit the website for the complete schedule.
$25
Ages 3-6
The last time kindie rock queen Laurie Berkner collaborated on a musical with Making Books Sing, they made the little-kid hit Wanda's Monster. So it's no surprise the songwriter and family theater company are teaming up again for this tuner based on Loryn Brantz's picture book Harvey the Child Mime. Happy tot Harvey accidentally gets shipped overseas in an imaginary box. Soon he's making royal new friends and teaching them about fun and togetherness. Sounds like cultural catnip for the preschool set.

Manxmouse: The Mouse Who Knew No Fear – Greenwich Village
NYU Skirball Center for the Performing Arts, 566 Laguardia Place at Washington Square Park South
Sunday, November 16
$19 but save 25% on tickets with our discount code
Ages 5-11
Based on the children's novel by Paul Gallico, Maxmouse comes from the Netherlands's Theatergroep, which uses everyday objects and simple toys to tell adventurous tales. The odd-looking mouse (he's bright blue, tailless and has giant rabbit-style ears), goes on a quest to find his place in the world, braving wild animals, evil pet store owners and even a mouse's mortal enemy: a cat. A tribute to imagination and low-tech storytelling.
Find out about other great seasonal activities in our Fall Fun Guide.