Fun Ways for Kids to Celebrate National Siblings Day 2022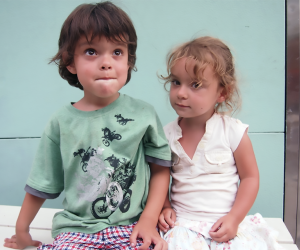 4/5/22
- By
Lauren LaRoche
Siblings can often seem like they're on an emotional roller coaster—best of friends one minute and at each other's throats the next. But no matter how much they may argue and fight, siblings also share a bond like no other. On National Siblings Day 2022, kids can celebrate that bond in some fun and special ways.
Each year, National Siblings Day is celebrated on April 10. National Siblings Day 2022 happens to fall on a weekend (a Sunday), so that means there's even more time to have fun! Though it may not rank up there with Christmas, Hanukkah, Easter, or Halloween, your kiddos will surely enjoy showing each other how much they mean to each other.
Here are 10 fun ways for kids to celebrate National Siblings Day on April 10, 2022.
Fun Ways for Kids to Celebrate National Siblings Day 2022
1. Have a Creative Photo Shoot
A photo shoot is a fun way to make an everlasting memory out of National Siblings Day 2022. Check out our guide to making a fun photo-shoot backdrop. You can print and keep a memory book of all the sweet or silly photos you take over the years.
2. Create the Ties that Bind—Literally
The earliest know celebration of siblings is the Hindu holiday of Raksha Bandhan, which celebrates the bond between brothers and sisters. A Hindu girl or woman ties a band around her brother's wrist to symbolize that she will protect him. The brother give his sister a gift in return, both agreeing to protect and care for each other. Kids can take inspiration from Raksha Bandhan by tying a friendship bracelet around each other's wrists and promising to protect each other. After all, siblings are the only people you can tease mercilessly, but defend to the death if anyone else does!
3. Switch Birth Orders for a Day
The oldest sibling can pretend to be the youngest, while the youngest acts as the oldest, for a day. Or, someone can get a taste of being the middle child. At the end of the day, the kids can talk about what it felt like to walk in their siblings' shoes.
Related: Online Consigment Shops to Buy, Resell, and Trade Kids' Clothes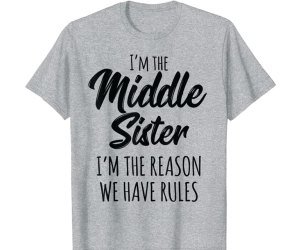 We can't wait to see what the youngest and the oldest siblings' shirts say. Photo by Mommy Poppins
4. Wear Matching or Funny T-Shirts
Matching t-shirts are a festive way to celebrate National Siblings Day. Younger kids will love wearing matchy-matchy shirts to school and for pictures. Older kids might agree to wear shirts with funny sayings, even if it's just for a photo or two. When it comes to funny shirts, the goofier the better—like these!
5. Write Letters or Make Cards for Each Other
Writing letters is a sweet way for older siblings to express how much they mean to each other. Younger kids can use fun paper, stickers, and markers or crayons to make homemade cards for their siblings. Keep the letters and cards each year for an adorable scrapbook to look at when the kids get older.
Related: The Most Irrestistible Dessert Board Recipes for Kids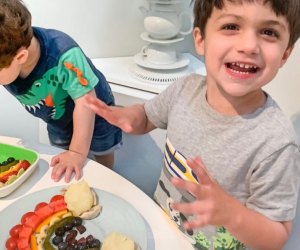 Siblings can team up to make a fun and pretty meal. Photo by Liz Baill
6. Cook a Meal Together
The kids can choose what's for breakfast, lunch, or dinner on National Siblings Day 2022—and team up to make it. They can try one of our many kid-friendly recipes, or stick with an old favorite. You may even notice a small break in fighting while they work together to finish a recipe.
7. Learn to Make Each Other's Favorite Treat
The whole family can enjoy the goodies, and it just may start a tradition of making each other's birthday cakes that could last into adulthood!
8. Write Favorite-Things Lists
Siblings can sometimes say some pretty unkind things to each other. Use National Siblings Day 2022 as a chance to have them make up for those not-so-nice words by making lists of their favorite things about each other. You all may be pleasantly surprised to see what makes the lists!
Related: 15 Brainy Puzzle Games and Jigsaw Puzzles for Kids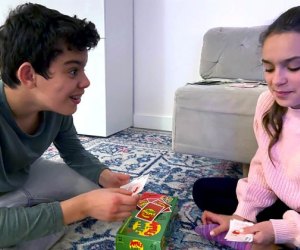 Siblings can challenge each other to a hilarious game of Apples to Apples Junior. Photo by Sara Marentette
9. Play Each Other's Favorite Game
If game night is a regular occurrence in your family, then you've likely experienced the age-old sibling fight over which game to play. On National Siblings Day 2022, let each child choose their favorite game. The whole family can then take turns playing each other's game. If your kiddo doesn't have a favorite game, check out our list of the best board games for kids of all ages for inspiration. Now all you'll need to worry about is whose game to play first!
10. Have An Extra-Special Movie Marathon
Who gets to choose the movie is often a heated topic among siblings. For National Siblings Day 2022, each child can pick a movie or show of their choice for a special movie marathon. This is one night you can enjoy a movie without an uproar over the remote.