Sewing for Kids: Best Kids' Sewing Machines and Sewing Kits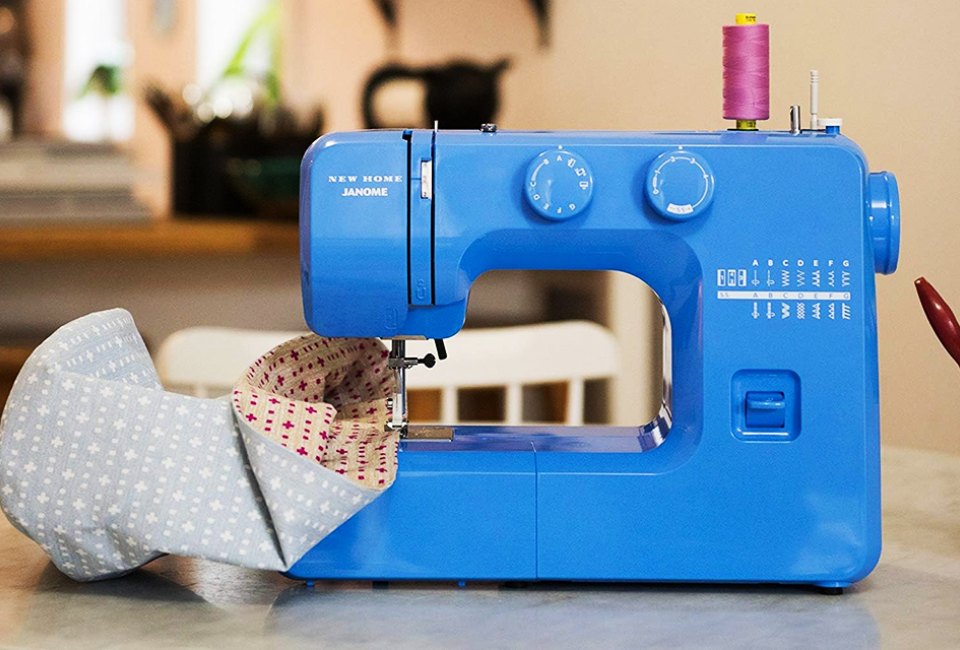 11/14/23
- By
Amelia Eigerman
Looking for the best sewing machine for kids? How about kid-friendly sewing kits? There are lots of great options to choose from!
Sewing is both a fun and Earth-friendly skill for crafty kids of all ages to learn. Sewing allows kids to work on fine motor skills and flex their creative muscles. Plus, being able to patch a pair of pants or replace a button helps keep clothing out of landfills—especially when kids are older and not outgrowing items faster than they can wear them.
There are so many beginner-friendly sewing machines that it's hard to pick the very best sewing machine for kids. We've rounded up four great options, plus some awesome sewing kits for children. We've also shared some beginner sewing projects and tutorials to help your kids become expert stitchers.
Check out our Earth Kids Guide for more planet-friendly activities and habits for kids, from cardboard box crafts to eco-friendly gift wrapping ideas. And, sign up for our Earth Kids newsletter for more ideas and activities every month.
Best Sewing Machines for Kids
Here's the deal: sewing machines are expensive. You'll be hard-pressed to find a sewing machine for under $100 that works well and won't break after a few projects. If your kids tends to jump from hobby to hobby or just isn't sure about sewing yet, it might be better to start with hand-stitching projects or to find a local children's sewing class.
That said, a good sewing machine can last for years and will grow with your child. If you're ready to make the leap and invest, here are our favorite sewing machines for kids. It's important to remember that any sewing machine can cause injuries, so always supervise your kiddo.
RELATED: Crafts for Kids: 100 Awesome Art Projects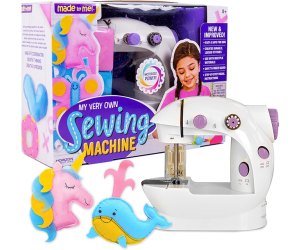 My Very Own Sewing Machine is loaded with user-friendly features.
This beginner sewing machine is a great way to test the waters for a kid who is just starting to get into sewing. While the machine isn't powerful enough for most major projects, its low price point makes it perfect for taking on a few beginner projects. It comes with some starter materials including lightweight fabric and a few pre-wound bobbins.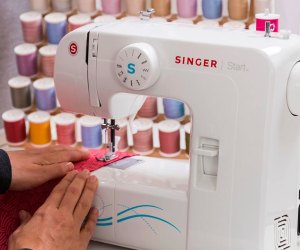 The SINGER Start 1304 Sewing Machine is basic, simple, and easy-to-use.
The SINGER Start 1304 is small, relatively affordable, and takes a lot of the complexity out of sewing on a machine. The preset stitches are variable enough to cover most beginner needs, but they negate the need for fiddling with stitch length and other variables. This machine will definitely cover most of your kid's sewing projects, from making stuffed animals to adding a buttonhole to a hand-sewn skirt.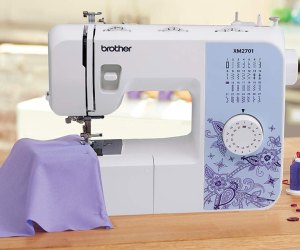 The Brother XM2701 Sewing Machine is perfect for multiple everyday sewing projects.
The Brother XM2701 is another solid starter sewing machine. It features a wide range of preset stitches that will make most beginner projects a breeze. It also has a drop-in top bobbin, which tends to be a lot easier to use than some other setups.
This sewing machine allows users to select from preset stitches or adjust stitch length manually, allowing for more versatility. Plus, it comes with a useful manual and built-in bobbin loading instructions. Did we mention it comes in different colors?
Best Sewing Kits for Kids
If you're not quite ready to invest in a sewing machine—or your kid is interested in learning to hand-sew or embroider—there are plenty of amazing sewing kits for kids. These kits are perfect for children who are just getting started, and we love the variety of things they can make. Added bonus: Hand-sewn creations make the best presents for grandparents and other loved ones.
RELATED: Indoor Activity: Recycle Cards Into Bookmarks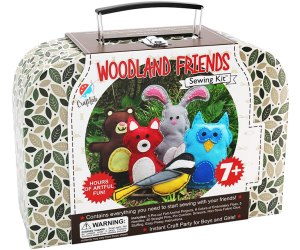 Kids can create adorable new friends with the CraftLab Woodland Animals Kids Sewing Kit.
This adorable animal-themed kit is perfect for absolute beginners. It comes with precut fabric pieces with pre-punched holes, making it super easy for younger kids to use. The fine motor and sewing skills they develop will absolutely carry over to more complex projects.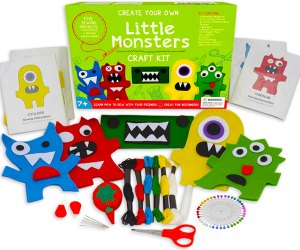 The Little Monsters Beginners Sewing Kit is a fun introduction to sewing for kids.
This monster-themed kit also boasts precut pieces and pre-punched holes. However, it also comes with a great selection of entry-level sewing tools that can be reused over and over for future sewing projects. The kit includes a pincushion, a needle, and pins.

Kids can make a variety of animals with the Klutz Sew Mini Animals kit.
This kit is a step up in difficulty. The helpful instruction book has instructions for a variety of projects that kids can customize to their own liking. The kit comes with sheets of felt, needle and thread, and other accessories. Kids will learn to cut their own fabric using a pattern, and can practice a variety of hand-sewn stitches.

The Craft-tastic Learn to Sew Kit is a great way to instill the love of sewing in children.
This sewing kit is a great all-around starter kit. The projects included utilize diverse skills that will transfer to a variety of more advanced projects. Kids can make stuffed animals, phone cases, a backpack, and more!

Young sewers can take this JUNING Sewing Kit on the go.
While not specifically for kids, this starter sewing kit is a great first step for children who are seriously into sewing, or for older kids and teens who feel a little too mature for the cutesy kids' kits. It features a robust travel case packed to the brim with thread, needles, pins, scissors, and more.
Beginner Sewing Projects and Tutorials for Kids
One of the things that makes sewing great for kids of all ages is that it offers the freedom to create almost anything (well, anything made of fabric, at least). Whether your kid has a specific project they're determined to see through or just wants to learn the basics, there's almost certainly a tutorial out there. We've collected our favorite beginner projects and resources to help get your child started.
This adorable tutorial is the perfect introductory project for kids who want to learn how to sew. Plus, it's a great way to make use of mismatched gloves and other bits and bobs you have around the house.
These felt monsters allow kids so much creative freedom while teaching them the basics of sewing. Customize the project to make it easier or to teach more advanced skills by swapping button eyes for glues or painted details, adding hand-sewn clothes, and more!
How special would it be for your kid to sleep with a quilt they sewed all on their own? This beginner project is great because it uses precut fabric, making the whole process way less intimidating.
This straightforward pillowcase pattern is perfect for kids looking to strengthen or learn machine-sewing skills. It's very easy to follow and hard to mess up, and kids will love seeing their creation displayed on their bed.
There's something kids just love about making their own clothes. This DIY t-shirt-to-skirt transformation is very affordable, easy enough for a complete novice, and genuinely wearable.
There's a surprising amount of skill needed to make these simple balls, so they're a great way to practice! We love that this project can be hand-stitched or made on a sewing machine. There are also lots of great ideas for customization at the end of the instructions.
Photos courtesy of the manufacturers via Amazon
This article contains some affiliate links, which means we might earn a small commission if you make a purchase. There is no extra cost to the reader. We only recommend products and services that we have personally used or have thoroughly researched.