Scary Easy Ideas for a Spooktacular Halloween Party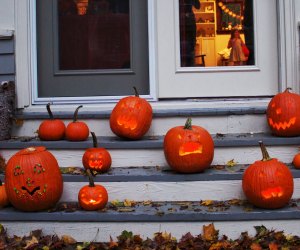 Halloween Treats
​Get everyone in the Halloween spirit by serving some of these spooktacular treats.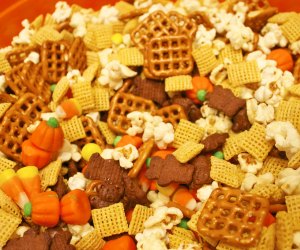 Scarecrow Snack Mix Recipe
This seasonal snack mix is a blend of sweet and salty and tastes like pure Halloween fun - it's also a great way to use up all that extra candy corn that you can't stop eating. This year, we used a little bit of the following:
Pretzel Squares
Caramel Corn
Reese's Pieces
Chocolate Graham Crackers
Chex
Candy Corn
Mellowcreme Pumpkins
I kept filling a big bowl with little bits until I created something that looked about right. You can get creative with this mix -anything sweet or salty would do. I can imagine adding chocolate chips or a dash of Halloween sprinkles would be amazing.
Candy Corn Punch
​Halloween is one of those times that I say "good bye" to our regular "sugar aware" diet and this punch definitely embraces this!
There is no exact science to this spirited concoction. I mixed equal parts orange juice and sparkling water to achieve this seasonal hue. You could probably also add some orange soda if you wanted to increase the sweetness a bit. For a little extra, I froze pineapple chunks in an ice cube tray and let them float. As they melted, they gave the punch a bit of a kick! I garnished each cup with a swirl of whipped cream and tossed a few candy corns on top of that for good measure.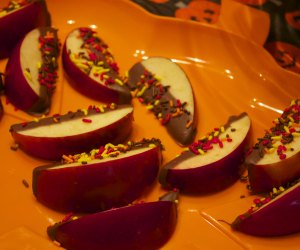 Chocolate Covered Apples
Those candy apples in the shops always look so amazing. You know the ones - those giant orbs of caramel goo that call to you at every time you enter the supermarket. Once we bite into them, I am instantly filled with regret and my daughter is basically covered head to toe in candy. This year I learned my lesson - in order to avoid the mess I dipped slices of apple in chocolate and decorated them with Halloween sprinkles. They took about 5 minutes to make and were a huge hit at the party. You can switch chocolate for caramel pretty easily- the best party is there is almost zero waste!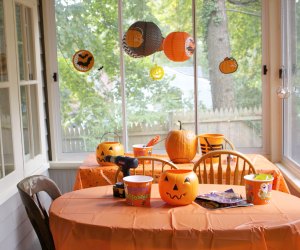 Decorations
A little black and orange crepe paper with some plastic pumpkin buckets can go a long way. There are so many decorations to choose from that it is easy to go over the top, but since most of my guests are 5 and under I choose to keep things on the "not so scary" side of Halloween.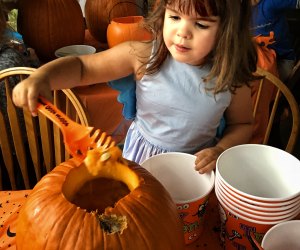 Activities
We decided to carve pumpkins at our party and I encouraged guests to B.Y.O.P (Bring Your Own Pumpkin). It was a really simple activity to set up that got everyone involved. I covered the tables with orange plastic tablecloths and placed several "goop" buckets around to collect all the pumpkin innards.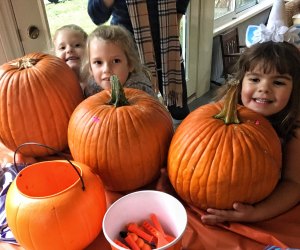 Because I never know how long decorating is going to take, I always have a few open ended games set-up to play.
Pumpkin Bowling
is really easy to set up and keeps your guests active for a little bit.
It doesn't take much to create a bit of Halloween magic. I hope you have a ghoulishly good time. Happy Halloween!