25 Things To Do with Kids in Tallahassee, Florida
5/5/16
- By
Stephanie Ogozalek
Forget what you know about Florida. As I learned on a recent visit to Tallahassee, the Sunshine State's capital is the other side of Florida and I don't mean just geographically. Twenty miles south of the Georgia border, this isn't where families go to hit the sand and surf or to visit one of the state's famous town-sized amusement parks. Instead, Tallahassee is a vibrant college-city packed with outdoor adventures, nature and wildlife, art and culture and great eats.
Tallahassee is a perfect weekend getaway (or mid-point break on a trip to Orlando, Tampa or Miami) with something for everyone: Spanish colonial and American Civil War history can be found at every turn, kayaking, hiking, fishing and cycling beckon the outdoor enthusiasts, and critters like alligators and manatee can be spotted in their natural habitats. Plus, there are a couple of cool things you can only see in "Tally" such as the spot where Hollywood filmed the 1950s sci-fi flick Creature from the Black Lagoon and a graveyard full of early generation, rusting Ford trucks.
Read on to find out what else there is to do on a Tallahassee family vacation.
3. Romp in Cascades Park's Imagination Fountain during the day. Come back at dusk when the fountain issues a 7-minute choreographed light and sound spectacle.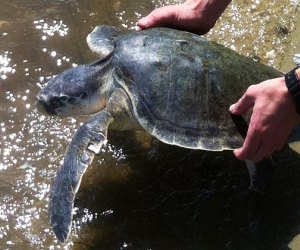 Meet a sea turtle at the Gulf Specimen Marine Lab. Photo courtesy of the venue.
4. Touch and feed varied aquatic life, including sea turtles, at the Gulf Specimen Marine Lab.
5. Eat a hot dog at Dog Et Al where they offer 10,000 ways to dress a frank.
6. Dine at The Edison, a trendy, yet family-friendly new restaurant housed in the city's former power plant overlooking stunning Cascades Park.
7. Fly through the trees (and even over an animal enclosure or two) at the Tree to Tree Adventures aerial obstacle course and zip-line at the 52-acre lakeside Tallahassee Museum.
RELATED: 23 Best Family-Friendly Resorts for Travel with Kids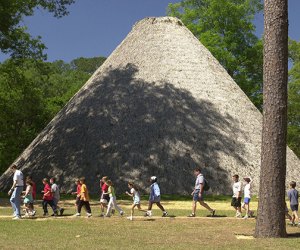 Learn about Florida's early inhabitants and culture at the Mission San Luis Council House. Photo courtesy of the venue.
8. Explore Florida's Spanish and Apalachee history at the reconstructed Mission San Luis.
9. Gawk at 150 incredible vehicles, including a collection of vintage and recent Batmobiles at the Tallahassee Automobile Museum.
10. Take a self-guided tour of the 200 murals, sculptures and other pieces of public art found downtown.
11. Enjoy an alfresco concert at The Capital City Amphitheater.
RELATED: 25 Things to Do with Kids in Daytona, Florida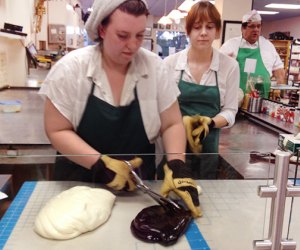 Kids will dig the candy-making demo at Lofty Pursuits almost as much as the treats that follow. Photo by the author.
12. Watch a cool candy making demo at Lofty Pursuits and follow it up with an old-fashioned egg cream or sundae.
13. Grab a paddle to canoe or kayak the many rivers and lakes found in northern Florida.
14. See bobcats, wolves, alligators, white-tailed deer, black bears and other animals native to the state at the Tallahassee Museum.
15. Tour The National High Magnetic Field Laboratory, the largest, most powerful magnet lab in the country, or visit during its annual family-friendly open house held in February.
16. Visit the Smokey Hollow Commemoration in Cascades Park, a trio of spirit houses marking the African-American neighborhood that occupied the area from the end of the Civil War through the 1960s.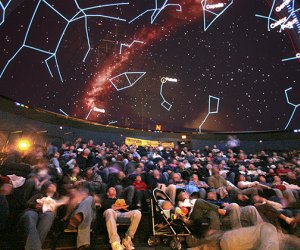 Watch a star show or see the night sky in a new way at the planetarium at Challenger Learning Center. Photo courtesy of the venue.
17. Marvel at the night skies during a star show at the Downtown Digital Dome Theatre and Planetarium in the Challenger Learning Center.
18. Day trip it to St. Mark's National Wildlife Refuge, about an hour south of the city, to enjoy bird-watching, hiking, fishing and a visit to the historic lighthouse.
19. Explore the funky 10-acre Railroad Square Art Park, a former industrial park converted into colorful shops, galleries and eateries, during the monthly First Friday Gallery Hop.
20. Try a S'mores Burger, complete with marshmallow and chocolate, or one of the many other creative hamburger combos at Midtown Caboose.
21. Sip a pint of local craft beer while the kids romp in the grassy backyard at Proof Brewing Company.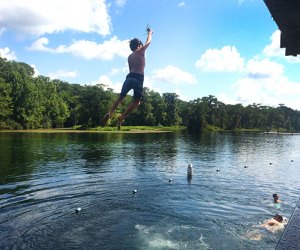 Take a dip in the refreshing Edward Ball Wakulla Springs. Photo by Alicia Wellman, FWC via Flickr.
22. Jump from the 185-foot high dive tower at Edward Ball Wakulla Springs State Park into Florida's deepest freshwater spring. The water is a balmy 70 degrees year-round.
23. Stop for a one-of-a-kind photo op in the unofficial Ford Truck Graveyard, a field housing a dozen ancient Ford trucks.
24. See why the Canopy Road Cafe is voted the city's best breakfast spot with one bite of the cinnamon rolls.
25. Cycle through Tallahassee's 78 miles of Canopy Roads where the branches of massive moss-draped live oak, sweet gum and hickory trees cover the streets.
The author was a guest of VisitTallahasee.com to research this post. All opinions are those of the author.
Top image: An alligator at Wakulla Springs State Park. Photo by Rachel Kramer via Flickr.
Click Here to Sign Up!
i