Best Atlanta Dance Classes for Kids: Ballet, Hip Hop, Tap, and More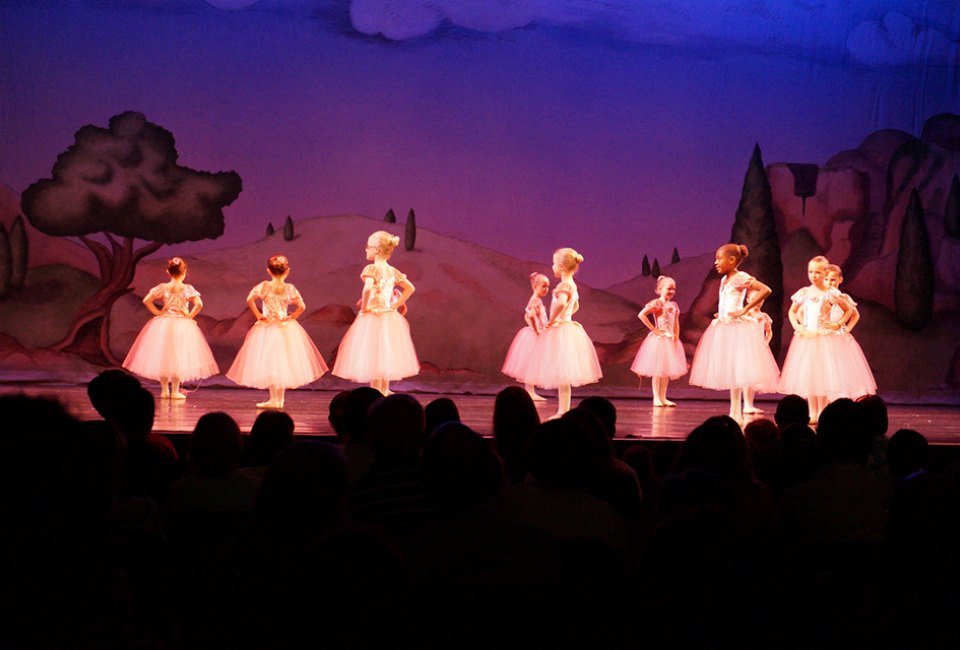 8/29/21
- By
Melanie Preis
Atlanta dance classes are great places for kids to let loose, train with skilled teachers, and make friends. From adult-child classes, where parents can dance in class with their children, to advanced dance classes, where children can perfect their form, Atlanta dance classes run the gamut of interests and skills. If your child isn't sure which type of dance he or she wants to try, don't worry —many Atlanta dance studios offer a variety of classes, including ballet, tap, hip hop, jazz, contemporary, acro, and more so children have the option to try multiple genres and see which are their favorites.
Those with babies and toddlers can check our Atlanta Mommy & Me classes — there's a whole section regarding both movement and music classes. And for a well-rounded dancer, visit our sports classes as a good idea for kids to use their physicality in multiple ways.
Read on to get more information about Atlanta dance classes for kids throughout the metro region!
Atlanta Dance Classes: Intown
Atlanta Ballet Centre for Education (CDE) provides world-class faculty and an emphasis on ballet form and dedication. Younger dancers, between ages 2-7, can start in the Creative Movement class series that focus on body awareness, rhythm, and the basics of dance. As children get older and improve skill, they can take beginner ballet, pre-pointe, and eventually more difficult ballet classes. CDE also offers optional discipline classes, like tap, jazz, and musical theatre.
Kids as young as 2 can start at The Atlanta Dance Academy (TADA) in Parent & Me classes and hip hop classes. Ballet Lillies and Ballet Orchids are the primary classes for those dancers starting in ballet and learning traditional forms. Older, experienced dancers have the chance to participate in higher level classes in contemporary, hip hop, tap, ballet and more; there is also a team option.
Atlanta Irish Dance by Burke Connolly is one of the premiere Atlanta dance studios teaching Irish dance with trained professionals. Plus, you can tour the studio and try a class for FREE to get a feel for this energetic cultural dance. Bonus? Adults can attend Irish dance classes as well!
The Neighborhood Ballet focuses on the appreication of the arts, in addition to teaching proper dance form. Younger ages take creative movement and dance, with fun themes like Bugs and Butterflies Creative Movement and Fairytale Ballet. Early childhood division classes at the recreational level include ballet/jazz, ballet/tap, modern, and more dance classes; older students have the opportunity to be a part of the studio's company.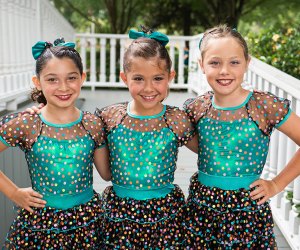 These dancers, ages 8-10, are a part of Atlanta Dance Central's (ADC) Mini Company. Photo courtesy Haley Varano/ADC
Atlanta Dance Classes: Alpharetta, Johns Creek, Roswell
"We educate to empower," is Atlanta Dance Central's mission and the Roswell studio is doing just that with their varied options of dance classes. Kids are grouped by ages at ADC — ages 3-6 can take ballet, acro, tap, jazz, hip hop, and aerial; ages 7-10 can take the aforementioned genres, as well as contemporary; and ages 11-18 study these styles but at a more intensive level.
Kids love Dance FX Atlanta for the great class selection, including hip hop, ballet, jazz, contemporary, pointe, tap, and even musical theater. Classes range for all ages —many geared toward elementary-aged students (adults can also enroll in certain dance classes).
This multi-genre dance school offers training for Atlanta kids in ballet, tap, jazz, acro, hip hop, and contemporary. Located in Alpharetta, Dance Now has wonderful classes for beginning, young dancers (starting at age 3); and with a cool twist, offers a great beginner teen program, for older kids starting dance or those who may have taken a long break.
Founded in 1960, Fleetwood Dance Center is one of the oldest, most experienced dance studios in north metro Atlanta (still being run by the Fleetwood family). Kids of all ages are trained in dance styles that include tap, jazz, pointe, lyrical, musical theater, and hip hop. Classes start at beginner levels at age 3.5 and continue into advanced technique for teens.
Crucial to the development of Roswell's dance scene, Tolbert Yilmaz School of Dance offers a well-rounded curriculum for dancers in traditional classes and those seeking to join the company. The dance school is open for kids ages 2 and older, and class offerings for all ages include ballet, jazz, tap, acro, modern, hip hop, musical theater, and aerial silks.
Atlanta Dance Classes: Decatur and Stone Mountain
Located in Decatur, Druid Hills Dance Center offers dance classes for ages 3-18 in ballet, pointe, jazz, contemporary, modern, and hip hop styles. The studio also features the Druid Hills Dance Company, with dancers training in proper technique, performing throughout the region, and competing.
Get your baby moving because Georgia Stars Academy of Dance offers classes to dancers as young as 18 months. In addition to ballet, jazz, hip hop, lyrical, and tap, this dance studio offers unique styles like majorette/drill, gymnastics, cheerleading and tumbling, African, and much more.
Project SLIDE (Saving Lives In Dance Education) is a Decatur dance studio that offers training in a fun environment. Young dancers can start the SLIDE experience at age 6 in the Minis program, and continue taking classes and increasing their skill into their teens, in classes that include ballet, modern, jazz, and hip hop.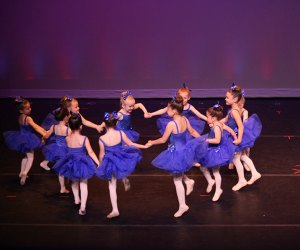 Fleetwood Dance Center shows off all their dancers' hard work at the annual recital. Photo courtesy Selena Womac/Fleetwood
Atlanta Dance Classes: Dunwoody, Norcross, Sandy Springs
Whether your child chooses the performance or competitive route, Elite Studio offers dance classes for every child looking to put their body into motion. Dance training starts with a ballet/tap combination, for kids 3-6 years old; classes continue up as children grow older and become better trained. Other genres include tap, hip hop, and lyrical. Children can also take tumbling classes.
If your child has a thing for moving his or her feet in a classic jig, it may be time to enroll them at Drake School of Irish Dance. Beginner classes start for ages 3 and up, and newbies can try up to one month of lessons for FREE. Students can also compete in national dance competitions.
Dunwoody School for the Arts is a one-stop shop for any child interested in the arts, especially dance. These Atlanta dance classes range in styles from Mommy & Me, modern, jazz, hip hop, and ballet, including newer styles like K-pop (music genre from Korea focused on infectious beats and pop tunes). Ages start at 2 for the introductory classes and continue until teens.
There are different tracks for kids at Namari Dance Center: dancers seeking recreational dance classes can choose from ballet, jazz, tap, lyrical, and hip hop, ages 3-18; the training program is a more intensive, technical curriculum of ballet, modern, jazz, tap, Namari technique, and more; the conservatory is for students considering a professional dance career.
North Georgia School of Ballet's mission is to teach and discover excellence in each dancer, as well as promote individuality. This Atlanta dance studio offers an easy way to decipher which dance class would be appropriate for you child, sorting classes by ages. Most of the fundamental classes are ballet, but the studio also teaches tap, hip hop, jazz, modern, and more.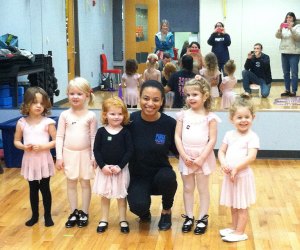 Atlanta dance classes build skill, as well as confidence and self-esteem. Photo by Mommy Poppins
Atlanta Dance Classes: Marietta
Young dancers need instruction and individualized care to develop their skills in and out of the studio—Divine Dance Studio does just that. Dance classes here start at age 2, in the Tiny Tots category, and extend to older ages and higher skill levels. Genres include hip hop, tumbling, jazz, ballet, and lyrical/contemporary.
Available for ages 3-teen, Prodigy Performing Arts offers classes in ballet, jazz, pointe, tap, musical theater, hip hop, and acrobatics. In fact, Prodigy is a certified acrobatics arts studio.
Rhythm Dance Center is a high-energy Atlanta dance studio focused on bringing out the best in its dancers. Younger dance students (preschool age) can take Fairytale Ballet, Twirl, and hip hop, and as children progress, classes include tap, ballet, jazz, contemporary, and hip hop, as well as boys-only classes.