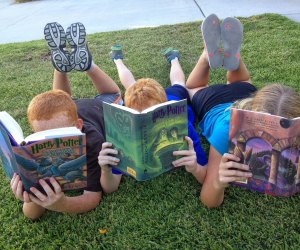 Book Worms Unite! Book Clubs for Westchester Kids and Tweens
For Kids
Larchmont Public Library – Larchmont
There are two different kids' book clubs at the Larchmont library, for two different interests: the Graphic Novel Book Club and Book Bunch, both of which meet, separately, once a month and are for kids in third to fifth grade. The children's desk has copies of the latest picks, and you'll need to register for meetings ahead of time.
John C. Hart Memorial Library – Shrub Oak
One way to instill a love of reading in your children? Read with them. That's exactly what you can do as part of the John C. Hart Memorial Library's Parent/Child book club. Geared towards kids in second and third grades, the club meets in two sessions, both of which focus on the same book. In the first meeting, you'll learn more about that month's pick and start on the book, while the second meeting focuses on talking about what you read.
The Apple Store – White Plains, Yonkers, Nanuet
If e-readers are the way of the future, then why not head to the Kids Hour: Book Club events at the Apple Store in White Plains, Yonkers or Nanuet? There, kids between the ages of 4 and 10 will read a book in iBooks; then they'll do other activities, like drawing and making their own cover using an iPad. (iPads are on hand if you don't have your own.)
Warner Library – Tarrytown
It's never too early to join a book club, and this one gets young readers—kindergartners through second graders—in on the action with Book Bunch, a monthly afternoon book club where they highlight one type of book (say folktales). Once they've graduated from that, kids starting in third grade can take part in the Children's Book Group, which meets monthly.
Ardsley Public Library – Ardsley
At the Ardsley Library, Cookies and Critics is a book club for kids in third and fourth grade they talk about that month's pick (a recent example: The Tale of Desperaux by Kate DiCamilla) and snack on—you guessed it—cookies. Once they're in fifth and sixth grade, they can join the Reading Rox club, where they'll still have snacks—and books like The Seventh Most Important Thing by Shelley Pearsall.
Chappaqua Library – Chappaqua
There are various Book Discussions that kids can take part in at the Chappaqua Library: a parent and child group for third and fourth graders, a Young Critics Book Discussion for fourth through sixth graders, and a Mad Mustachio Purple-Hued Malt-Worms Book Discussion for fifth through seventh graders.
Eastchester Library – Eastchester
In the 2nd and 3rd Grade Book Club at the Eastchester Library, not only will early elementary schoolers talk about what they've read, but they'll test their knowledge on the book with a little trivia. A recent read: Charlie and the Chocolate Factory by Roald Dahl.
Hendrick Hudson Free Library – Montrose
Students in fourth and fifth grades will love discussing the latest club pick at the monthly meetings of the Book Chat book club at the Hendrick Hudson Free Library in Montrose. The group has recently read James and the Giant Peach by Roald Dahl and Eleven by Patricia Reilly Giff.
Irvington Public Library – Irvington
There are two book clubs for kids at the Irvington Library: one for second and third graders, and another for fourth and fifth graders. For both, kids should be sure to read the book ahead of time—which include classics like From the Mixed-up Files of Mrs. Basil E. Frankweiler—and sign up in advance.
For Tweens & Teens
The Voracious Reader - Larchmont
Not only does this book club for 8- to 11-year-olds have a cool name—The Uncommon Corps of Ravenous Readers—but young book lovers also get to borrow an advance copy of that month's pick and chow down on pizza and lemonade at meetings. There's a $10 fee, and the group meets once a month on Friday nights. Be on the lookout for visits with authors and other special giveaways too.
White Plains Public Library – White Plains
For a different twist on the traditional book club, check out the Comic Book Club at the White Plains Library. Readers will not only talk about comics, but an area artist shows them how to try their hand at their own drawing. Meetings are usually held on the first Friday of the month at 4 p.m. and include pizza.
John C. Hart Memorial Library – Shrub Oak
The John C. Hart Memorial Library recently began the Book Thieves book club, which is geared towards tweens and teens starting in seventh grade. They can grab the monthly book at the circulation desk. The first pick: Caraval by Stephanie Garber.
Lewisboro Library – South Salem
Pizza, cookies and a book discussion are on the menu in the Book Bites book club at the Lewisboro Library. The groups meets every month, in the evenings and is best for sixth through eighth graders.
Irvington Public Library – Irvington
Tweens can explore their love for reading in this book club—the Middle School Book Club—geared specifically for them, with picks like Tangerine by Edward Bloor and A Monster Calls by Patrick Ness. Meetings are usually towards the end of the month and kids can head to the circulation desk to pick up their copy.